Man isn't meant to stay indoors — our weekly "Trekking" column can attest to that. It's a column dedicated to the adventurer inside of all of us, the one pining to ditch the office humdrum for a quick surf session or seven-week jaunt in the Grand Tetons. One day we may highlight an ultra-light stove and the next a set of handmade canoe paddles. Life doesn't just happen inside the workplace, so get outside and live it.
If you haven't heard already, Bentley is looking to get in the outdoor game. The British automaker's first sport-utility vehicle — dubbed the Bentayga — is a ride that's aimed directly at adventure enthusiasts or anyone who prefers extravagant luxury over necessity when it comes times to hit the open road. And while custom drink cabinets and eardrum-shattering sound systems are one thing, rod holders and waterproof interiors are something else entirely. Just as the folks behind the new, angler-specific Bentayga.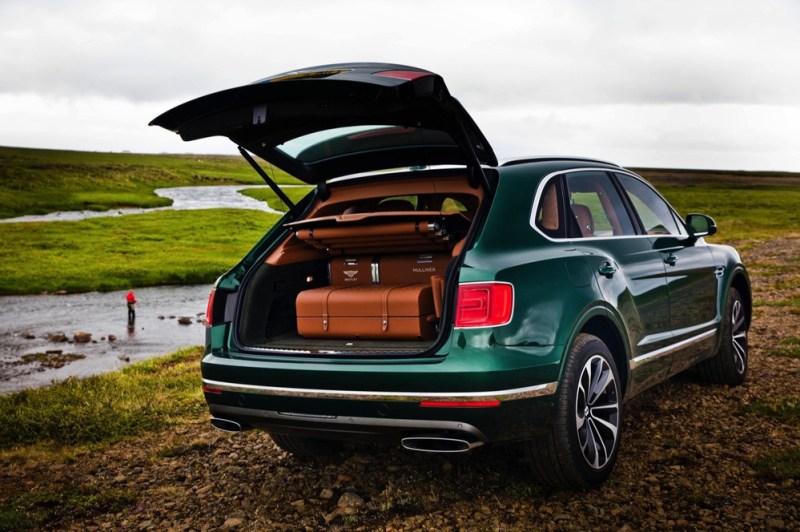 The company's in-house customization division (Mulliner) designed the personalized kit with the help of legendary fisherman Matt Harris, allowing the company to build a fly-fishing vehicle that takes into account everything today's modern anglers might need for a successful day on the water. To that point, the specialized Bentayga comes with four fishing rods, each of which is stored in a leather-trimmed tube that fits directly underneath a parcel shelf. A pair of landing nets in matching leather bags are also stored beneath the carpet-trimmed area built into the side of the cargo hold, and three removable units — encompassing a tackle station, a waterproof trunk, and a beverage case — provide an array of methods for stowing your flies and waders. The latter unit even touts three flasks, a set of fine-china tableware, and a dedicated food compartment. And yes, the quilted-leather top and linen cross-stitching come standard.
The Fly Fishing by Mulliner additionally benefits from a waterproof floor and rear-still covers that beautifully integrate with SUV's aesthetics, not to mention an electric dehumidifier. And because this is still a Bentayga, it sports a 6.0-liter, twin-turbocharged W12 designed to product 600 horsepower and 664 pound-feet of torque. This allows the vehicle to hit 60 miles per hour in a mere 4.0 seconds, and gives it a top speed of 187 mph.
Just try not to sully the plush, handcrafted interior with your next big catch — it doesn't come cheap.