In honor of Veterans Day (November 11), we are reminded by Iraq veteran Dan Nevins and yoga brand KOZM just how strong our military men and women are.
During combat operations in Balad, Iraq, U.S. Army Staff Sergeant Dan Nevins was blown up by an I.E.D. roadside bomb. As a result of the explosion, Nevins lost his left leg below the knee in November 2004. After countless surgeries, Nevins later lost his right leg.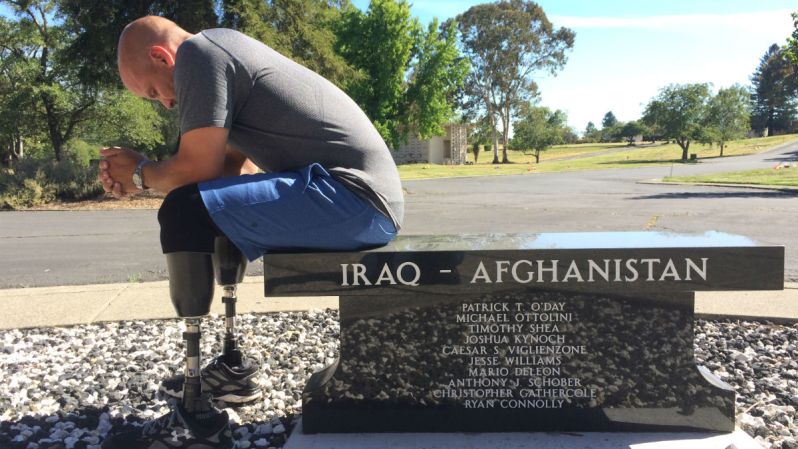 Seeking a way to reconnect emotionally, intellectually, and spiritually following the trauma, Nevins discovered the practice of yoga, which provided a space to work through and cope with post-traumatic stress. During his first yoga class, attempting to perform the moves with his prosthetic legs, Nevins pulled both off, hurled them across the room, and found a new flow and power in his body.
Today, Nevins' uniform isn't Army-issue, but the lightweight, ultra-comfortable, rugged threads of KOZM's men's yoga apparel. While different in many ways, both uniforms have forged practices of strength, struggle, and growth — not only for Nevins but other veterans in pursuit of answers and healing.
"What I've found with my work with veterans and yoga is that the practice not only brings ease and acceptance in regard to the trauma of war, but also revitalizes the body and mind to move forward with renewed purpose; often reminding them of the greatness in them that perhaps they've only felt in uniform," Nevins tells The Manual.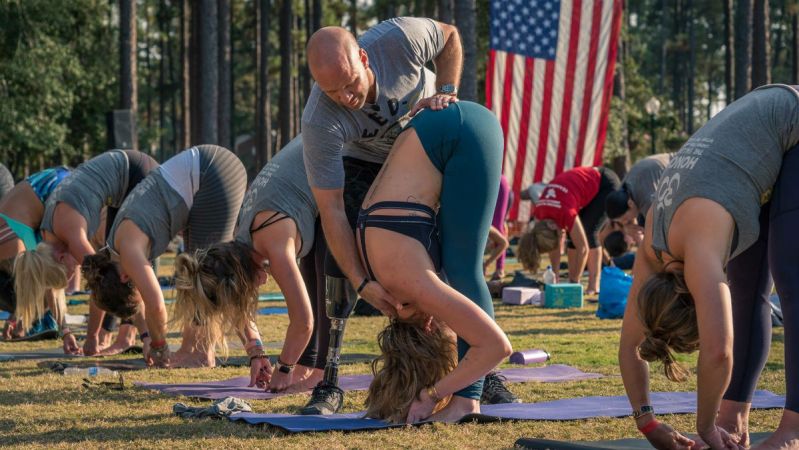 KOZM co-founder Troy Eckert adds, "We want more guys to feel comfortable walking into a yoga shala. We want them to experience yoga in its entirety, from the intense physical practice to benefits for mind, heart, and soul."
Before co-founding KOZM with Derek Sabori, Eckert was the long-time marketing director for skate and surf brand Volcom, and the label's first-ever team rider/employee. He branched off and created his own brand of male-specific apparel built for "conscious combat," and every T-shirt, short, beanie, and hoodie was crafted with intention and thoughtfulness, from sourcing upcycled cotton yarns to promoting sustainability by tying scrap fabric around a sweatshirt package to reuse as a yoga mat tie.
"Doors open when you develop a regular practice, and it prolongs your active life," says Eckert. "I realized more people doing yoga means more people with elevated consciousness in our communities.
From Staff Sergeant to active military to veteran to yogi, Nevins developed a practice which proved to be tremendously healing. That's the whole reason Nevins made a video (embedded above) with KOZM. It wasn't a part of some cheap sponsorship ploy, but because Nevins — now a certified yoga instructor — wants to help veterans come together to heal. (Even this gnarly hockey champ turned to yoga … so are you convinced how hardcore it is now?)
The big picture? Nevins wants to create a space, accurately called Warrior Spirit Retreat, where vets can come together — completely free of charge — to practice yoga and mindfulness activities. The vision isn't far from completion. Nevins pictures a farm in rural Florida as the perfect setting, and KOZM is donating 5 percent of sales to make sure it happens.
Coming from the army you might be saying, "but I've never done yoga before." Well, I say, when has anything ever stopped you from becoming stronger? That's right ë never.
Thank you, Nevins and all other veterans, for your service.