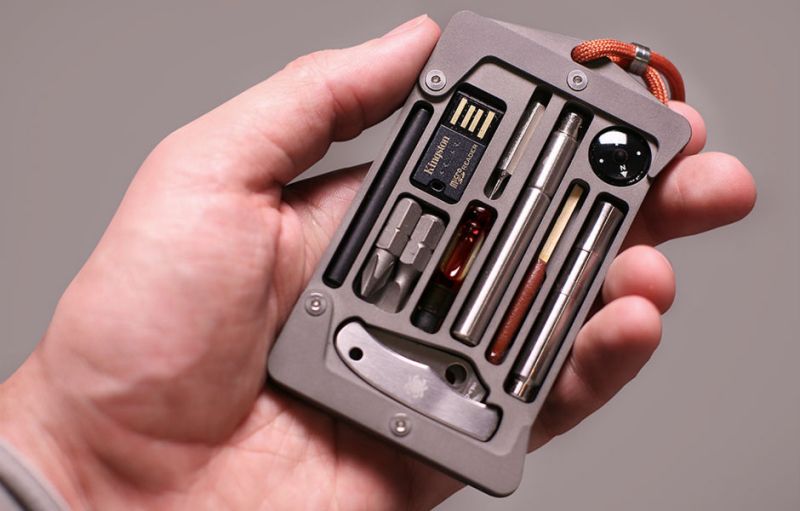 For centuries, the Swiss Army Knife has been the pocket tool of choice, providing uses around the globe with every tool they could possibly need while on the go — a selection of blades, a corkscrew, a screwdriver, a tweezer, a toothpick, scissors, a file and more. Swiss Army Knife look out, there's a new kid in town, the Jackfish.
After a successful Kickstarter campaign that raised $133,327, the Jackfish is now available at jackfishsurvival.com. The credit-card-sized tool is only 8.5 mm thick, plus it can carry four credit cards. Plus, it comes with tools that you can't find in a Swiss Army Knife: a whistle if you need help, iodine to purify water, a gadget that provides fire in case you need warmth, a compass so you can find your way, and a USB drive so you can carry scans of your passports and other documents you may need.
Here's the complete list:
Everyday Tools

1.Micro screwdriver flat head 0.8mm tip (ideal for glasses)
2. Titanium coated Pozi drive standard hex bit (hex slot on side of jackfish)
3. Titanium coated flat head standard hex bit (5mm width)
4. Kingston micro SD card reader (no sd card supplied) carry copies of documents
5. True Utility Telescopic Pen (opens to 118mm in length, 3 refills included) + cap

Survival Tools

1. Aluminium Whistle (120 Decibel)
2. Glass Vial (10 drops of liquid – for shipping we will send empty – No iodine!)
3. Windproof match (burn for 5 seconds in the harshest of wind, includes striker)
4. Firesteel 4.5mm wide (light a fire when everything else is wet)
5. Spyderco Bug Knife (amazing quality and very sharp – 3Cr13MoV stainless steel)
6. Liquid filled button compass (15mm diameter)
We're not saying you should completely ditch the Swiss Army Knife, but if you carry both a Swiss Army Knife and a Jackknife, you'll be completely taken care of the next time you go on a lengthy trip in the city or outdoors.
For more information, visit jackfishsurvival.com.
Editors' Recommendations