It's likely you have a long list of things you'd rather do than get a prostate exam: reseed the lawn one tiny seed at a time, shark dive without a cage, binge watch "Say Yes To The Dress," but with 1 in 7 men getting a prostate cancer diagnosis, it's time to man up and bend over. The nonprofit 1400 Miles uses humor (their tagline is "Don't Fear the Finger" after all) to get men to pay attention to their prostate health and organizes probably the most fun bike ride for a cause ever.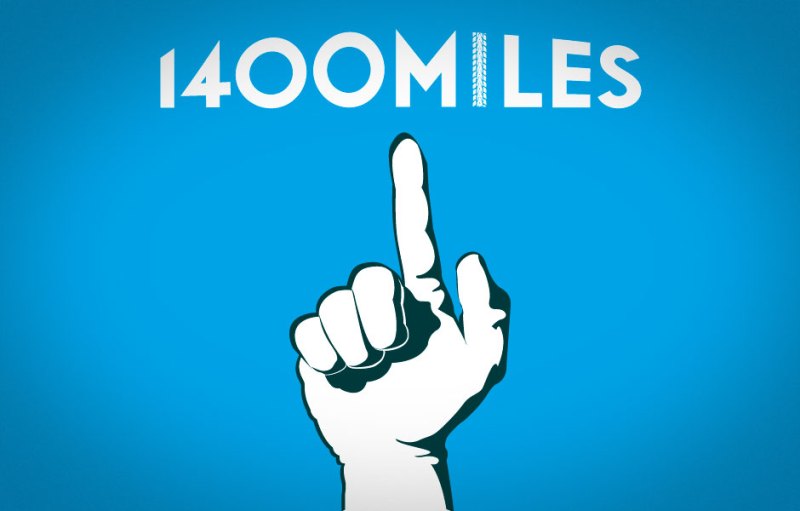 1400 Miles founder, Davis Tucker, has two very personal reasons for caring so much about helping men protect their prostate health: 1) he has a prostate and 2) he watched firsthand as his close friend and don of craft beer, Don Thompson, valiantly fought the disease. By day Tucker is the owner of NxNW Restaurant and Brewery and so he decided to combine his love of beer and biking to help men talk about their health and help make the screening process more accessible by creating the The Big Ride. And big it is: Tucker bikes 1400 miles in 14 days, starting in Austin, Texas, on September 18th and ending (if all goes to plan!) in Denver, Colorado, on October 2nd–just in time for the Great American Beer Festival. Along the way, Tucker will stop off at various places for a beer. You can find the full schedule here so feel free to stop by if you're in the area!
Registration closed in July, but get training because you can ride next year! You can sign up for the entire 1400 miles (that's exhausting even to type) or for different stages of the ride. There is a fundraising component to participation, but the organization provides lots of tips on how to raise funds. Plus, it's for a bitchin' cause.
The beer festival is the most appropriate endpoint since Tucker partnered up with Pints for Prostates and Prostate Conditions Education Council (PCEC) founded by beer writer and prostate cancer survivor Rick Lyke. The organization works to encourage men to get screened, often having this conversation at beer events. Alcohol makes everything easier to talk about. Prostate cancer has great survival percentages, so sometimes men feel like they can put off the test, but survival is all about family history and when the cancer is detected. Men do die from prostate cancer. If you're 40 or older, or even just a particularly health conscious 39 year old, get screened. It ain't fun, but it's over quickly and can save your life.
In fact, at the Great American Beer Festival, the Brewer's Health Initiative along with 1400 Miles and PCEC are offering free health screenings in the Beerliner, a 1974 Bluebird Bus filled with TV screens and beer taps. There is literally no better place to get a simple 10-minute (did we mention the free bit?) blood test that will screen for the prostate specific antigen. You'll receive your confidential report after the event that you'll be able to discuss with your personal doctor.
Drink a beer and get screened. Prost to the prostate!