This content was produced in partnership with Growatt.
Portable power stations, like Growatt's newly launched INFINITY 1500, really are one of the most convenient ways to source backup or mainline power. As long as they're charged, which you can do in several ways, you can plug in your devices, electronics, and even small appliances to power them just about anywhere. You can power gear in your backyard without an outlet, power your small cabin or home while living off-grid, or even toss these bad boys into the back of your vehicle or RV for a road trip. Want to know the best part? Growatt is hosting some fantastic Black Friday deals on its portable power solutions. You can save up to $500 right now, and if you use coupon code GrowattBF you'll get another $50 off. Shop the sale below, or keep reading for more details.
Growatt's leading advantages: Why choose their portable power solutions over others?
Before we get to the deals, and there are some really good ones, let's talk a little about the Growatt power solutions. Why would you choose them over competing products?
Solar Charging: While other portable power station brands may support solar power charging, the key for Growatt's devices is speed. Super-fast solar charging is possible with its power stations and compatible panels, and they'll fully charge in 2.5 hours thanks to an 800-watt solar input.
Wide Solar Voltage Range: Thanks to a wider supported range, you have more options when choosing solar panels to use with your Growatt portable power station. Plus, a 99% MPPT efficiency helps reduce energy loss.
Uninterruptible Power Supply (UPS): Growatt's power stations can function as a UPS when there's an outage, switching over to cover network, electronics, and medical equipment in under 20ms. This is crucial for using the stations as a reliable emergency backup source.
Smart App Controls: Through the myGro mobile app, via Wi-Fi or Bluetooth, you can remotely monitor your station, configure settings, and more. This makes it easier to interface with the system during daylight hours too because the sun might make it difficult to read the screen on the actual device — you can always fall back to the mobile app.
These features, the large energy storage capacities, and the portability make Growatt's power stations an excellent choice for home, outdoor, and travel use, whether on the road, camping, or even living off-grid.
Growatt INFINITY 1500 portable power station — $1,244, was $1,699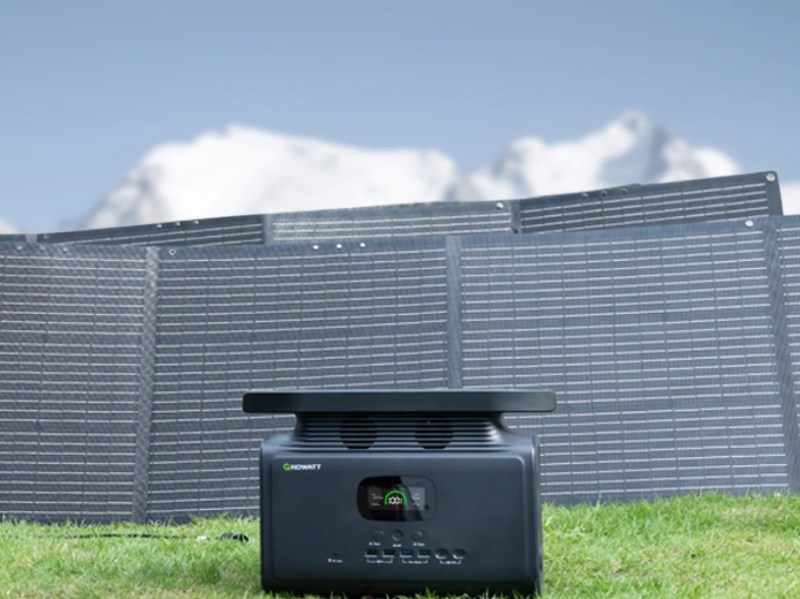 Let's make one thing clear: The Growatt INFINITY 1500 is not your average portable power station because it's packed to the brim with convenient and intelligent features. For example, the top serves as a wireless charger for compatible devices — just set them on top and go. It has a massive 1,515-watt-hour battery capacity with four 110-volt or 2,000 watt AC outlets, excellent for just about anything, including appliances. It's not only a power station but also a solar generator, especially when hooked up to optional solar panels. For Black Friday and with the promo code GRTBFCM15, you get a combined total of $454 off.
Growatt INFINITY 1500 with 100-watt solar panel — $1,384, was $2,099
This bundle includes the Growatt INFINITY 1500 portable power station and solar generator plus the 100-watt portable solar panels for charging the unit. You're ready to go right away with this set, as you can hook the panels up to the station to charge it when you're not near a traditional outlet. For Black Friday and with the promo code GRTBFCM15, you'll get a combined $714 off. That's an amazing deal.
Growatt INFINITY 1500 with 200-watt solar panel — $1,539, was $2,399
This bundle includes the higher wattage 200-watt solar panel with the Growatt INFINITY 1500 portable power station and solar generator. The higher wattage allows you to charge the unit faster thanks to a steady supply of solar energy. For Black Friday and with the promo code GRTBFCM15, you'll get a combined $859 off this bundle, making it the best deal yet.
Editors' Recommendations