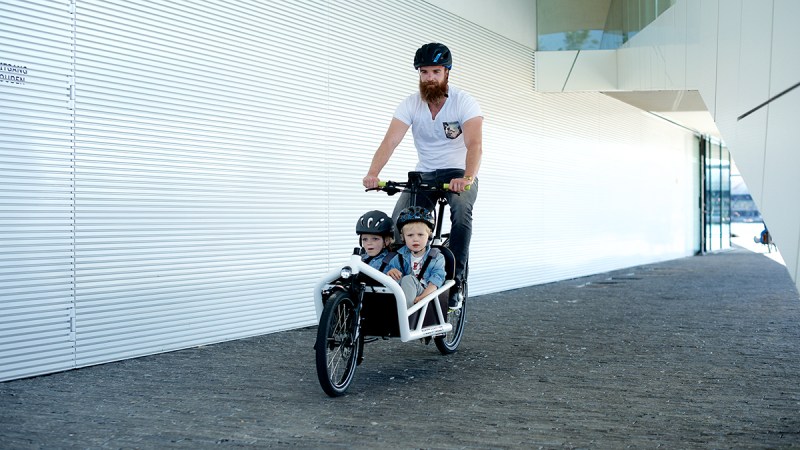 While the standard road or mountain bike has the same basic frame (with adjustments based on specific rider and need), cargo bikes run the gamut of shapes and sizes.
There are bikes that take the familiar frame and just add racks on the front and back to create a bit more storage for the daily commute. Then, there are the extreme cargo bikes, designed with long wheelbase options that have full box containers on enlarged, reinforced frames for larger loads.
One of the more popular cargo bike brands stateside is Yuba Bikes, which produces an array of models ranging from a small kids bike to full-scale electric models.
One of their newest, the Supermarché, can carry 2-3 passengers, plus a load of groceries, totaling a 220 pound payload–all on two wheels. While it has the option to be fitted for an electric motor, the steering and drivetrain are designed to evenly balance such a heavy haul, creating an impressively smooth ride.
As far as full electric models go, Yuba also has the Spicy Curry Bosch, which takes its name from the mounted Bosch Performance Line CX Motor with a PowerPack 400 battery. With only rear-mounted storage, the back wheel sits lower to balance the center of gravity needed to manage the load. This model is being put to the test by one adventurer who is currently riding around the US with his dog, breaking the world record for miles pedaled on an electric bike.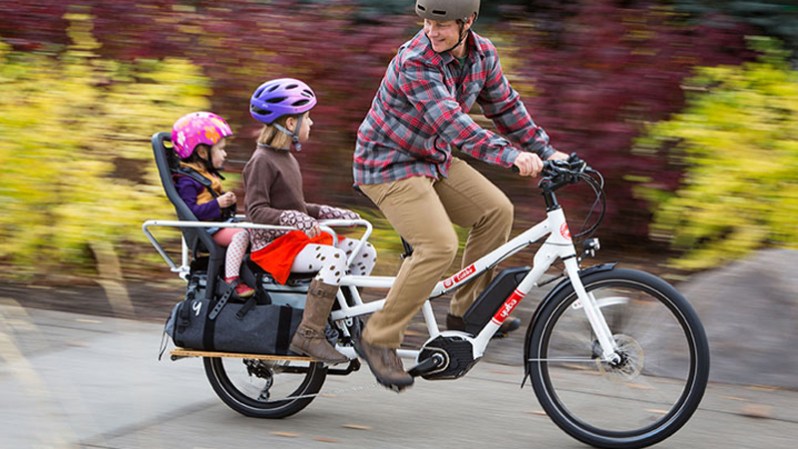 But, if 200 pounds of hauling is too much capacity for you, there are foreign builders like Riese and Müller that can build lightweight model to custom specifications.
The German builder's new Delite model uses a similar Bosch Performance drive, but is built as more of a sport/mountain bike with limited space to latch gear behind the rider. The lighter weight and distribution means riders can reach speeds of up to 28 mph with a battery capacity of up to 1000 Wh, using two frame-mounted batteries in tandem.
The brand also has The Load, which is a front-loading utility model, not unlike Yuba's Supermarché. One of the key differences is price. Starting at $4,999 for the most basic model, The Load is double the price of Yuba's model.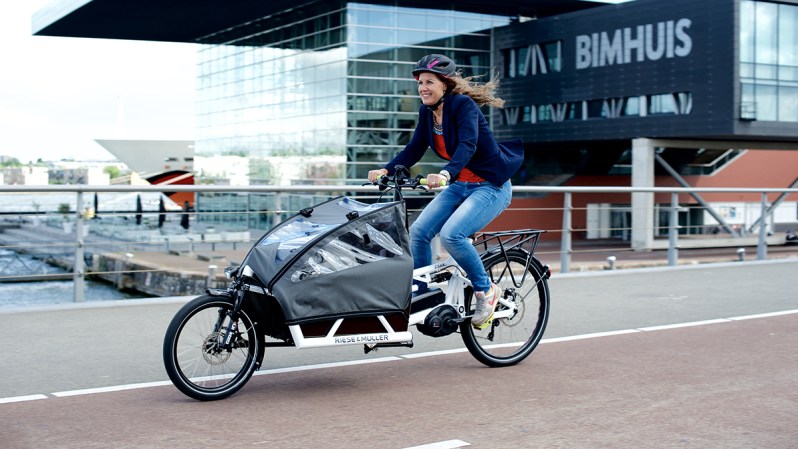 Above all, cargo bikes (with and without electric assist) are a 21st century answer to light, environmentally friendly load carriage. As American cities catch up to European and Asian cities that have embraced larger bike commuting, cargo bikes will continue to evolve as efficient transportation.
As American cities continue to compact and fight for space, two-wheeled cargo may become the preferred mover of the future.