Picture yourself launching 30 feet down a 40-degree, snow-covered double black diamond slope on a bike with no brakes …
This daredevil stunt is one of many that extreme sports media company Teton Gravity Research (TGR) captured in its new film, Rogue Elements, presented by REI, and, yes, there was a major wipe-out in the process as professional mountain bikers Cam McCaul and Casey Brown sought to conquer the obstacle.
The location: Jackson Hole's infamous Corbet's Couloir ski run, which is a killer track even in snow-free conditions. Add ice to the mix, and you've got to be borderline suicidal to ride it — right, Cam?
McCaul actually started the stunt by saying no … a dozen and a half times. "Then I just figured, 'what the heck, might as well give it a whirl!' Mountain biking on snow isn't something that works very well so it can be quite challenging. You're at the mercy of the snow conditions and that variable is kind of unknown until you drop in and just see what happens."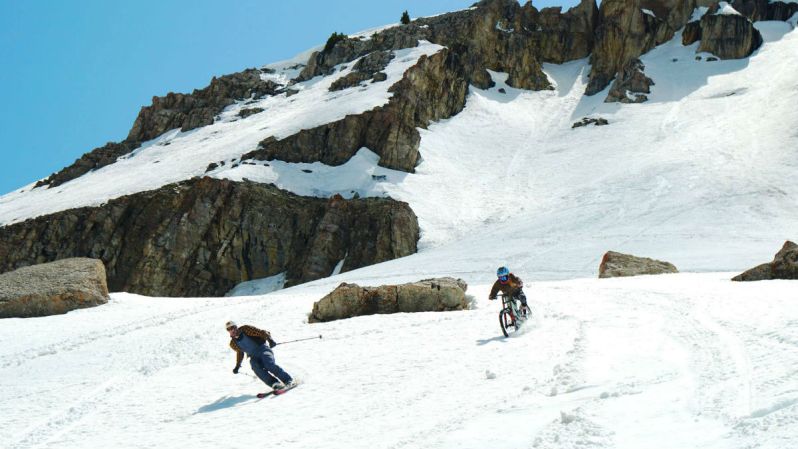 This preparation may sound nonchalant, but there was plenty of training, right? I mean, there had to have been!
Haha, there was zero training … For a little while, I thought about doing some modifications to my bike to make it more suited for a 50-degree snowy pitch, but honestly I had no clue where to start.. Do you stud the tires? Do you bring a fat bike? Do you want firm snow? Soft snow? A lot of questions, but no answers until you drop in.
Yep, you're insane (and we dig it). But behind your do-or-die attitude, is there decades of bike experience?
I don't really remember riding a bike for the first time. but I discovered mountain biking when I was probably around 13 years old … It represented freedom and endless challenges. (Note from The Manual: Here's the best way to choose your first mountain bike, if you want to be like McCaul.)
Ahh, so this first-ever mountain bike descent of Corbet's Couloir was really a challenge that needed to be done and freedom that needed to be experienced?
Well, honestly, it was a great bad idea by the good folks at TGR … It started with a phone call from the Jones brothers, which is always a good time. Those guys have a way of talking you into something. They represent fun at the highest level and their energy can be contagious. They were stoked about trying to get a mountain biker to ride down Corbett's Couloir, and even though it sounded like a horrible idea to me, after a few chats with the Joneses, I somehow felt myself getting psyched. Next thing I knew, I was up there wondering what the heck I got myself into! But it was a blast, man.
When Casey crashed, what was going through your mind?"
Casey Brown is a champion. She knew that riding down Corbett's was a mandatory big crash and she dropped in anyway — got up laughing, bloody face and all. Don't mess with that girl.
What equipment did you use?
Trek Session Park downhill bike with Fox suspension and Shimano parts, a good helmet, and some pads … Probably not enough pads.
And now it's checked from the list. What's next?
I guess I just wait for the phone to ring and the caller ID to say TGR.
Interested in how they pulled off this stunt? Here's a behind-the-scenes look.