These two skincare products came from a meteorite.
Yes sir, you heard us right. Lab Series 'tapped a meteor' and discovered that its extract can help promote the skin's natural production of collagen.
Here is the intel we received from the Lab Series team:
We have identified our source from a meteorite that landed in Morocco and is said to be about 20,000 years old. Before being ready to be used in formulations, the meteorite goes through a several step process to ensure its purity and integrity. To summarize this process, a smaller sample is first taken from the large 3 ton mass and is grounded down into a fine powder. This powder is then filtered and sterilized and finally "steeped" into a solution. This liquid infusion is the meteorite extract our chemists used as a starting point to blend with other unique anti-aging technologies to create the Maxellence Collection.
Meteorite extract was an incredible find for us because of its rich story and biological effects on the skin. Today there is a strong connection and curiosity with the universe and outer space and we were very happy to be able to incorporate this in a collection of high-tech skincare. We can definitely foresee more brands using ingredients inspired or sourced from space in the future.
Ok, ok, so on a less Beaker level, this cream and concentrate is the bomb. We have been using it for about a month now and holy space rocks, our mug looks good.
First off the cream is black so that just makes us feel baller as soon as we open it up every morning. Next up, it's cooling to the skin so it wakes us up a bit. The scent is really refreshing. It is an 'accord' of a Shima Lemon which are only found in the remote Ogasawara islands of Japan. They are so rare, in fact, that they are not harvested for human consumption and have a rare and distinct scent.
To break both products down a bit:
MAXELLENCE The Dual Concentrate ($225) 
This bottle dispenses a white and a black cream together in a dual-chamber system. When released and applied to skin, the fresh blend replenishes moisture for younger and smoother appearance, plus firmer-feeling skin. Fast-absorbing and highly effective, it is designed for use before you apply MAXELLENCE The Singular Cream.
MAXELLENCE The Singular Cream ($160)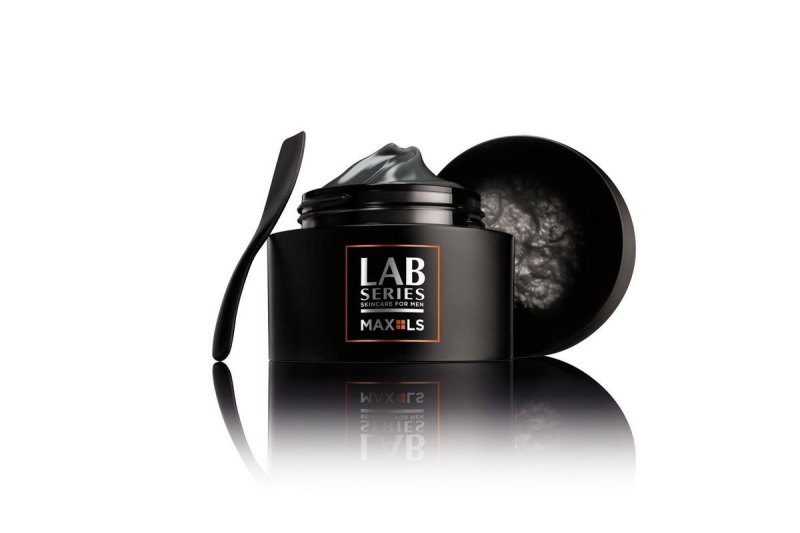 This is the thick black stuff. Don't worry, it goes on clear. How do they do that? The space extract and other revitalizing ingredients help revive skin's youthful look by smoothing the look of lines and wrinkles. Skin feels firmer, and your overall complexion gets a bit of a boost.
For a little refresher, Lab Series launched in 1987 as Estée Lauder's man-specific brand. They have always focused on modern technology, advanced ingredients, and the latest research on men's physiological and lifestyle needs to develop products specifically targeting men's skincare concerns. And that is why we love them.
Both are crafted in small-batch production and available in limited quantities so get clicking to a firmer face. Or better yet, enter to win our giveaway and receive your own set of this far out face stuff for free.