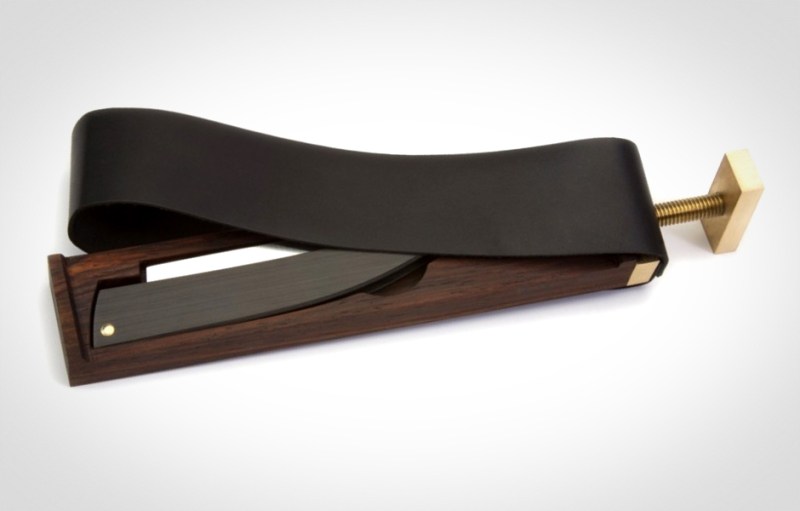 Every man needs a good razor case, so the folks at Bison came up with the idea for the Paddle Strop Razor Case.  Beautifully crafted with cocobolo hardwood and calfskin leather, the case is both functional and well-designed. The Manual talked to Bison's Sebastian Sandersius, who talked about the origin of the Paddle Strop Razor Case.
How did you come up with the idea for the Paddle Strop Razor Case?

We looked at the common design for vintage paddle strops and thought, how can we make this more robust and useful?
An important feature in a paddle strop is having a mechanism to increase its length to keep the leather taut as the leather stretches over time.  A common way of doing this is to use a threaded bolt and two adjacent guide rods. A common problem with the vintage paddlestrops is that many use a fine threaded bolt and it is common for these to strip and bend over time. With our paddle strop, we simplified and straightened this mechanism by using a single large bolt and tapped leather fastened.
Further, we figured the whole point of having a paddle strop was for travel — because hanging strops are inconvenient to travel with — so another improvement we sought to make with the paddle strop is to make it an actual case for a straight razor.
Who did you have in mind when you designed it?
We designed this paddle strop and razor case for the avid straight razor shaver who enjoys the experience of shaving and doesn't want to compromise that experience while they are traveling.
Why is it so convenient for travel?
Conventional hanging strops are very inconvenient to travel with. They are difficult to pack because most hanging strops are 30+ inches long and you risk ruining the leather if you fold them up and stuff them between clothes.
Our paddle strops razor case is smaller than a shoe and it offers you a safe place to store your razor.
Are wet shavers better than drugstore razors? How?
It is commonly argued that straight razors and double edge safety razors are better than drugstore cartridge razors. Everyone's skin is different and while some get excellent shaves out of common drugstore cartridge razors, many suffer from razor burn, razor bumps, ingrown hairs and many other dermatological issues by using them.
To start old school straight razors and safety razors have one blade cutting your whiskers – not two or three or four or five — one. The whole theory of multi-blade cartridge razors is that the first blade pulls the hair above the surface of your skin and then the following blade(s) cut it off shorter and shorter. This provides a "closer shave" but it increases the risk of ingrown hairs and razor bumps.
What sets this case apart from the rest?
This case is set apart by its design, construction and raw materials.  It is build to last and it is constructed of dense exotic wood, solid brass, and fine calfskin leather.
Bison Paddle Strop Razor Case, $249 at bisonmade.com.
Editors' Recommendations