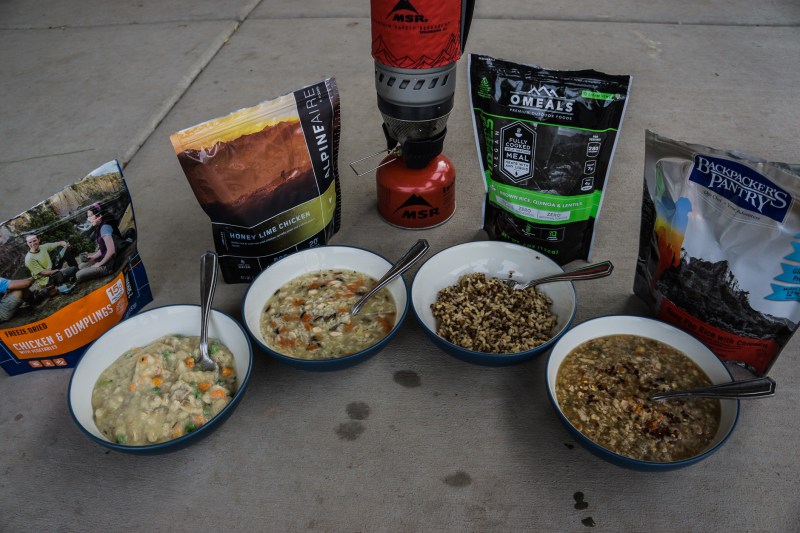 Backpacking food. You've probably been using freeze dried, just-add-water meals for years. After all, unless you want to put in the time to make your own dehydrated recipes or eat military rations, there isn't much by way of options out there. That is, until now. We discovered OMEALS at the Outdoor Retailer Show earlier this summer. After a quick taste test of a few of their meals, we eagerly took a sampler pack out for a weekend backpacking trip. With everything included and pre-cooked, ditching the stove and our typical dehydrated food became a real option. After returning from a weekend of eating nothing but OMEALS, we decided to test them against a few of our favorite meals from popular brands to see if they really can replace our usual load.

Related: Pack It In: Basecamp Cooking | Coleman National Parks Centennial Series
For our test we chose to evaluate each meal according to a few different criteria:
1. Taste: Just because you're eating food prepared long before you hit the trail doesn't mean you need to sacrifice enjoying your meal.
2. Calories: How long will this meal sustain you? Out on the trail you often need more calories than on a typical day.
3. Shelf Life: Freshness is a little subjective, but being able to stock up for a couple seasons (especially when your local REI is having a sale) is a nice option.
4. Cooking Speed: How long it takes to prepare you food.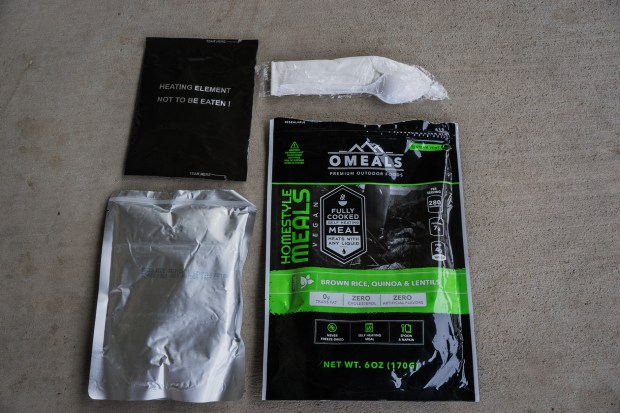 Each category was evaluated on a scale of one to five and final scores were tallied up with input from our crack team of ultralight backpacking connoisseurs. Read on Below for our picks.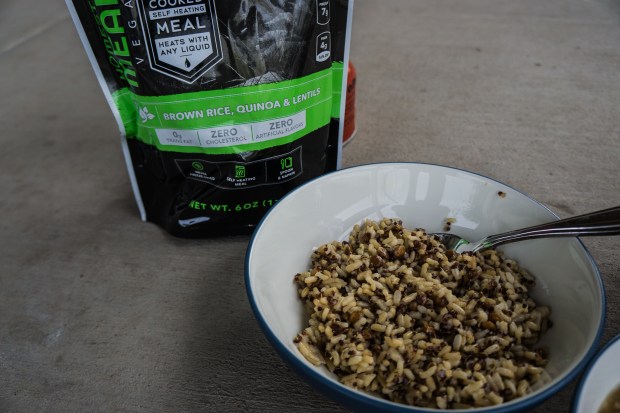 Taste: 5 Right out of the pouch this vegetarian entree looked a little bland. However, the taste was subtle and filling. When we added a little extra olive oil, this meal is hard to match.
Calories: 3 At 280 calories, OMEALS comes in a little less than typical dehydrated food. On the trail we supplemented this with some extra olive oil and the occasional tiger trout that we caught. For fast packers this might be a little bit light though.
Shelf Life: 2 OMEALS guarantees each entree for two years. In our experience with similar pre-cooked military MREs, that is a little longer, but this is the shortest shelf life of any backpacking brand.
Cooking Speed: 5 OMEALS entrees are precooked and sealed. By simply adding water to the included heating pad and putting the food pouch in the outer wrapper, you'll have a full meal in less than five minutes.
Total: 15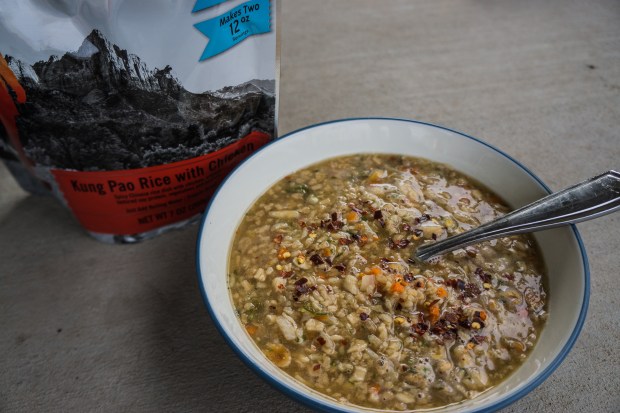 Taste: 3 We originally made this without the included spice package and it was fairly bland. After we added in the red pepper flavor pack, it was almost a little too spicy for any of our testers.
Calories: 5 370 calories per serving make the Kung Pao chicken the heavyweight here.
Shelf Life: 4 This meal comes with a seven year guarantee of freshness.
Cooking Speed: 2 When you add water boiling time and the recommended fifteen minutes of waiting for you food to rehydrate, this meal was the slowest to cook.
Total: 14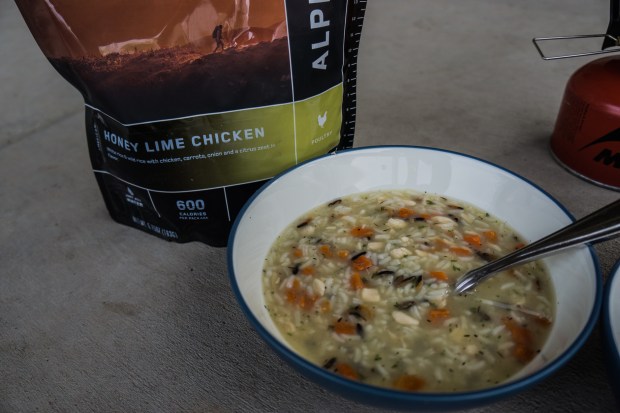 Taste: 2 When prepared with the recommended two cups of water, this meal was very soupy and watered down. After our initial test we tried it again with one and half cups and it significantly improved the taste.
Calories: 4 300 calories is respectable for weekend trips, but for a log haul you'll need to supplement it like we did with OMEALS.
Shelf Life: 4 Seven year best by dates put this in the same realm as the Kung Pao.
Cooking Speed: 2 This meal took the second to longest to cook.
Total: 12

Taste: 5 This one is a hard backpacking meal to beat. It has been our go-to meal all year long as we explored backpacking routes in Utah's Uinta Mountains. We usually combine it with some fire-cooked flat bread or biscuits for a backpacking chicken pot pie.
Calories: 4 310 calories per serving is a good option for weekend backpacking trips.
Shelf Life: 5 Mountain House is taste and fresh guaranteed for thirty years.
Cooking Speed: 3 This was the fastest dehydrated meal to cook, but still almost three times as long as OMEALS.
Total: 17
CONCLUSIONS
After a long weekend of eating OMEALS on the trail, and then comparing them to our favorite standby backpacking meals, we are excited to get OMEALS into our regular rotation. Taste is on par with any dehydrated food, and the ability to ditch the stove and fuel is a great trade off for the slightly heavier weight per meal. The speed of cooking is also a major plus, as is the built in heater. Whether you're looking to head out for a weekend of backpacking or looking for an option for food for an emergency kit, OMEALS is one of the best options out there.
Editors' Recommendations