Founded by former Iron Chef America contestant Justine Kelly and tech entrepreneur Adam Zbar in San Francisco in 2014, Sun Basket is a meal kit delivery service that focuses on utlizing organic produce and sustainably-sourced proteins. To see how well it worked, we tried out Sun Basket's meals. Here's what we found.
The Basics
Price: $11.99 per serving ($72 for three recipes fit for two people per week). The family plan is $10.99 per serving ($88 for two recipes fit for four people per week).
Shipping: $6 per week for the standard package.
Frequency: Weekly deliveries of three recipes per week. The Family plan offers two, three, or four recipes per week.
Number of available meals: 18 weekly options to choose from. These meals fall into ten different meal plan styles (Chef's Choice, Paleo, Gluten Free, Lean & Clean, Vegetarian, Vegan, Mediterranean, Pescatarian, Diabetes-Friendly, and Quick & Easy).
Sun Basket Review
One of the first things we were struck by when using Sun Basket was the sheer amount of meal plan choices. They've got plenty of options, which are broken out into 10different categories, making it quite easy to sort through if you have a specific dietary restriction or are looking to try a new diet.
For our meals, we chose the standard Chef's Choice menu and decided on Quick Tofu Burgers, Easy Tomato-Braised Chicken, and Malaysian Por Mee Goreng. The recipes come pre-portioned in recyclable shipping containers, making package-cleanup easy and quick. When you first open the box, you'll see the ingredients for your meals and a booklet that has not just the corresponding recipe, but the recipes for all of the meals that were shown as options for the week. This is helpful if you're trying to build a recipe collection or decide down the road that you want to try something new, but don't know where to look.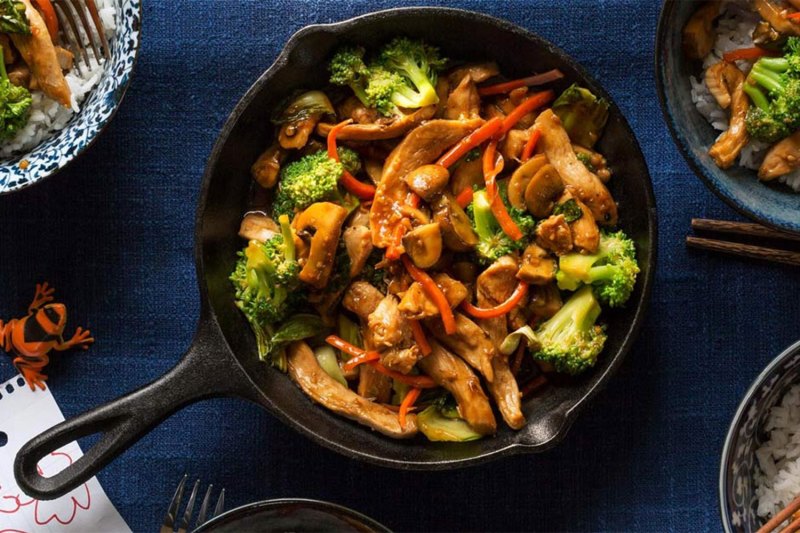 Of the other non-food related parts of Sun Basket, we enjoyed the Sun Basket app, which makes it easy to choose meals and set deliveries in addition to seeing the recipes for the meals you've ordered. Want to recreate something for a date but don't have the booklet? Not a problem!
All three meals took less than 30 minutes to make; the tofu burgers taking barely 15 minutes from start to finish. The quick and easy meals — of which there are plenty of options — are great for those long days when you're short on time.
The most flavorful of the dishes we received was the Malaysian Pork, which benefitted from having Sambal oelek hot sauce as a side to add, which we did. The tofu burgers fell a little flat overall, as there wasn't a ton to them — a tofu patty, some slaw, and a regular bun. The tonkatsu sauce helped somewhat, but they were still fairly bland choices. If given the option, we would've gone with a different choice, especially considering the 25 grams of fat and the 1,460 grams of sodium per serving. It was in that meal we learned that we needed to pay closer attention to the nutritional facts before choosing our options.
Overall, we were most impressed by the selections available from Sun Basket. The price point isn't great compared to other meal kit delivery services, but it shouldn't be a deal breaker if you're looking for a specific type of meal (such as Diabetes-Friendly). Sun Basket also gets bonus points for the easily-disposable packaging and the app.
Interested in trying Sun Basket? Check it out here.
Editors' Recommendations