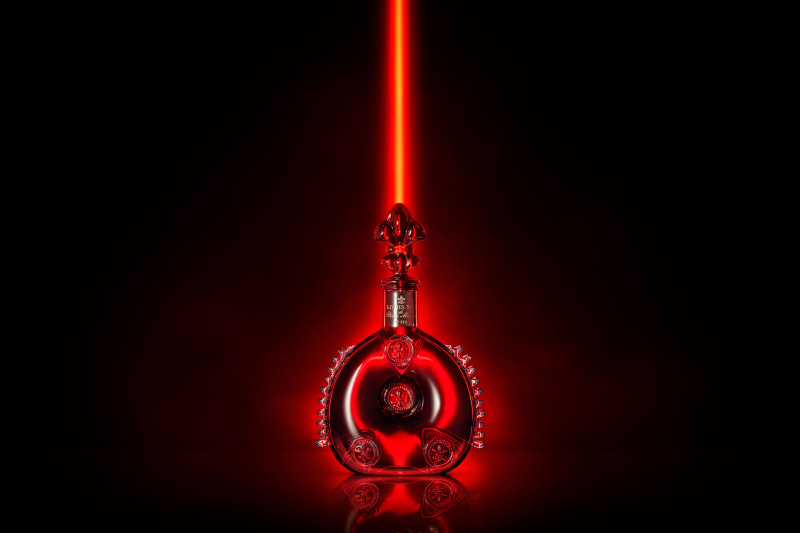 Looking to get a one-up on the one percent? Louis XIII cognac claims that only about 0.000004% of the world will ever sip its just-released ultra-rare N°XIII.
Appearing in a striking red decanter, the N°XIII experience will be limited to exclusive nightclubs internationally that will be allowed only one decanter per night.
Nightlife is defined by a sense of freedom, pleasure, and celebration, all of which are captured and amplified by the N°XIII tasting ritual: A red individually numbered crystal decanter, revealed from under an LED-lit glass cover. Six red, bespoke crystal glasses on a luminous tray accompany the bottles. This rouge is meant to define a passionate experience and plug into the night's electric lifeforce. Louis XIII's N°XIII is then served using a 'spear' — a special cognac pipette intended to prolong the drop‐by‐drop service ritual and for imbibers to savor the aromas and notes of this remarkable cognac.
Time is the raw material that creates Louis XIII. In order to develop the exceptional Cognac, Louis XIII had to think about a century ahead. Each decanter is the life achievement of generations of its 'Cellar Masters.' Since its 1874 founding, each generation of Cellar Master selects the finest fruit-distilled and fermented eaux-de-vie from its cellars. Today, Cellar Master Baptiste Loiseau, for example, is setting aside eaux-de-vie as his legacy to coming successors later in the century. The Cognac's raw blend is sourced from Grande Champagne, the first cru (grade) of the Cognac region. The fine finished product features aromas evoking myrrh, honey, dried roses, plum, honeysuckle, cigar box, leather, figs, and passion fruit.
Related Guides
This, of course, is only the drink. Louis XIII's legendary decanters are mouth‐blown by skilled master craftsmen for generations. In order to develop signature red N°XIII decanters and the red cognac glass, Louis XIII collaborated with Saint‐Louis, the oldest glass manufacturer in Europe. The bottle's vibrant red pop is realized using a secret process that includes gold flakes. Decorated and engraved by hand, each decanter is individually numbered and finished with Louis XIII's signature dentelle spikes and palladium neck.
If allowed by the club and local regulations, clients may leave the nightclub with their N°XIII decanter as a treasured souvenir. An NFC‐enabled stopper (near field communication) grants the owner exclusive access to the Louis XIII Society and all membership benefits.
Customers can also try their luck by ordering one of the N°XIII Experiences online at www.louisxiii-cognac.com or through select nightclubs. If granted, a Louis XIII Brand Ambassador will contact purchasers to organize tasting journeys. The experience is so exclusive that there's chance for those selected to be accepted on a space mission.
Read More: How to Drink Cognac