The Manual is technically a men's lifestyle magazine (you may have noticed the word "man" cleverly hidden in our name). However, we strive to make everyone feel welcome, and every so often we like to tip our caps to the other half of the species. March being Women's History Month, we figured now would be a good time to give a shout out to Rebel Nell, a Detroit-based jewelry company that employs local disadvantaged women.
To understand Rebel Nell, it helps to understand its hometown. Detroit had a population of 1.8 million people in 1950 — over the next 60 years, the population declined by more than 60 percent to just over 700,000 in 2010. The loss of manufacturing jobs — particularly in the auto industry — left Detroit a shadow of its former self. Many families who remain in Detroit struggle to make ends meet. The women, whose economic contributions are undervalued even under the best of circumstances, endure a destitution double whammy.
Related: Beard Balm, Proudly Made in Detroit
Rebel Nell is deeply connected with the underprivileged people of Detroit, working directly with the city's homeless shelters to help poverty-stricken women overcome barriers to gainful employment. Whether these women need assistance with stress, housing, or financial management, Rebel Nell can provide it.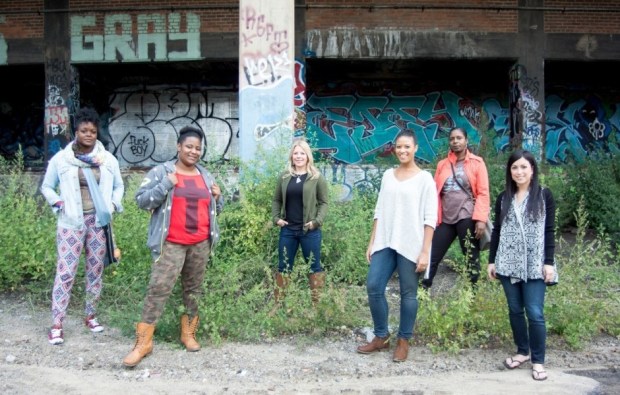 If you think that's cool, you should check out what Rebel Nell makes their jewelry out of: layers of graffiti peeled from the city's walls. Though many see graffiti as a bellwether of poverty and crime, many others see it as a beautiful art form. Instead of calling graffiti a "blight," Rebel Nell calls it an "abundant resource;" rather than lament a supposedly decaying city, the jewelry company embraces the decay.
Just as The Manual loves the ladies, so does Rebel Nell love the fellas. Guys can procure gorgeous and unique tie clips, tie pins, cuff links, and other items made by strong Detroit women. If you're looking to impress a special lady in your life, you might also check out Rebel Nell's bracelets, earrings, and pendants.
Though the story of Detroit seems tragic, there's plenty to be hopeful about. Cities change, economies shift, and populations adapt; by giving disadvantaged women good, decent-paying jobs, the jewelry makers at Rebel Nell are helping Motown get a new groove.
Dequindre Cut Cuff Links: $115