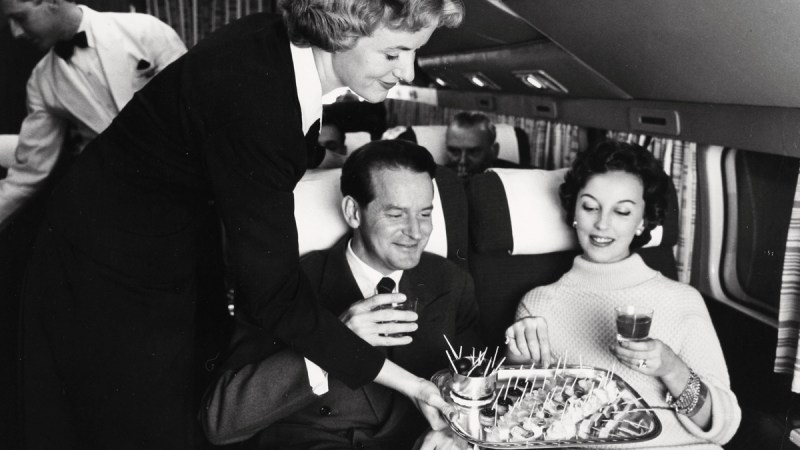 This playlist was designed to soothe one's soul while traveling (particularly during the airborne variety). Each song was chosen to invoke various visions of travel, both in lyrical content and vibe. For best results, hit play while stepping out of your ride-share vehicle before entering the airport. The mix is engineered to audio-cure what ails you during the initial two and a half hours of your journey.
The first gaggle of six songs is catchy and comforting, providing something good and solid to hold on to while the methodical chaos of the airport swirls all around you. "Big Jet Plane" by siblings Angus and Julia Stone and the similarly heart-beating bass lined "Ship And The Globe" set the opening tone with a consoling user friendly groove. The Virgins, Beck, and J.J. Cale pick up the pace and set us up nicely for the oft celebrated and perpetually missed, Tom Petty, and his rumination on the metaphorical act of "Learning To Fly" (best not to focus too specifically on the lyrics as you prepare to hurl your body through the sky at 600 mph).
And then, aaaaaaahhhhh … welcome to the soft, inviting, tropical, guitar-based "Island Trip" by Blank & Jones, as we enter into the chilled out beats and bass section that is devised to help you relax and enjoy the flight as best you can (ideally with noise-cancelling headphones). "Eyes Be Closed" by Washed Out is as close as I could get to a tune that actually feels like flying, with Ernest Greene encouraging us to rise up and float outside ourselves and find the source of light over divine echoing synth lines and multi layered vocals.
From there, the next three songs — "Cruise Control (Rollmottle Remix)" by Jeffrey Paradise, "A Trip To The Moon" by Aiolos Rue, and "Journey" by Saib — provide some nice ethereal subsonic waves interwoven with gentle beats upon which to float along. Sol Rising's "The Journey" with its entrancing guitar line and odd high pitched vocals asking "where are we going…?" ramps up the tempo for the next few tracks. Until "Voyage" by Knowsum calms us back down with some straight forward funky beats and bass augmented by some light airy xylophone.
The space capsule fully detaches from the fuselage as we get into Sacramento's own Tycho and their mind expanding gravity defying "From Home" off the Past Is Prologue album. We then continue our down-tempo, chillaxed space walk over the next few tunes, culminating with another dreamy gem from Washed Out in the form of "Floating By".
Shifting gears ever so slightly, we get into the sparse Casio-toned musings of the Kostars (half of Luscious Jackson) and their escapist ode to avoiding the cops via "Jolene On The Freeway." "Ramblin' Man" by Lemon Jelly could very well stand as the centerpiece of the whole mix as our inquisitive narrator asks our intrepid journeyman why he travels. The long, heavily United Kingdom-leaning list of destinations to follow makes for a dizzying bouillabaisse of possibility as we follow our ramblin' man off into the sunset.
"Sleeping Children Are Still Flying" and the next flock of songs get us into some eclectic sparse hip-hoppy tunes with which to get yourself pretty far out there. This section concludes with Smoke Trees and their voyeuristic studio scene intro to the super freshness of the multi-layered "Trip To Work."
"Wandering" by The Moses begins the gentle easygoing descent into even deeper otherworldly tonal touchstones as we slowly wind our way down into what one might hope to be actual airplane based slumber (a state which yours truly struggles dearly to attain). Following "Trip to the Stix," "in the car," and "wandering daze," Tycho comes back to take us even further out into space (and ourselves) with "Adrift."
I've always had a strange affection for "Airportman" by REM and its whispered message of "great opportunity" wafting over the hazy ambient sleeping pill-esque song beneath. Which then gives way to "Drift" by the lesser known Benji Lewis – an excellent mantra to help us drift by the clouds outside the airplane window before we glide through the final cluster of ever slowing tracks in the mix. Lonnie Liston Smith and The Isley Brothers throw out some contemplative, mellow, voyaging funk before the final few tracks take us all the way down to a very low sitting heart rate and minimalistic euphony to complete our journey.
May this playlist help you to get where you need to go, whether you're traveling to a far-away land or just looking to take a pleasant trip inward (and upward). Enjoy!