Most of us are lucky to accomplish one really cool thing in our lives. Todd McFarlane — comic book artist, indie entrepreneur, collectible figurine designer, and soon-to-be filmmaker — has a long streak of accomplishments that won't stop. He dynamically redefined Spider-Man's look in the early 1990s and helped introduce the supervillain Venom (soon to be a major motion picture!). He is one of the founders of artist-owned Image Comics, which disrupted the comic book industry in the '90s and more recently introduced the world to a little property called The Walking Dead. He created the murdered-then-resurrected antihero Spawn, perhaps the first black superhero to helm a feature film (no disrespect, Black Panther). And through his collectibles company McFarlane Toys, he took accuracy to new hyper-real levels, first for sports figurines and grotesque original monsters, and later for subjects as diverse as "Halo," The Walking Dead, and Rick and Morty.
We caught up with McFarlane during Toy Fair — the sprawling New York City-based trade show (February 19-20) where the next trendy app-controlled robot or Fidget Spinner-level fad is unveiled — to talk about his planned Spawn reboot, sculpting realistic athletes, and how to launch a new product in the Kickstarter era.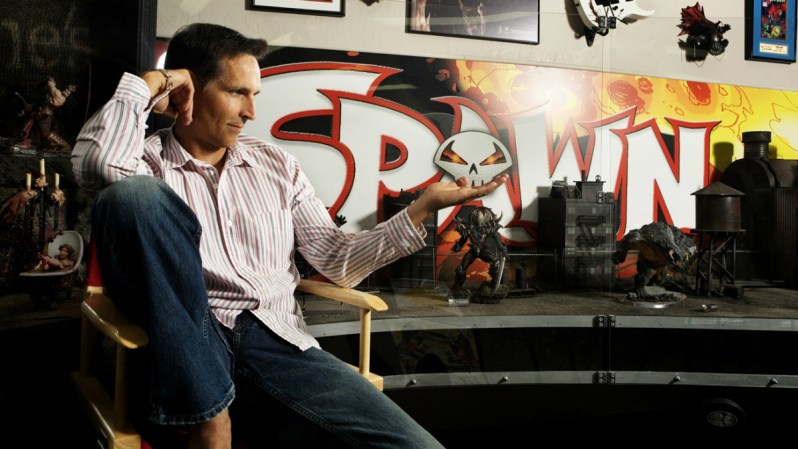 Let's get to Toy Fair first. What is McFarland Toys unveiling this year?
Most of what we're going to be doing is showing extensions for the brands we've had success with: The Walking Dead, Game of Thrones, and sets for Rick and Morty and "Five Nights at Freddie's" [a popular horror-comedy video game series and franchise]. It was phenomenal for us last Christmas. We have an expansion of "Destiny"[a multi-player shooter/sci fi video game].
We've announced a new partnership with the "Call of Duty" franchise, and we're releasing the first two figures in that line ["Ghost" Riley and "Soap" Mactavish], and we've teamed up with [new indie stealth-horror game] "Hello Neighbor." It's got cool, unique looks to it. There's not a lot of characters, but we're hoping to catch a little bit of lightning in a bottle the way we did with "Five Nights." That did phenomenal for us last Christmas. That's the standard-bearer.
Obviously we continue doing the sports stuff for the NBA and NFL. We have the "EA Sports Madden NFL 18 Ultimate Team" series, and we just approved another line for the NFL yesterday, taking into consideration who won Superbowl LII. Some of the players that were more of a local flavor are now national, especially for fantasy drafts.
Speaking of sports: You may be the only comic book artist who also has a huge following in the sports collectibles world. You're especially fond of baseball, it seems.
The sports part of my DNA was always there, even before I honed the artistic parts of my interests. As a kid, not only did I watch and follow sports, and collect the cards, I also played. I went to school on a baseball scholarship and played at a fairly high competitive level.
The comic book artist side percolated when I was about 16. By the time I got to college, my naive dream was that I was going to get drafted, play baseball in the minors, and then at night I'd do comics. I'd be like Batman: I'd have two occupations.
What happened to Batman?
At some point after college, I did my last tryout. I came pretty close and received some serious contemplation. I realized I might have to consider something else. Then something weird happened, which was like, "okay…" — I had started focusing on the art. As I focused on the art, and the years passed, we got into the toys. Initially it was me doing Spawn the way I felt they should be done. But I'm also a dude who loves sports, so why shouldn't I be banging that out too?
I've always said to people that one of the reasons I got into sculpting sports figures is that I'm also a collector (I'm a geek; I collect lots of stuff). And they could never get me to buy into the Starting Lineup figures. I had the posters, the trading cards, the Sports Illustrated issues, and I knew what these players looked like. So when I had the opportunity to dive into some of the sports, my instinct was to make them more realistic.
As a consumer, at some point, your collection is only as good as what's in front of you; "I like Spider-Man, but this is the only thing on store shelves, so I guess I'll buy it." For me, I went, "Nah. I'll make what I want to see as a fan." Lo-and-behold, it was what current fans wanted too. It was a seminal moment to have figures that actually looked like the players. It always seemed weird to me that I was suddenly getting awards for what the other toy manufacturers should have been doing for 40 years.
You're still into sports in real life?
I'm 56 and I still play men's hardball here in town. That competitive nature is always there.
Let's talk comics. You helped launch Image (along with six other ex-Marvel artists), which was revolutionary in 1992 as an independent brand that allowed artists to keep, and profit from, the characters they create, even when those comics become movies and TV shows. That's still a pretty revolutionary idea, even in a world of cooperative web-based design companies.
Here's the thing that's interesting to me: The thing that makes Image unique, and the deal we offer? That deal's been there since day one. We used to do a bad job of selling it for what it is. We weren't beating that drum hard enough. Now, with the success of people like Robert Kirkman (The Walking Dead), Mark Millar (Jupiter's Legacy and Wanted) and Brian Vaughan and Fiona Staples (Saga) that's starting to blossom. Before we were offering it in a world dominated by superhero content, but now it's these cool, eclectic stories coming out of the company. Our best advocates now are not us, the owners, but instead the recipients of that deal. They'll tell their friends, "If you do a book at Image and make a fraction of what your work is doing at The Flash, you'll make way more money. You'll get your cake and eat it too."
Image's rocky history (at one point, several of the principals left) was well documented as part of Robert Kirkman's Secret History of Comics series on AMC this year. I was particularly moved by the recent reconciliation story and the current success of the company under most of its original team. To me, it meant we shouldn't just assume that all burned bridges stay burned. We can rebuild them.
We've all been told at some point in our lives that time heals all wounds. I think there's a little bit of that cliché playing out. It took different amounts of time for everyone to get into a good place. One of the things you notice: Our story doesn't deviate that dramatically from many rock bands. It was a lot of success real fast for a bunch of 20-somethings not far removed from high school. As time goes by, you realize everything isn't a war and that "I'm getting too old for this shit." When I was young, everything was a fight. As you get older you realize, eh, it's not worth it.
You announced last year that you are bringing a rebooted Spawn to the big screen. Not everyone loved the 1997 film and its relatively light-hearted depiction of Spawn's gritty comic book world. How involved are you in the new production?
Well. I wrote the script, I'm directing, and producing it. It can't get any more involved than that, short of a cameo. There is already a great team, but at the end of the day, when a decision has to be made, it's going to be me. There's going to be nothing on the screen that I'll be able to say, "I wish they hadn't done that." If people don't like it, I'll take all the negative. If it's successful, I'll let everyone know who all the people were I collaborated with. The boss deflects all the bad, and shares the good.
How is it going? You've announced recently that casting talks are underway.
We're still fishing for a couple of big fish as far as casting. One of the fish said they're intrigued and wants me to come out and meet them. That's a big deal. The ideal for me would be to open around Halloween 2018, because the tonality fits the vibe of the movie. But if that window's not already closed; it's barely open. The next reasonable opening would be February or March of 2019
But I've waited 10 years, so I'm no tin a rush to make it happen at an artificial time. If it's the right actor and we have to wait two months, we do that. We take it in a natural progression.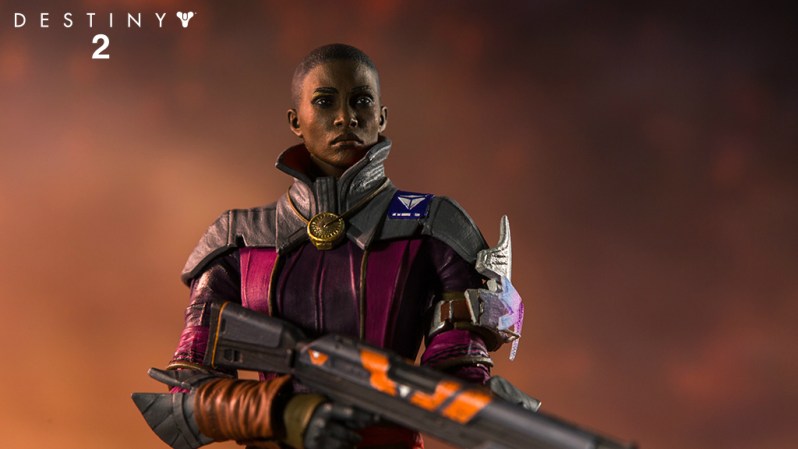 Has anything surprised you so far about the process of bringing a film together?
Not yet. If anything, people have been sort of intrigued at my responses. When something happens in a good way, they're surprised I'm not more excited. But because of my cockiness, I assumed that's how it was going down. Me, I'm assuming we're going to get good actors and a little bit of name recognition. I'm cocky enough to tell people it will open at number one, and that it's a good move for their career.
Number one?
Well. .. my sell is that, in 1997, Spawn opened to $20 million with the price of tickets back then [about $4.50]. If I get the same number of tickets, it's already a $43 million opening. If I get half that, it should still be a minimum $22 million. That's not a bad place to start the conversation.
Then there are all the unknown variables happening right now. Spawn was the first minority superhero on the big screen (he beat Blade by a year). With Black Panther tracking to do so well, some moviegoers may be saying, okay, being proud of diversity is a good thing.
There is the fact that Spawn will be R-rated this time around. Deadpool proved it can be done. It and Get Out proved it could be done. The New Mutants [an X-men-related story from Marvel] is coming out in 2019 as an R-rated and creepy film. It's way more in the vein of what I'm hoping for with Spawn—something super creepy instead of superhero.
Then the big one I hope completely crushes it is Venom (a Spider-Man foe and now a stand-alone film starring Tom Hardy), because I co-created that character. I can put in my trailer, "from the co-creator of Venom and a producer of Get Out …" At some point you don't even care whatever comes after the "…" you just go, "Shit, that looks even cooler now!"
You're so busy. Do you even get to sleep at night?
Like a baby. I have one of those great jobs where I get to get all of those wicked cool dreams people have at night; I get to do them during the day time. Most people have those amazing, restless dreams every night because they don't have an outlet. I have an outlet. At night, I sleep and recover, and do it all again.
Indie rebel turned successful business owner. What do you think should be the takeaway for a young entrepreneur?
There are two hurdles for everyone. I don't care if you're selling a pickle, a black sock, or Rick and Morty figures. The first is you need to get it on a shelf or in the market someplace. That's really a deterrent for most people. Everyone's got a great idea, but how do I get it on a shelf? To me, that's 51 percent of the battle. You now have hurdle number two, which is, "Why won't it go off the shelf?" Just because you accomplished the big hurdle and WalMart or some Shark Tank investor said "yes," it now needs to sell. Because if it doesn't, they will never say yes again.
When the retail market shifted several years ago, and a lot of outlets closed, I had two choices. I could either do stuff that was a little more widespread and put it into the big box stores and compete, or I could put the creative stuff we were doing at the time into an art house … Art houses are way less complicated, but then I'd need to let 40 percent of my employees go. When I was doing baseball figures, I made way more Yankees than I ever would personally. I hate the Yankees. But there are a lot of Yankees fans out there. No one's going to buy a bunch of Arizona Diamondback figures.
It's called fiduciary responsibility, and I hate that part of my life. It was way more fun to be a renegade artist. Now there are too many people reliant on me making smart decisions, instead of just making cool decisions.
Unfortunately my personal torture is that, at the beginning of the equation it's Todd the Artist, and at the end of the equation it's Todd the CEO. And sometimes Todd the CEO has to slap Todd the Artist.
Editors' Recommendations