Like any enthusiast, I'm always on the lookout for the next motorcycle (or the next three motorcycles) to fill in all the empty space in my garage. I tend to lust after stylish and iconic machines of years past, but I also keep an eye on the latest bikes coming out these days.
One trend I'm happy to see is the return – and update – of the "standard" motorcycle, a do-most-everything bike that can zip you to work, capably sport-tour or even raise your pulse at a track day. One machine that's caught my eye is Yamaha's FJ-09. Is it possible that I may only need one bike to do most of my riding? Surely not.
In Yamaha model-speak, FZ-series bikes are typically hot-blooded sports machines, while FJ rigs are a bit less frenetic and more well-rounded. So it seems with the FJ-09, but Yamaha has apparently taken that well-roundedness to perhaps a new level of performance and technical excellence.
The FJ-09 has the FZ-09's hot-rod 117hp 847cc liquid-cooled 3-cylinder engine as its heart, and while 3-bangers have been Triumph's specialty as of late, Yamaha also dabbled in triples way back in the late 1970s with the XS750/850, cruiser-ish standards that are still well-regarded today in vintage circles.
The 09's triple is a member of Yamaha's "cross-plane concept" configuration family, designed for better power delivery, lighter weight and a thin profile, all tricks taken from their world-beating (but slightly wider) R-1 four-cylinder hyper sport. However, the engine management system for the FJ variant has been fine-tuned for less… overtly aggressive riding situations. Fear not, though, there are three ride modes to choose from.
A 3-cylinder engine has many advantages: properly designed, it can rev to the moon like a four-cylinder, but it also has a punchier torque curve like a twin. It's also thinner than most fours, keeping the bike slim and compact. And depending on how restrictive (or not) the exhaust is, it has a lumpier, distinctive sound signature. The main problem? Vibration. But modern design and engine cradling technologies have largely mitigated the buzz, and it seems like the once-testy triple is finally getting the love it deserves from more bike makers.
An aluminum frame wraps around the busy FJ mill, and the best way to describe the look of the bike is a mash-up of standard, sportbike, dual-sport and an anime creation. I love the look of the bike; it's cool, aggressive, but also inviting, a tough trick for designers to pull off. Overall, the bike has a sporty, dense, compact, and ultra-modern appearance.
A small windscreen up front teams with a pair of slick aero hand guards on the wide tubular handlebar to blunt wind fatigue, the riding position is sit-up with some lean-forward mixed in, perfect for both urban technical riding and long-distance sport-touring. Both the seat and bars have a range of adjustability so you can really dial in the fit and comfort.
It was a photo of the smart-looking FJ-09 fitted with optional side cases that first caught my attention. Both the side cases and a top box are available, as are myriad other options, including heated grips, which should be standard on every bike made – in my opinion, of course.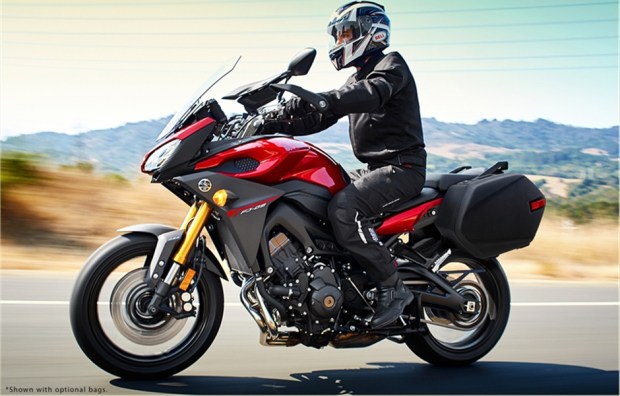 Beyond those bits, the FJ-09 is a modern motorcycle technology showcase. ABS is standard, as is traction control, but only traction control can be switched off. There are also the aforementioned three ride modes available for different riding environs, from a powered-down profile for rain-slicked roads to an unhindered hooligan mode, plus a mid "standard" setting. Throttle is ride-by-wire and the triple disc ABS brakes are the monobloc types usually found on higher-end sporting mounts.
A comprehensive two-panel LCD screen takes the place of traditional clocks and features the regular speedo/tacho functions along with range, mileage, temperature and the current position of the International Space Station. OK, maybe not that last one, but it's a very up-to-date data system to say the least.
Suspension that's adjustable fore and aft for preload and rebound smoothes out the ride, and the rear swingarm features a banana configuration that allows for a stubby exhaust exit to peek out on the rider's right – no chrome fishtails here. There's even a rarely-spotted centerstand included at no extra charge. Dual LED headlights light the way and there's a 12V powerlet up front for your phone, GPS or other gadgetry. You can add another as an option. The gas tank grows to nearly five gallons from the three and change tank on the FZ.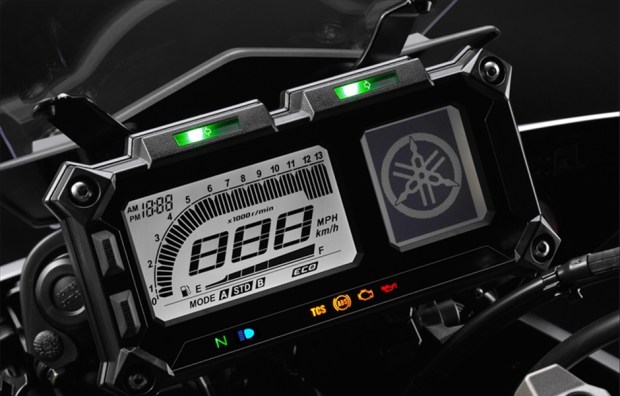 The sportier FZ-09, a sharper, more urban-focused naked bike, has been roundly praised and is still versatile in its own right – it's also Yamaha's best seller. But the FJ-09 has taken that versatility up a notch or three, giving riders more range, more seat length for two-up riding and more while maintaining the strong heart of the FZ variant. Wheelbase of the two bikes is identical, so expect sporty handling.
The best feature may be the price: the FJ-09 is $10,500 before taxes and DMV fees, etc. Kitted out with luggage and heated grips, the price tag is closer to 12 large, which is still a really good deal for the impressive performance and technology stuffed into a great-looking package.
Looks like I may have some room left in the garage after all.
We're hoping to get some seat time on the new Yamaha FJ-09 in the near future for a comprehensive review.
All photos courtesy of Yamaha Motor Corporation. Optional accessories are shown in some photos.
Editors' Recommendations