BMW's well-known tagline for their cars is "The Ultimate Driving Machine," but when it comes to their motorcycles, many in the motorcycle industry snicker and diss them as "the Ultimate Boring Machine" or "the Ultimate Retirement Machine."
Those criticisms may have some merit as the brand has had a bit of a staid reputation until just recently, when they unleashed the world-beating S1000RR sportbike and began regularly spanking the competition in every meaningful category you can name. Slow and old, you say? Yeah, you just got passed.
But true to its roots, BMW still makes a solid line-up of ready-steady-go motorcycles more renowned for their ability to reliably traverse zillions of miles of pavement (or dirt) instead of filling your wallet with speeding tickets (S1000RR excepted). Every brand has its strong points, and with millions of motorcyclists out there happily tuca-tuca-tuca-ing down the road on their BMW boxers, well, the criticisms can just go take a holiday.
I've always had an interest in the history of motorcycle brands and recently, two books detailing BMWs offerings from the mighty and modern S1000RR back to their ground-breaking R32 from 1923 crossed my desk, causing many a show to pile up in my DVR while I soaked in the details of BMW's storied machines.
First up was Doug Mitchel's BMW Motorcycles, which chronicles 40 key BMW models that showcased innovations, ideas and sometimes a bit of wrong-headed thinking over the company's history. Each model covered receives a plain-English (plain German?) write-up highlighting the performance parameters, history and technology behind the model. Little "Did You Know" anecdotal insets for most models add a bit of charm and up the trivia quotient nicely.
Yes, BMW built bikes for the Nazis, and while the book doesn't dwell on that fact, it isn't glossed over either. But for the most part, BMW Motorcycles sticks to the facts and will increase your BMW knowledge base quickly and enjoyably without being overly technical – just what I like.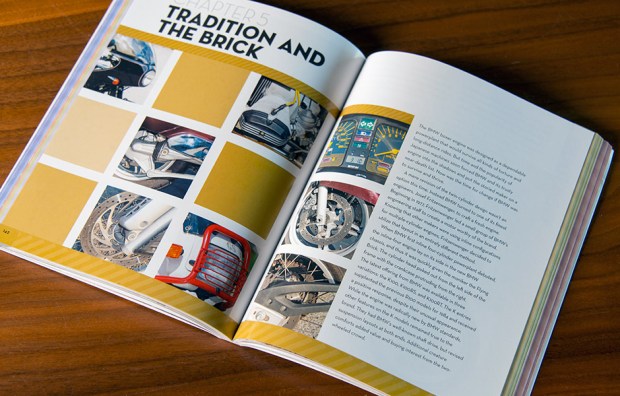 The book is also filled with a generous helping of photos of each bike – typically a meticulously restored example out of someone's collection – and I appreciate the attention the photographer paid to the small details instead of just filling the tome with studio-lit beauty shots. BMW Motorcycles is a fairly quick (and portable) read and doubles fairly well as a quick reference guide to both the standout bikes and different eras of the Bavarian moto maker.
From there, both casual readers and hard-core Beemerphiles alike will kill a lot of hours paging through Ian Falloon's enjoyable but massive reference guide, The Complete Book of BMW Motorcycles.
This literal big book of BMW covers every single model the maker has rolled out the factory doors from 1923 to 2015. Every model. While it doesn't exactly dwell on bolt sizes and seat materials for each bike, there is complete technical information and historical context for each machine. Falloon is a well-versed BMW expert and has penned numerous previous books on the brand, but perhaps none so ambitious as this one.
Soak this book in and you'll acquit yourself well at the next vintage (or modern) BMW meetup. The photos don't rise to the level of detail in Mitchel's book but Falloon makes up for it with access to BMW's photo archive, which fills the book with rarified racing photos, vintage ads and crisp studio shots of early models. Also, befitting the coffee-table format of the book, the photos are big and do show a lot of detail.
You can't lose with either BMW book, and seeing how there's a lot of winter left to go for many riders, you have time to bone up on your BMW lore and tech while the snow piles up outside and your R100 snoozes silently in the garage, waiting patiently for spring.
Our thanks to Quarto Publishing Group and Motobooks for sending us these two fine books for review.