For one Australian architect, the path to creating his client's dream home involved building an entire "village." A blending of old and new, classic and contemporary, The Village House is a sprawling retreat of several buildings that all combine into one amazing home.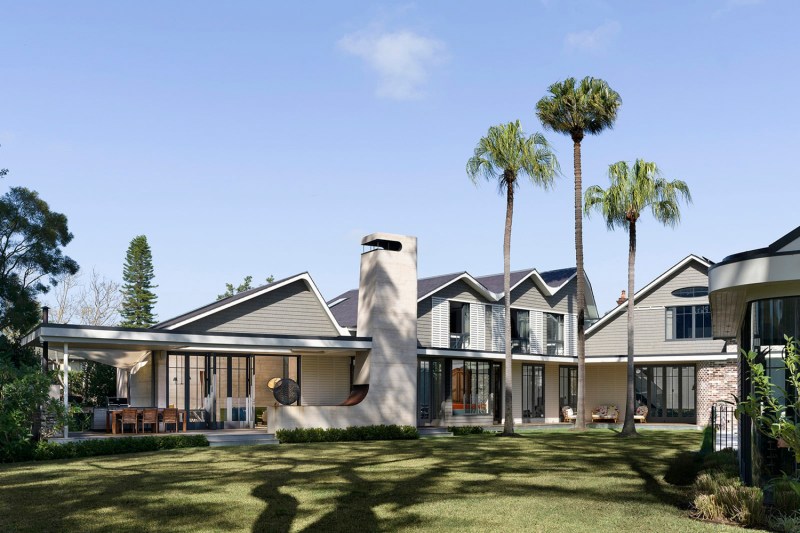 The brainchild of architect Luigi Rosselli, The Village House is located in Wahroonga, Australia. The property includes the original 1910 home which is a Federation era farmhouse bungalow, the multi-gabled addition composed of rammed earth, and an urban farm complete with chicken coop, workshop, and vegetable garden.
On paper, The Village House sounds like it just wouldn't work. It's an eclectic mashup of several styles. The original bungalow is farmhouse style with an impressive wrap around porch. The addition to the home adds a contemporary twist and blends the farmhouse style with mid-century modern touches. Inside, the home is decked out in a carefully curated mix of urban industrial, Victorian, Art Deco, and rustic furnishings. And there are little touches of whimsy to add some fun to the home, like a slide attached to the cured staircase and a cloud-like globe chandelier in the kitchen. It all comes together in a seamless look that is both high-end and inviting.
Outside, The Village House hints at the eclectic style within. There is a combination of materials from rammed earth to brick to timber shingles. The disparate finishes are connected through a warm, earth-tone color palette of taupe and warm grays. There are several buildings on the property, anchored by a central courtyard which includes the pool and the outdoor family room, a main focal point of the home.
The outdoor family room is defined by a massive, 22-foot-high chimney. This chimney isn't just a striking focal point, it contains a wood burning fireplace large enough to hold a spit for roasting up an entire pig. Along with this enviable pig-roasting fireplace, there is a seating area and a dining area, all overlooking the palm tree-lined courtyard and pool area.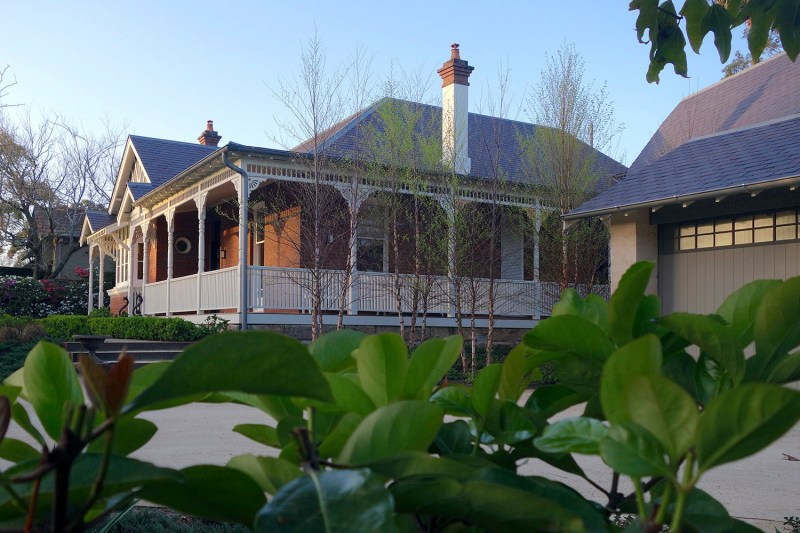 If you can pull yourself away from the fireplace long enough to step inside The Village House, you will find an impressively spacious, uniquely styled home. The multi-gabled roof provides for cathedral ceilings inside, which are supported by exposed wooden trusses. The bright white ceilings and interior walls make the space feel open and airy while providing a contemporary contrast against the rustic rammed earth exterior walls and limestone flooring.
It takes an expert eye to be able to match green velvet sofas with a rustic farmhouse table or to put a thoroughly contemporary addition onto a historic home. Not many could pull off such an eclectic look, but in The Village House, Rosselli has created a space we would love to call home.
To see another amazing Southern Hemisphere home, check out Dunalley House.
Editors' Recommendations