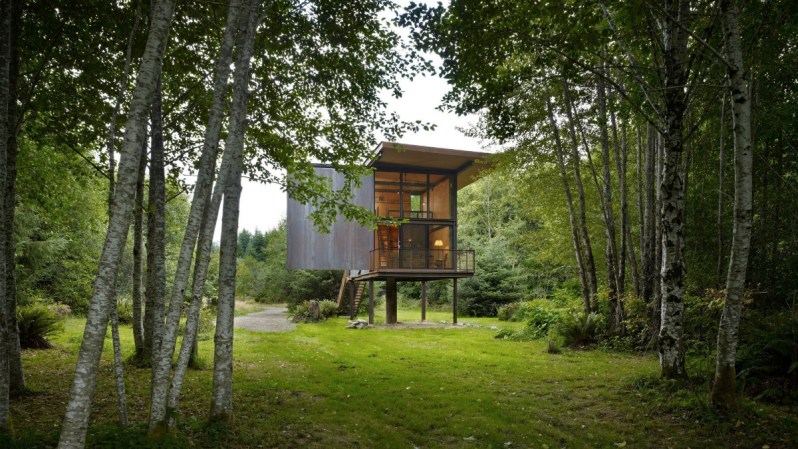 Fishing cabins are nothing new and typically nothing special (architecturally speaking). They've been around for centuries as a way for avid fishermen to be able to enjoy the season in remote locations without having to live full time on the river. So how do you go about rethinking a simple, utilitarian structure that will be used sporadically throughout the year? The was the challenge taken on by architectural firm Olson Kundig. The result is Sol Duc Cabin, a 350-square-foot weekend home that is a revolutionary take on the humble fishing hut.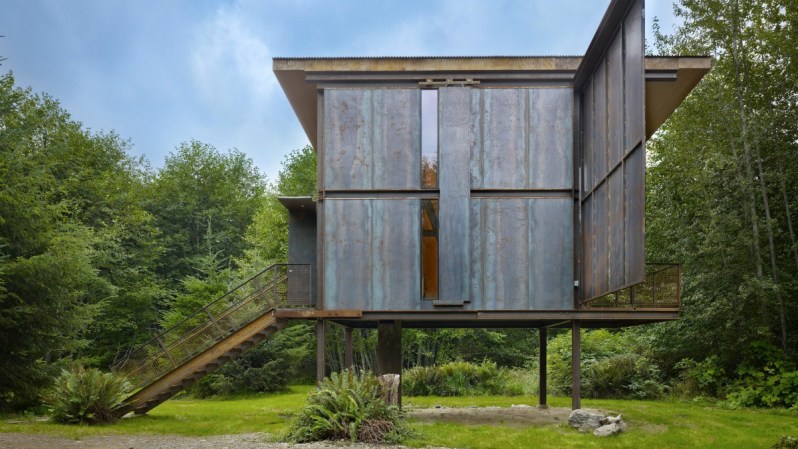 Located in Beaver, Washington, close to the Sol Duc River, the cabin sounds simple enough. The exterior is a stylish, contemporary finish of mild steel. Inside, it has a living and dining area, small kitchen, basic bathroom, and a sleeping loft. The interior is finished in a warm wood (some of which was reclaimed from what the owner already had on site), creating a welcoming cozy space and a sense of protection against the outside elements. A two story wall of glass allows for views of the river from any spot in the home. Outside, there is a balcony under a cantilevered roof, perfect for relaxing at the end of a long day of fishing.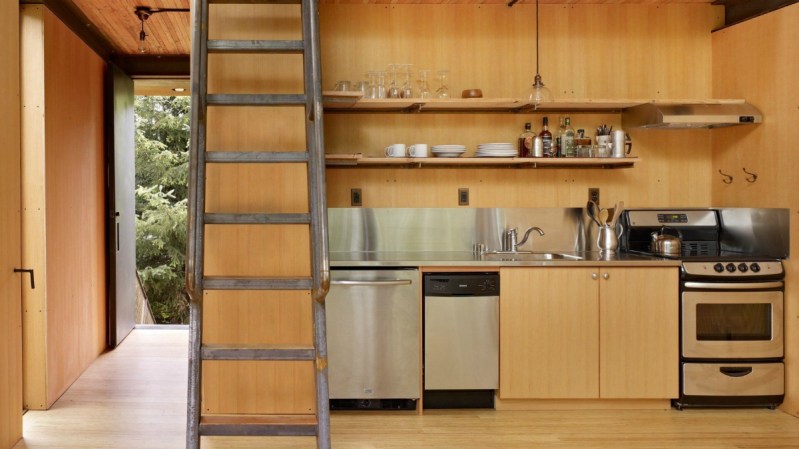 Of course the key feature of any fishing cabin is the ability to lock it up tight when not in use and that is where architect Tom Kundig's creativity really shines. There are a series of mechanical steel shutters that cover the windows on the front and sides of the cabin. But how to seal up that two story glass wall at the back? For that, Kundig created a large steel panel that rolls back and forth along a steel beam. This system allows the owner to quickly open and close the cabin as needed (and keep out any unwanted interlopers, of course).
Beaver is located in the Pacific temperate rain forest, a unique ecosystem that sees frequent heavy rainfall and cold weather, which results in a lush, coniferous forest. This also provided a challenge for the architect as the cabin is located in an area subject to flooding and general dampness (something that can wreak havoc on a building foundation). The solution: put it on stilts. By raising the cabin up on steel support beams, it is protected from moisture damage. As an added bonus, raising the home up on stilts provided a better view of the river through the trees.
Now all that's missing is a line, a pole, and fish ready to bite.
Editors' Recommendations