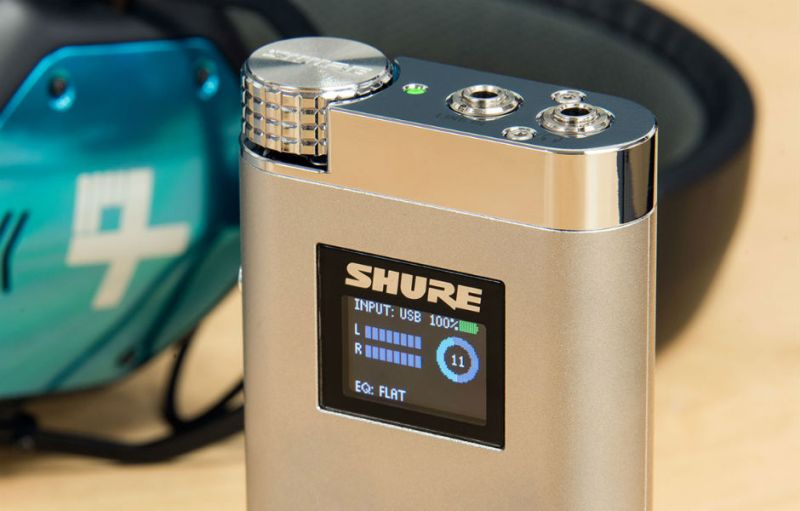 Traditionally, I'm not a big believer in portable headphone amplifiers. They're often bulkier and heavier than a smartphone. And besides, if you're going to stuff yet another gadget into your overflowing pockets, why not make it a hi-res portable audio player so you can let your phone rest and, you know, actually play hi-res audio files?
However, in very short order, Shure's luxurious new SHA900 — which begs the kingly price of $1,000 — took me to church. In fact, Shure's going to have a very hard time getting this thing back from me. Seriously. One quick connection to this sterling hunk of glittering aluminum turned virtually every audio file I auditioned into a brilliantly-sculpted eruption of sonic bliss.
It's true that, no matter what kind of hi-fi weaponry you've got, the highly-compressed audio of MP3s (and their streaming equivalents from Spotify and Apple Music) will never sound as the studio artists intended. That's just science. But in today's streaming culture, the simple fact is that many of us spend a lot of time with compressed tracks. And that's where devices like Shure's SHA900 can really pay off.
All music files — even when heavily compressed — sound exponentially better through a world-class amplifier and DAC (digital-to-analog converter). So, whether you're sourcing hi-res tracks from your PC, or humming through your Discover Weekly Spotify playlist, Shure's SHA900 gives everything you cue up a serious promotion. Add in a sleek design and a small profile, and this amp could be an audiophile's new best friend.
The Goods
The SHA900's exterior casing is a luxurious mix of aluminum and chrome. The shiny volume knob at the left moves opposite to expectation, as the device is designed to strap behind your phone, and two rubberized pads at the back add some scratch protection. The knob pulls double duty as a command switch, unearthing a customizable 4-band EQ and limiter with a double click, while the power key doubles as a back button for navigation. There's also a hold switch to keep from butt-dialing settings.
Inputs include both a 3.5mm analog jack as well as a micro-USB digital input which also doubles as a charging port. The simple setup allows the unit to easily source both digital and analog audio and work as a portable amp for any smartphone, as well as doubling as a sound card for your computer.
Related: Change the way you hear with these amazing wireless buds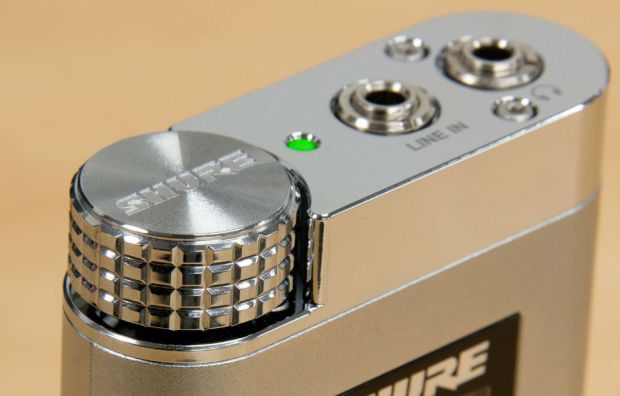 Performance
In order to better gauge just how much music was improved, we auditioned the amp principally through mainstays of our daily listening habits, including our go-to hi-fi headphones, the Audeze EL-8, as well as a collection of tracks with which we are intimately familia. That includes old standbys like Depeche Mode's Violator, Radiohead's entire catalog, and tracks from more acoustic-based bands like Nickel Creek, Bela Fleck, and Ray LaMontagne.
Every stick click, every bow of a string, and every flick of the piano keys gets a better ride through the SHA900. The amp's unabashed instrumental separation seems to burrow out extra space for every track in the recording, while adding echo-y trails of expansion to the overall dynamic expression of the music — even when heavily compressed. And while users will immediately notice improved bass response, that doesn't mean a heavy-handed approach — the amp renders most tracks with near-perfect balance, including firm and supportive bass, making the comprehensive EQ more luxury than necessity.
While weakly-produced MP3 tracks are stripped down to their root imperfections, the good far outweighs the bad when it comes to sound reproduction — especially notable in more complex songs. Depeche Mode's Policy of Truth, for instance, sounded as if each and every synth tone was sculpted and polished to reveal a deeper dimension of depth and definition. The little satellite nodes that float across the stereo image towards the end of the tune seemed to be constructed into completely autonomous entities, popping out from the aural bedrock like celestial bodies floating through the ether.
Shadowy reverb tracks from vocals cut brilliantly in the far side of the image, effortlessly revealed through the stark clarity of the production while leaving plenty of space for each and every word to ring clearly in the primary vocal. And the hallmark of any improved hi-fi experience — hearing things that weren't previously revealed — occurred early and often. Did you know the echo of the guitar in the chorus of Coldplay's Don't Panic gets a little off-rhythm? Neither did we until we cued it up with the SHA900.
Conclusion
There's no doubt that most listeners won't appreciate the luxury of a portable amp to spend $1000 on one, let alone possess the will to tote around a little silver box all the time. But for serious music lovers — whether you're a hi-res purest, or a plain-jane Spotify addict — the SHA900 is a thrill to experience.
A version of this post first appeared on our "brother site" Digital Trends.
Editors' Recommendations