Today is Arbor Day. Surprised? We don't blame you. When it comes to underappreciated holidays, Arbor Day is right up there with Flag Day and National Sea Monkey Day (May 16 — look it up). In case you don't know, Arbor Day is a day on which people all over the world are encouraged to plant and maintain trees. You can hug a few trees if you want, but you should know it doesn't really do anything for them.
If you don't have the time to plant a tree, we encourage you to make a purchase that will lead to a tree being planted. How can you do that? Well, The Arbor Collective — an aptly named snowboard, skateboard, and clothing brand based in California — has made planting trees an important part of their enterprise.
For every product sold, The Arbor Collective donates to environmentally friendly organizations via their "Returning Roots" program. It should come as no surprise that The Arbor Collective donates to the Arbor Day Foundation; however, the bulk of their donations go to the Hawaiian Legacy Rainforest Initiative, which in turn works to preserve and restore the koa forests of Hawaii. The hardwood from koa trees is extremely sought after, and forests have disappeared as a result. With some help from The Arbor Collective, the HLRI has planted more than 300,000 trees on 800 acres of land.
Related: The Manual's Top Five Cruising Longboards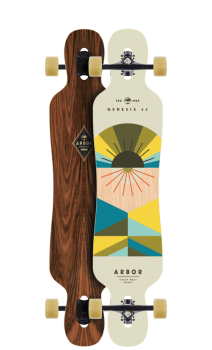 Of course, The Arbor Collective isn't just a vessel for charitable giving; they also make dynamite products in an environmentally responsible manner. Their snowboards and skateboards — crafted by a cooperative of designers and artists — can be found in retail stores all over the country. If you're more of an online shopper, you should check out their beer koozies, whiskey glasses, flasks, and water bottles; as well as their t-shirts, fleeces, headwear, and other kinds of apparel.
Whether you're a snowboarder, a skateboarder, a guy who likes trees, or all of the above, consider observing Arbor Day with a tasty item from The Arbor Collective. You might as well take care of some trees while you take care of yourself.
Check out The Arbor Collective's online shop
Feature image taken by Dustin Damron
Editors' Recommendations