I know what you're thinking: That falsetto dude? The Manual's classic albums series is young yet, but it wouldn't be a proper grouping without a few provocative selections.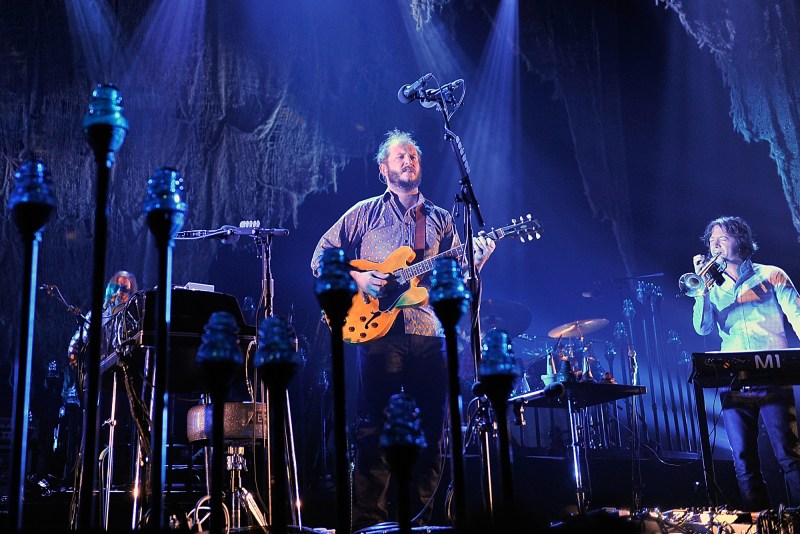 Bon Iver finds himself in some good company, what with Prince, The Boss, Herbie Hancock, and Pink Floyd for company so far. But hear me out, the Wisconsin musician's debut is a breakup album for the ages.
Revisiting More Classic Albums
Part Thoreau, part Elliott Smith, For Emma, Forever Ago is both introspection and conscientious objection. Most of us have been through a shattered relationship and finding solace somewhere remote is not unique. Some of us too may even write some decent poetry or have an informed thought or too during this heart-wrenching stretch. Vernon fled to the backwoods with a guitar in hand and came away with an album that touches on every emotion, with little more than an acoustic guitar and a mic.
Keep in mind that Bon Iver wrote this album as a relative nobody. This was not a statement from an established artist nor an attention-grabbing shift from prominence to vulnerability. This was a heartbroken dude with a lot more talent than anybody realized, spilling his guts onto some parchment and hoping it would stick.
It wasn't just a girl that dragged Vernon deep into the woods of northwestern Wisconsin. He was having some medical troubles as well, including mono and a liver infection. He was stuck in a bed for months and his former band had just given him the boot. The dude was in his mid-twenties, existentially depressed, had just broken up with his then girlfriend, and was basically killing time working at a sandwich shop and playing online poker. Enough was enough. He loaded up his car with his relatively small pile of musical equipment and headed for his dad's hunting cabin.
What came next is quite remarkable. The story goes that Vernon mostly survived off of venison (which he hunted) and the occasional batch of provisions from his father (primarily some dairy and beer). At one point, a bear entered the cabin. This was 2006, when mobile phones were just starting to smarten up. Not everybody had them then and even if Vernon did, there was almost certainly no service in the remote abode. He just lived with his thoughts, some gamey meat, and a musical prowess earned from studying music in college and playing in a handful of bands.
To thicken his sound, Vernon went for a choir-inspired approach. Or, perhaps he was just lonely and needed some imaginary friends who could double as backing vocalists. Regardless, he started looping his own vocals, imparting harmonic richness without sacrificing the delicate nature of the songs and subject matter.
"Skinny Love" is probably the one hit to come out of the record's nine tracks. It opens with the rhythmic twang of a guitar on the verge of out-of-tune, as though strummed with reckless abandon on the cabin porch. The song swells into a folk ballad that shows both Vernon's vocal range and ability to engineer an explosive yet measured chorus. "Lump Sum" pulses like a flickering thunderstorm, the perfect backdrop for Vernon's surprisingly soulful voice. And downtempo tracks like "The Wolves (Act I and II)" remind us of the particular brand of all-consuming peace that only comes from being in the woods.
The best song may just be "Creature Fear," a ghostly piece of folk that bursts to life in spats of bliss. Vernon's voice and trusty guitar harmonize beautifully in between percussion-backed melodic crests. Ultimately, it morphs into the more exploratory atmospheric soundscape of "Team," backed by a military-like snare drum beat and whistling. It captures wisely the strangeness and eeriness of being solo in nature.
It's not all shoe-gazing and self-loathing, of course. The record is actually peppered with lots of bright spots that peek out like January sun breaks. "For Emma" is a swaying, uplifting number and arguably the best track on the album. It's powered by a love for an old partner made all the stronger through gained wisdom and retrospection. It's adorned with shimmering horns and it marches into the sunset gracefully, like an old soul with very few regrets.
The record launched Vernon into indie fame and, in 2012, he would win a pair of Grammys. It's practically implied that Bon Iver will at least get nominated now ever year they turn something out. Vernon is established to say the least, a modern American pop-rock ringleader who sells out arenas left and right. But it's this formative first release that feels the most raw — a self-made launchpad made out of emotion, wafting rhythms, and a certain type of rustic poetry.
While it plays wonderfully any time of the year, For Emma, Forever Ago is especially fine in the winter. Its poignancy shimmers most in the company of naked tree branches and dark nights. Which makes sense, as the record was very much the product of this quivering time of the year. The music is soft but impossible to pull away from, like a dull wood fire during the coldest stretch of the evening.
Whether you're looking to deal with a breakup or just want to feel a beautifully articulated lowness of spirit (which in turn will give you a better respect for all the highs), this record is a must. In the annals of contemporary music, it's a modern classic, built of very little but oh so affecting.
Editors' Recommendations