Fly fishing is an age-old tradition that might date back as far as the Roman Empire, but for most of us, the 1,900 years in between haven't made casting the weighted line any easier than it once was. However, most every outdoorsman has pondered fly fishing for salmon and steelhead while wading through the frigid waters of Montana's Bighorn River — or a similarly-iconic body of water — at one point or another, before shuddering at the sheer complexity and supposed elitism of the sport. Thankfully, Patagonia's Simple Fly Fishing Kit ($255-$280) curbs both qualms with one fell swoop, conveniently packing the bare essentials and a comprehensive guide in a single package.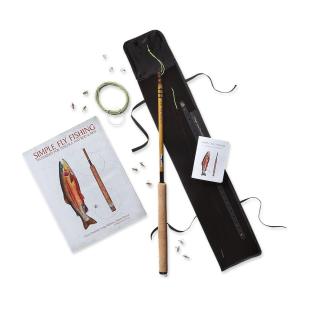 Entitled Simple Fly Fishing: Techniques for Tenkara and Rod & Reel, the straightforward guidebook informs beginners and experts alike regarding the art of wet fly, nymph, and dry fly fishing. Yvon Chouinard, Craig Mathews and Mauro Mazzo authored the text, while artist James Prosek adorned the pages with melange of instructional paintings that prove just as colorful as they are illuminating. The book is basic and informative, lined with easily-digestible text outlining which type of tackle or knot is best suited for certain situations, along with a bevy other crucial details pertinent to up-and-coming wranglers.
While the bundled book covers all the dynamics of flying fishing, the kit also includes everything a beginner needs to get up and running within the hour. The offering includes a flagship tenkara line and reel-less rod — which is widely considered to be one of the most fundamental fishing rods for beginners — along with a dozen of Montana Fly Company's hand-tied, soft-hackle flies designed to cover the most commonly encountered hatches. Moreover, Patagonia also includes a 7½-foot tapered leader and quick set up guide, rendering the century-old Japanese fly fishing technique more accessible than ever before. No wonder English author Izaak Walton celebrated the sport's spirit in prose and verse, referring to it as "The Contemplative Man's Recreation" back in 1652.
Check out Patagonia's Simple Fly Fishing Kit online to make a purchase or for more information, or visit one of the company's many retail locations across North America and Japan to pickup the kit firsthand or learn about the best fishing spots in the local region.