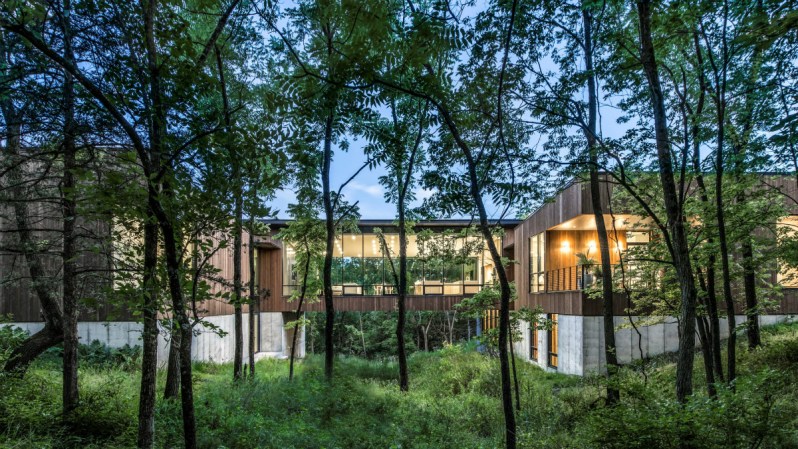 When you think of Iowa, you most likely think of corn fields and not noteworthy architecture. But hidden in a forest in Des Moines sits a home with an impressive architectural feature. Straddling a small, narrow gorge, Ravine Residence seems to defy gravity. The brainchild of architectural firm BNIM, this inventive home made perfect use of a seemingly unusable piece of land.
Covered in dense foliage and trees, with a ravine running through the middle of the site, BNIM was faced with a unique challenge: how to build a home on such a difficult spot. The solution was brilliant: a bridge-like structure of glass, wood, and concrete that all combine to create a visually stunning home that is both stylish and welcoming.
By turning the home into a bridge, BNIM was able to make clever use of the site and turn the ravine into a feature rather than a detriment (much like this River House). The "supports" of the bridge are the entry on one bank and the bedrooms on the other. The bridge section that spans the ravine houses the living area, creating stunning views from inside.
The client desired a deep connection between the home and nature, as well as requiring plenty of privacy. By situating the home over the ravine, allowing them to preserve the existing trees, the architects were able to use the natural surroundings to create privacy while still being able to incorporate plenty of views. The floor-to-ceiling windows throughout the home provided the owner with the desired connection to nature that drove them to build on such a challenging site.
Stepping inside the home, there is an office and a private patio to one side of the entry and a library on the other. Just past the library is the main attraction: the "bridge." This bright, open space is suspended over the ravine and is where the living room, dining room, and kitchen are located. Walls of glass allow unobstructed views of the ravine below. The beautiful red cedar that clads the exterior continues into the interior, creating continuity throughout the design. Simple materials and furnishings lend the home a relaxing, minimalist feel.
Beyond the living area are the master suite and two bedrooms on the first floor, while upstairs there are two more bedrooms. On the other side of the bank (on the second floor above the library) is a family room that looks down onto the ravine. Every room in the home features plenty of windows and simple designs, always ensuring the ravine and surrounding forest are the stars of the show.
Editors' Recommendations