Pineapples on pizza. The gold versus blue dress. Gnomes on your lawn. These are the polarizing topics that pit friend against friend, brother against brother. While we may never come to terms on some of these, there is finally an answer to the centuries old gnome debate and it's Plato Design's Nino Garden Gnome.
People have been placing figurines in their gardens as far back as ancient Roman times. Throughout time, gnomes have represented everything from a wish for fertility to "helpers" with housework. But the popularity of these little guys has ebbed and flowed over the centuries. Originally only for the wealthy (because they were the only ones with gardens in the first place), gnomes had gone out of fashion by the start of the 20th century. And then a little movie called Snow White and the Seven Dwarfs came along and the great gnome debate truly began. Once the Great Depression ended, the average working-class family could afford a house with a front lawn and they wanted to decorate that lawn with these whimsical bearded blokes.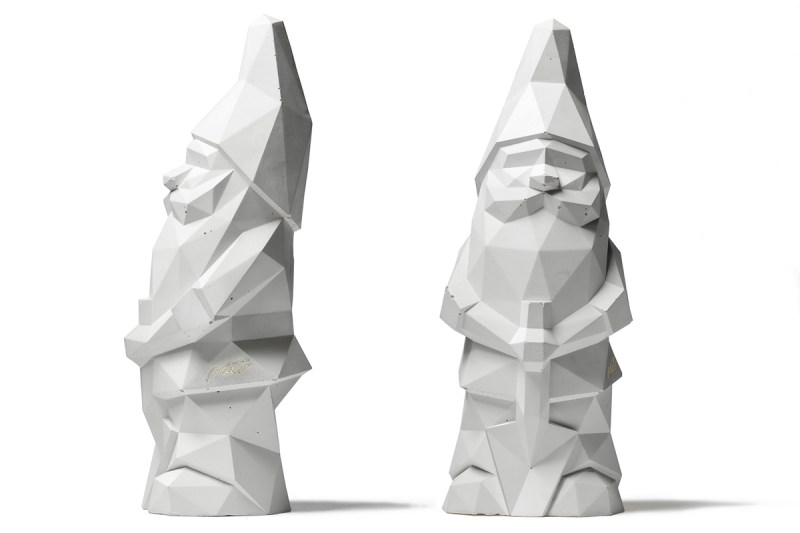 In the last few decades, garden gnomes have once again gone out of fashion, relegated to the yards of sweet old grandmothers and that one weird neighbor who loves tacky lawn ornaments. That's probably because gnomes aren't exactly stylish. They're silly, tacky, and frankly, a little creepy. But the Nino Garden Gnome is none of those things. In fact, it's so stylish, you may end up using it as an indoor art piece rather than an outdoor decoration.
Made from hand-worked cement, the Nino Garden Gnome has a super stylish, brutalist design. Standing thirteen inches tall, Nino is monochromatic (color choices are white, gray, or dusty rose), allowing him to fit right in with any decor. At a cost of $103, Nino is quite a bit more pricey than your average gnome. However the careful detailing and high style mean the Nino Garden Gnome is anything but average.
If you're going to display a brutalist garden gnome on your front lawn, you probably should keep that lawn as perfect as possible to eliminate any ground for neighbors to complain about your home's appearance.
Editors' Recommendations