It seems like everyday, we are hearing about another made up national week or day. They keep getting more and more ridiculous (seriously, do we need a holiday to celebrate tin cans?). While they may seem silly, some are actually worth celebrating. National Library Week in the United States (April 8-14) turns 60 years old in 2018. To celebrate, we're highlighting the five most beautiful libraries in the world. Get ready to crack open a real book.
Morocco is a stunningly beautiful country full of impressive architecture. Few buildings are as breathtaking as Al-Qarawiyyin library, the oldest continually operating library in the world. Built inside of the university of the same name, the library was opened in 1359 AD. Located in Fez, the green-roofed complex showcases classic Moorish architecture. From intricate mosaic tile to horseshoe archways that lead to an open air courtyard, the beauty of the building is enough to make you forget that this library houses over 4,000 rare books.
Calgary is about to be home to an impressive piece of modern architecture that is already generating plenty of buzz in the design community. Set to open later this year, New Central Library will be a connection between downtown and the trendy East Village. A special system of clear and fritted hexagonal glass creates a unique pattern on the facade of the building while allowing maximum natural light to flood the interior. Light wood accents inside create a warm and welcoming feel. The most exciting feature is the way the building swoops up and over the Light Rail crossing, allowing transit riders to experience the library in a truly unique way.
Housing literally millions of books, manuscripts, publications, and newspapers, the Library of Congress in Washington, D.C. is the world's largest. Consisting of three buildings, the impressive size of the library's collection is matched by the beauty of the architecture. Built in the Neoclassical style, the buildings feature domed rotundas, impossibly high ornate ceilings supported by marble columns, delicate murals, and of course endless shelf space to house their massive collection.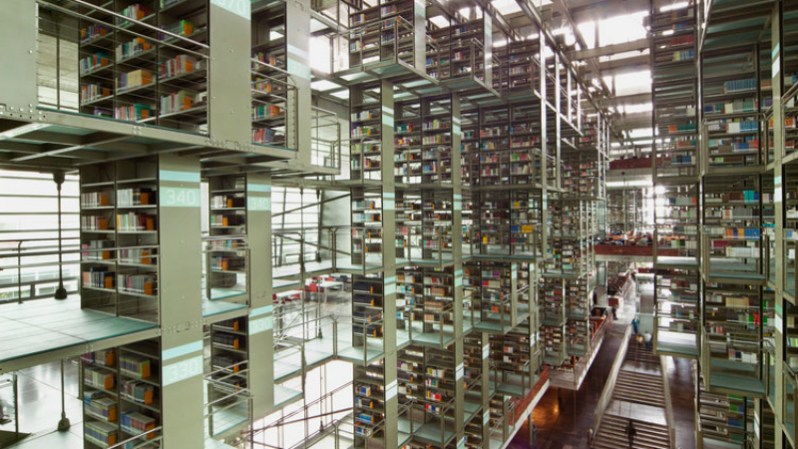 If John Anderton had to research Precogs in Minority Report, we are pretty sure he would have headed straight to Biblioteca Vasconcelos. Located in Mexico City, the unassuming concrete exterior hides a mesmerizing interior of glass and steel. The floors are all translucent glass, creating a futuristic vibe that feels like standing inside an NSA-worthy computer mainframe. The inverted stepped architecture allows for the five levels to float above the main level, creating an eerie feeling that it all may come crashing down on you at any moment. Modern lounge seating and concrete walls further add to the ahead-of-its-time design of this stunning, sleek library.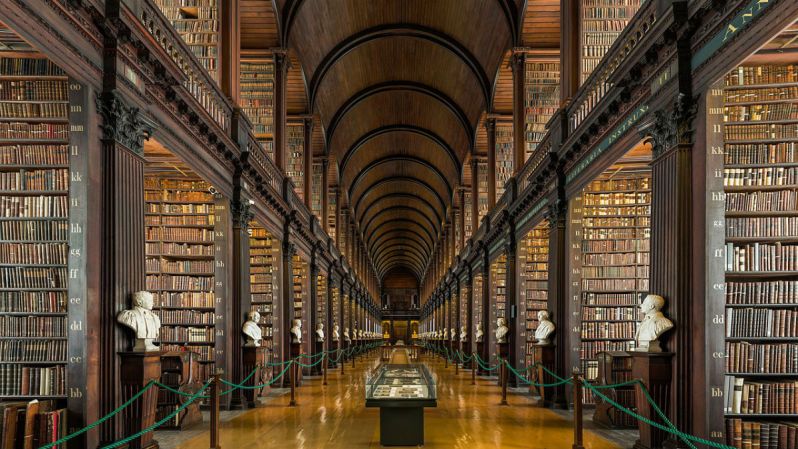 "Jaw-droppingest" may not be a real word, but it should be. It's the only way to properly describe the Long Room in Dublin's Trinity College Library. At 65 meters long (over 213 feet), the Long Room lives up to its name. With over 200,000 books in its collection, this main chamber of Trinity College Library holds one of the most exciting pieces: the Book of Kells, an illuminated manuscript created by Celtic Monks in the year 800. But it's not just the books that draw massive crowds to this library each day. The two-story Long Room boasts an impressive barrel-vaulted ceiling and intricately carved wooden support columns. It's well worth the hours-long wait in line to get a glimpse of this library.
Editors' Recommendations