A cooler is a necessary summer companion. Whether you're going camping, spending the day at the beach, or visiting someplace with limited fridge space, you're gonna need a quality cooler to keep your brews cold.
But does the prospect of hauling your battered, 20-year-old cooler give you pause? If so, the Brown Leather Coolers from Coleman and Jayson Home may be more your style. That's right. These are typical Coleman coolers, only they're covered in 100% natural leather. *Sigh*
Related: Gear Up: The Manual's Summer Camping Essentials
Frankly, we're astonished and baffled by these coolers. Most adventures that require a cooler involve some degree of outdoor ruggedness. Leather, on the other hand, is known to pick up scuff marks and fade when exposed to sunlight.
Maybe that's the point. Instead of looking rattier over the years, a leather cooler will only look more badass — like maybe it's been thrown off a motorcycle a few times. We suppose they could also provide comfortable auxiliary seating in a pinch — though you might catch yourself inadvertently barking, "Hey, watch the leather!" every time someone takes a seat. Maybe the leather provides additional insulation? We give up.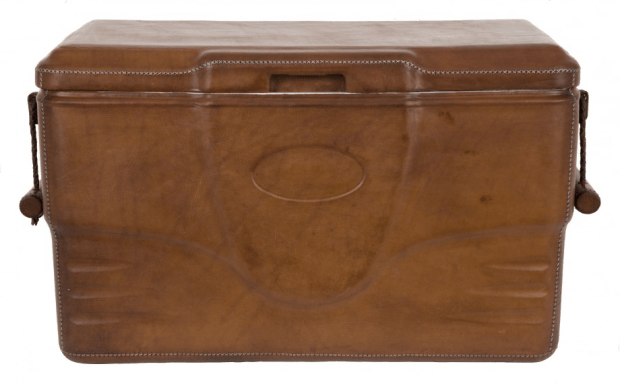 Leather ain't cheap, so these babies are going to cost you. The smallest and least expensive option costs $385. The next size up is $995, and the largest cooler costs a jaw-dropping $1,495. "Sorry honey, we can't afford your tuition this semester. Daddy needs a $1,500 leather cooler. Don't worry — you still won't understand when you're older."
We're merely reporting that these leather coolers exist. It's up to you to decide what to do with this information. If you're inclined to buy it, or at least find answers to the 400 questions blazing through your mind, feel free to visit the Jayson Home website.
Editors' Recommendations