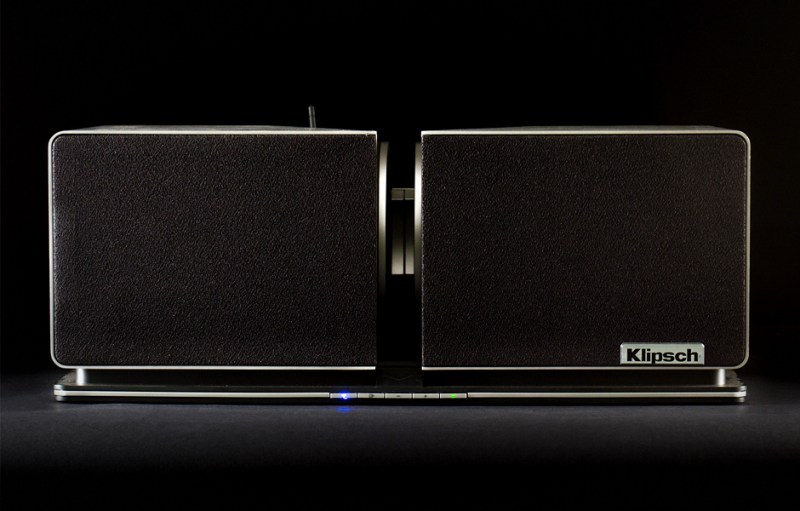 There are a lot of ways to blow two grand on audio gear, but Klipsch's new all-in-one wireless speaker system, the Stadium, might just be the coolest way we know. Years in the making, the Stadium is a 29 pound hunk of rigid machined aluminum, sculpted into a frame that blends the elegance of a luxury sedan, with the bravado of a turbine engine.
Combining a flurry of components into a single piece of hi-fi machinery, the Stadium has enough power to blow your hair back, and enough control to make it worth the ride. Under its brazen silver shell are a host of powerful drivers, including dual 1-inch Titanium compression drivers set into proprietary 90 x 90 degree Tractrix horns, two 3.5-inch aluminum midrange drivers, and two 5.25-inch long throw subwoofers that sound way bigger than they have a right to. The entire 2.1 system is pushed by 400 total watts of digital amplification, and the speaker employs Airplay, Bluetooth, and DLNA wireless protocols, as well as a digital optical input, and USB device connection.
So what exactly does a shiny metal box packed with 400 watts of high-powered awesomeness sound like? Well, aside from awesome, the Stadium excels at all levels of the frequency spectrum. Big, beautiful bass is somehow coaxed from those Mighty Mouse subs, calling to mind the raw power of a full-sized 10 or even 12-inch driver. The midrange is smooth and detailed, sliding seamlessly into a crystal clear treble that brings forth the best in everything from Duke Ellington to Nirvana.
The one thing the Stadium can't quite muster is the kind of true stereo separation you'll find in traditional, fully autonomous speaker configurations. But for those who crave gorgeous, powerful sound, striking design, and wireless convenience from a single piece of gear, the Klipsch Stadium definitely delivers.