With the rise of boutique hotels offering high style at affordable prices, it's getting harder for new places to stand out. Even hostels have started receiving trendy makeovers to appeal to a larger audience. So how do you create a hotel that is one-of-a-kind when everyone around you is offering the same thing? Just ask Greg Hennes, artist and owner of the Jennings Hotel.
The Jennings Hotel is the hotel that isn't. It doesn't offer food service. It doesn't have a lobby. It doesn't have televisions. And not all of the rooms have private bathrooms. But it isn't a hostel. The Jennings is something all new in more ways than one.
So what is the Jennings Hotel? It is a 12-room, artist-designed retreat that offers a communal kitchen and dining area. It has a common bathroom complete with sauna (though some rooms do have their own water closets). It offers an in-house residency for artists. It even has a nonprofit school teaching crafts and cooking. And all of it was funded thanks to a first-of-its-kind Kickstarter campaign. The Jennings Hotel is uniquely Oregon, and that's just the way we like it.
The new Jennings Hotel is located inside of the old Jennings Hotel building. It was a dream of Hennes to restore the historic landmark in the heart of Joseph, Oregon. To achieve this, he assembled a team of artists in a variety of fields from interior design to architecture to product design and tasked them with creating the rooms of the hotel. Each of the twelve rooms was decorated differently, making each stay a unique experience, even for repeat guests.
Despite being created by different people, all of the rooms have one thing in common: These spaces are bright, welcoming, and seriously stylish. Some rooms offer Scandinavian minimalism, like Room 1 designed by John Sorenson-Jolink. Soothing tones, a simple platform bed, and a writing chair make this room ideal for anyone seeking a peaceful space to unwind.
If you're looking for something with a touch of that characteristic Oregon quirk, Room 8 is the one for you. Designed by owner Greg Hennes, this space is a rustic cabin in the city. Walls of rough-cut timber make for a woodsy feel while the exposed brick adds a splash of urban grit. The decor is wonderfully eclectic with a quilt tapestry on the wall above the metal desk, pieces of honeycomb as wall art, and a (slightly bizarre) display of grouse under glass.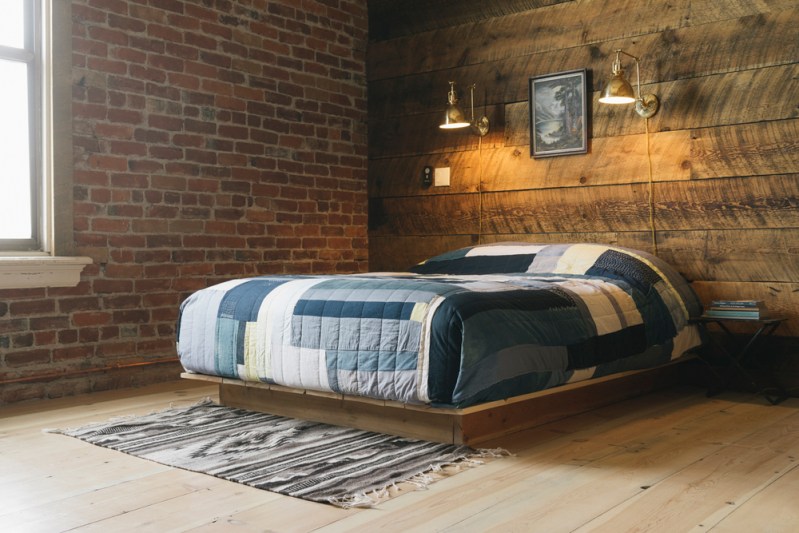 The Jennings Hotel may not offer all of the amenities of other boutique hotels, but that's what we like about it. The pared-down rooms offer a place to relax, contemplate, and let your creative juices flow. The common areas allow for connecting with fellow guests. The carefully styled spaces are bright, airy, inviting, and make guests feel right at home the moment they step inside.
If you're looking for another hotel option that also imitates the hostel framework, but not quite, check out Hilton's latest brand: Motto by Hilton.
Editors' Recommendations