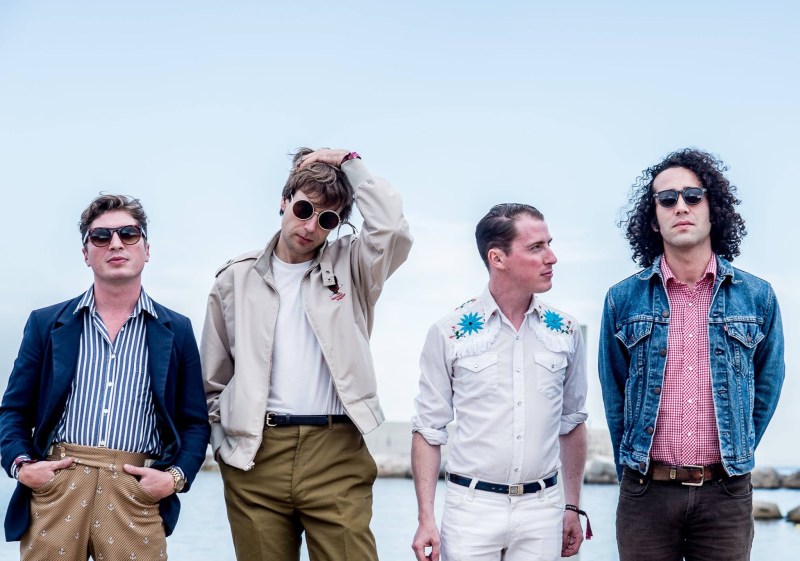 We are changing things up a little bit on New Music Monday this week. Earlier this year Islands announced the simultaneous release of two new records, Should I Remain Here at Sea? and Taste. Both records arrive on May 13 through Manque Music, but the band has emphasized that the albums are wholly independent creations. To underline that point, New Music Monday will feature each of the albums independently. We will be looking at Should I Remain Here at Sea? (SIRHAS) this week and Taste next.
Islands describes SIRHAS as a "spiritual sequel" to the band's debut, Return to the Sea. The records were both recorded live off the floor, helping them to sound natural and relaxed. In fact, in a recent interview with Noisey, bandleader Nick Thorburn remarked about the recording of a track on Return… where he "had pretended we were just rehearsing the song, and when we finished I told everybody we had been recording the whole time." "Swans (Life After Death)," the track in question, ended up one of the strongest songs on Islands' debut.
The connection between the two records goes deeper than just recording methods, though, there are a number of thematic and stylistic similarities as well. SIRHAS' "Right to Be Misbegotten" includes the lyric "I woke up late the day I died," which is a mere word away from a line in "Swans:" "I woke up thirsty the day I died." Sonically, SIRHAS continues a theme common not just to Return…, but many of Nick Thorburn's other projects: upbeat music set with dark lyrics. Thorburn described lead single "Back Into It" as a "study in contradiction," saying, "[i]t's a bright, loose affair, with bubblegum backing vocals and major key guitar chugging, but you don't have to dig that deep to hear the venom, acrimonious and sour."
For all its similarities to Islands' debut, SIRHAS explores plenty of new territory for the band as well. "Fear," the album's second track delves into politics (as does Taste) with its chorus, "These pigs should be in the backseat, hogtied / But all I see is them freely driving by" and lines like, "America, you're so unkind / You break the body, chain the mind / You'd fix it, but you haven't got the time."
Ultimately, SIRHAS's exploration of Islands' older work serves to connect the record to the band's history and show how the band has grown, both musically and lyrically, over the past decade.
Islands' Should I Remain Here at Sea? comes out Friday, May 13th, through Manque Music and is available for preorder on Amazon, iTunes, and through PledgeMusic.
Editors' Recommendations