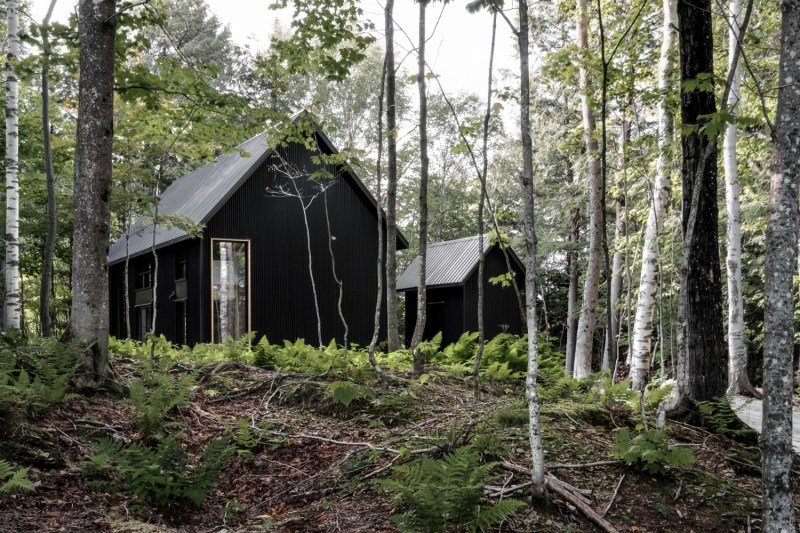 Few things in the world are better than escaping hectic city life for a quiet retreat in the woods. Just you, the sounds of nature, and a cozy cabin to relax in — it's pure bliss. Grand-Pic Chalet offers an ideal spot to unwind, disconnect from technology, and reconnect with the world. Tucked into the woods of Austin, Quebec, this forest retreat combines Nordic ideals with nature-inspired finishes for the ultimate weekend getaway.
Designed by Montreal-based architectural firm APPAREIL, Grand-Pic Chalet was built to be an escape and gathering place for the owners. They wanted a home in the woods where they could enjoy the outdoors while also hosting family and friends. The project was carefully laid out to maximize the connection to the natural surroundings.
That connection to nature begins right when you arrive at the chalet. The parking area is set away from the home and is connected via a walking path, creating a sort of "hike through the woods" before you even enter the home. Once the end of the path is reached, a cedar plank sidewalk system leads you to the front door of the main living quarters. The sidewalk also connects the house to a smaller storage shed for outdoor gear.
Clad in black corrugated steel on the roof and sides, the cabin blends in with the darkness of the surrounding forest. The vertical lines of the corrugated siding along with tall windows all around the structure are meant to mimic the lines of the pine trees. It all blends to create a harmonious space for relaxing on the simple patio at the back of the home.
Nordic principles were incorporated throughout the design of Grand-Pic — a reflection of Appereil's heritage that also helps promote the simplicity of life in the woods the family was seeking. The interior spaces are bright, welcoming, and open. Finishes were kept austere so as not to compete with the surrounding woods. Walls and kitchen cabinetry are natural Russian birchwood, while the ceiling of the kitchen and the island are clad in white-painted, ribbed wood. The shiny, polished concrete flooring throughout helps to bounce light around the spaces.
In the main living area, extra-tall windows were used to maximize natural light in the open space. Smaller side windows can be opened to create cooling cross breezes in the summer and fill the space with forest scents (seriously, what's better than fresh pine filling your home?). Furnishings were limited to a Scandinavian-style sofa and a dining table. A small wood-burning stove is the only other item in the family room.
No TV, no stereo, just the sights and sounds of nature are what you get at Grand-Pic Chalet. And really, that's all we need.
For other places to disconnect, check out Lost Whiskey Concrete Cabin, complete with wood-fired hot tub.
Editors' Recommendations