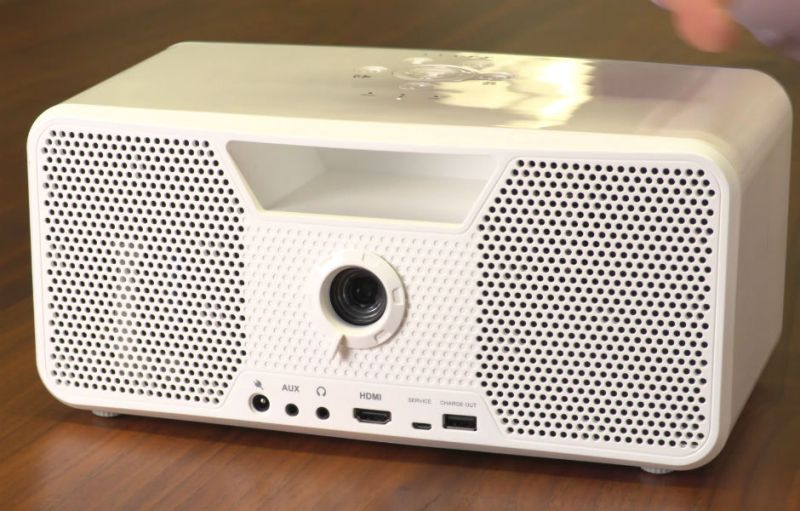 Outdoor movie nights seem like a great idea until you start to set one up and realize you need a really long power cord, a power strip, some cables to connect some kind of speaker system to the projector, and wait a second … do we have to drag a DVD player out here too? It's enough to make you give up on the idea. You know, they should really come up with an all-in-one device that makes outdoor movie nights super easy.
Good news: They have.
"They" is a company called Dashbon and the device is called Flicks, a conveniently portable Bluetooth boombox with a projector built right in and all the necessary connections to make flinging a flick on a white sheet, garage door, or inflatable screen about as easy as you could ask for.
Related: Sonos' new Play:5 is the king of multiroom speakers
When we saw Flicks had graduated from successful Kickstarter project to full-fledged commercially available product, we jumped at the chance to check one out for ourselves. Dashbon's Flicks website makes some pretty bold promises — these folks aren't shy about hyped up marketing — and that can sometimes be a sign of impending disappointment. We wanted to know for ourselves — and to share with you — whether Flicks was all it was cracked up to be, and we're happy to report that it's pretty darn close.
Flicks doesn't get as scorchingly bright as Dashbon's website would have you believe, and its speaker system isn't going to win any audiophile awards, but when considered in the context of its intended use, we think it delivers on its promise to transform nearly any space into a pop-up movie theater.
The Flicks is best used in very dark environments. The ambient light in our high-rise office building did a pretty handy job of washing out the image, but once the sun had set, Flicks had no problem throwing up a 100-foot diagonal image that was easily visible by everyone in attendance. We played around with the brightness and contrast settings, and while we were able to optimize the picture for our viewing environment, cranking either of the settings up too far only served to do damage to the picture.
As for sound quality: We've never tested a projector that had anywhere near as full a sound as Flicks. This is as respectable a Bluetooth speaker as it is a projector — audio is not an afterthought — and while our picky music-listening tendencies might have us wishing for slightly higher fidelity, Flicks sounds great for movie and TV watching. Audio is clear and sounds well supported with just enough mid-bass — dialog intelligibility will never be a problem. And as a speaker for your kitchen, campsite, or garage, Flicks makes perfect sense.
To round out Flick's functionality, there are a wide array of source options. You can connect anything you want via HDMI, including a Roku Streaming Stick, Amazon Fire TV stick, or Chromecast, thanks to a USB power port which is just as adept at charging or powering a smartphone or tablet. For other devices, there's an auxiliary input jack, and for outboard sound solutions a 3.5 mm headphone jack is on board.
Two versions of Flicks are available: a $600 version promising approximately 4 hours of video playback and about 28 hours of music playtime, and a $700 version with double the play time — 8 hours of video and 56 of music. Of course, at just a $100 premium, it's hard to imagine not going with the latter, especially if the idea is maximum entertainment outside of the home.
A version of this post first appeared in our "brother site" Digital Trends.
Editors' Recommendations