Drinking wine and surfing are pastimes with little overlap — and that's how it should be. Being sloshed around by waves is a lot more dangerous if you're already sloshed. Still, Bill Price and Sam Spencer, the partners who run Head High Wines, have managed to partake of both wine and surfing — just not at the same time.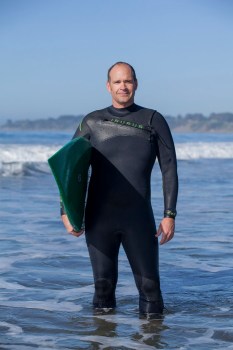 Head High Wines is a sustainably operated winery located along California's North Coast. If you're a surfer, then you may know "head high" as a surfing term denoting a wave that is as high as the surfer's head. We suspect that it's also a nod to the feeling one gets while drinking wine.
One way Price and Spencer (pictured) show their love of surfing is by partnering with Sustainable Surf, a non-profit organization dedicated to protecting the waves. For every two bottles sold, Head High Wines donates $0.50 to Sustainable Surf and $0.50 to the Sonoma Valley Education Foundation.   
Related: Watch the Story of Ramon Navarro, Professional Surfer Turned Activist
"As avid-surfers, partnering with Sustainable Surf was a natural decision for me and Bill," says Spencer in a press release. "Just as we treat our vineyards with the utmost care, we believe the ocean and beaches deserve the same attention. It's an honor to be involved with this group."
Sustainable Surf is currently involved in a number of projects, including a styrofoam recycling initiative and a drive to construct surfboards out of more sustainable materials. The non-profit also seeks remedies to major problems affecting the world's oceans, including acidification and rising sea levels.  
Head High currently makes three wines: a 2013 Pinot Noir ($35), a 2013 Red Blend ($30), and a 2014 Rosé ($24). If you're looking for a long-term discount, you might consider checking out Head High's generous membership options.
Click here to purchase a bottle of wine from Head High
Click here to learn how you can support Sustainable Surf.  
Editors' Recommendations