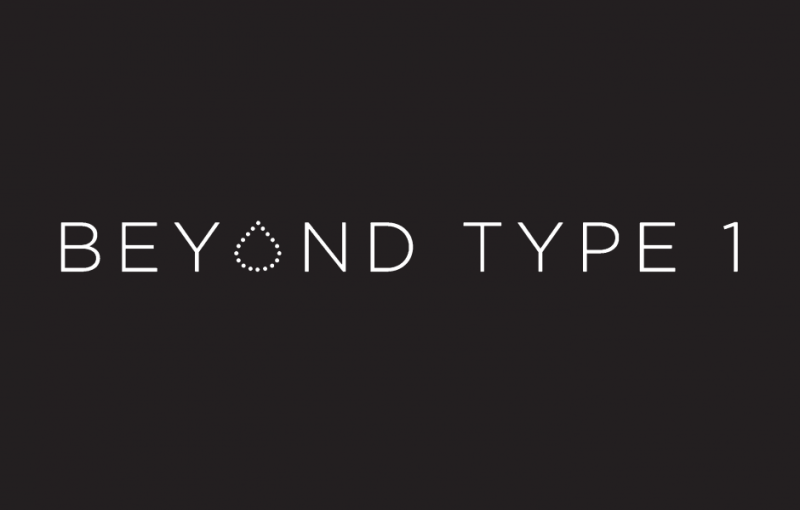 November is National Diabetes Month, which makes now the perfect time to learn about the disease and the 371 million people affected by it worldwide. Unfortunately, diabetics are often written off as irresponsible folks with poor eating habits and a sedentary lifestyle. Though these are common risk factors for type 2 diabetes, there's much more to the story.
Type 1 diabetes, which accounts for about 10% of all diabetes diagnoses, is a different story altogether. Type 1 is not a lifestyle disease. It's not preventable, the cause is unknown, and there is no cure. It's most commonly diagnosed in young children, and is something they must live with their whole lives.
Beyond Type 1 is a non-profit organization dedicated to providing education, support, and resources to sufferers of type 1 diabetes and their loved ones. Founded just last February, Beyond Type 1 is a 2015 organization through and through; over the past several months, they've built a robust online community of people who are affected by type 1 diabetes — a disease that has traditionally made sufferers feel isolated.
Beyond Type 1 was founded by Sarah Lucas and Juliet De Baubigny, both of whom have a child diagnosed with type 1 diabetes; with musician Nick Jonas and celebrity chef Sam Talbot, who were themselves diagnosed with the disease at an early age. One of the great things about this organization is that the founders and their associates have enough money to cover operational costs, thereby allowing 100% of donations to go toward helping diabetes sufferers and finding a cure.
Related: Worn Out Wednesday – Sam Talbot
Other folks involved in the organization include TV star Wilmer Valderrama and famed "that guy" actor Victor Garber, who lends his amazing voice to the above video. There are several ways you can add your name to the list: you could share your story, create your own fundraising page, follow and interact with them on Instagram, become an ambassador, or simply donate funds to the cause. Beyond Type 1 has pledged to raise $1 million this month — let's help them meet that goal.
If nothing else, you should take this opportunity to be mindful of your own diet. You have nothing to lose by improving your diet, and you can significantly reduce your risk of developing type 2 diabetes. Below are a couple of tasty and healthy recipes from Beyond Type 1's co-founder and resident chef Sam Talbot.
YOGURT WITH PEAR AND COCONUT
Ingredients
Juice of 1 lemon
1/3 cup unsweetened shredded coconut
2 tablespoons graham cracker crumbs
1/2 cup Grape Nuts or granola cereal
1 tablespoon granulated stevia extract, or to taste
1 teaspoon ground cinnamon
2 ripe Bosc pears, slightly firm to touch
3 cups 2% plain Greek Yogurt
Directions
In a medium bowl, combine the lemon juice, coconut, graham cracker crumbs, cereal, sweetener, and cinnamon.
Peel, core, and finely chop the pears. Spoon the yogurt into 4 bowls and top with the fruit and coconut mixture or sprinkle directly onto each individual container of yogurt.
Note: This recipe can do double-duty as dessert if you serve it up parfait style. Spoon 1/8 of the pears into the bottom of each of 4 bowls or parfait glasses. Add 1/8 of the cereal mixture, then 1/2 cup of yogurt. Repeat with the remaining pears, cereal mixture, and yogurt.
Serves 4
Coriander Grilled Beef Tacos with Kimchi and Bean Sprouts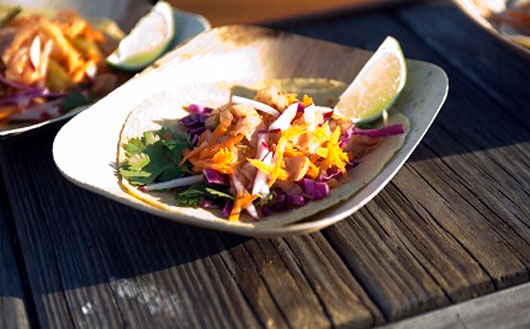 Ingredients
1 1/2lb flank steak
2 tablespoons olive oil
6 scallions, sliced
3 limes, juiced
1/4 cup fresh cilantro
2 garlic cloves, smashed and finely chopped
2 tablespoons tamari
2 tablespoons rice wine vinegar
2 tablespoons mirin
2 tablespoons black sesame seed
6 cloves roasted garlic
6 corn tortillas
1 quarter cup melted butter
6 ounces of your favorite store-bought Korean kimchi
1 cup of bean sprouts
Directions
Heat the broiler to 500 degrees then take the steak and put it into a Ziploc bag with the olive oil, scallions, lime juice, cilantro, garlic, tamari, rice wine vinegar, mirin, black sesame and roasted garlic. Marinate everything together for one hour, place on a baking sheet and broil until medium rare — about six to eight minutes — and  turn half way through. Let rest for 5 minutes. Very thinly slice the flank steak against the grain. Once sliced, cut the slices into fine strips, almost a julienne. Then warm tortillas, brushing them with melted butter, before toasting in a dry pan. Build your tacos by layering the steak, kimchi, and bean sprouts. Finish with a squirt of fresh lime and sea salt and let the fiesta roll.
Serves 4
Editors' Recommendations