If you're new to the cannabis scene, visiting a head shop can be a good reason to stop before you even get started. The blown glass, the graphic art posters, the overpowering smell of incense, and the bleary, ingratiating manner of the staff member behind the counter are enough to scare a person straight.
Visiting a dispensary isn't always better. Much like walking into an Apple store, the sheer volume and variety of cannabis products can be overwhelming. You're sure you don't need all this stuff … but maybe you'd enjoy your marijuana more if you had it?
Here's the honest truth: Unless you're really trying to make a lifestyle shift (and we're guessing you're not), you shouldn't spend more on your smoking accessories than you do on the stuff you're going to smoke. Just a few everyday carry essentials are all you need to enjoy a nice, relaxing smoke and all the physical and mental benefits it brings.
For our favorite accessories, head here.
Pipe
Pay no attention to the man in the oversized skull T-shirt. The size, shape, and material of the pipe (or bowl) you choose are simply a matter of personal taste. If you're a new smoker, you're probably best off with a smaller-sized pipe, which gives you more control over how much you smoke at a given time. If you're clumsy or plan to keep your pipe in your pocket (as we all do), look for a pipe made of borosilicate glass; you'll be protected against breakage while preserving the flavor of your smoke.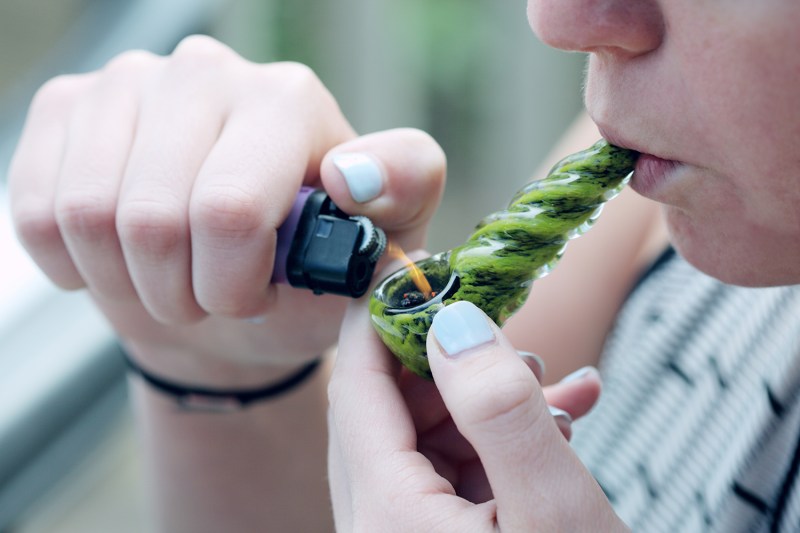 Bubbler
A pipe is a basic cannabis necessity, but if you appreciate a smoother, creamier smoke, it's worth investing in a bubbler. Smaller than an actual bong so you can operate them singlehandedly, these handheld water pipes have smaller chambers that let you savor the flavor of your smoke. While bubblers are bigger than the average pipe, pendant bubblers can be threaded on a string, making them easier to transport and keep track of. Look for a double-chambered bubbler for extra silky texture.
Bag or Jar
The classic phrase "Don't get caught holding the bag" doesn't apply so much now that weed has been legalized in many states. The new saying should be "Don't get caught holding an inferior bag." Yeah, that one needs work … but the principle remains true. While a simple Ziploc will do the job, it's really just asking for trouble: the thin plastic can tear all too easily, and it's not the best for protecting your bud from the elements. We prefer the pocket-sized Stasher bag, with its tough but slim profile and temperature-fast, food-grade silicone.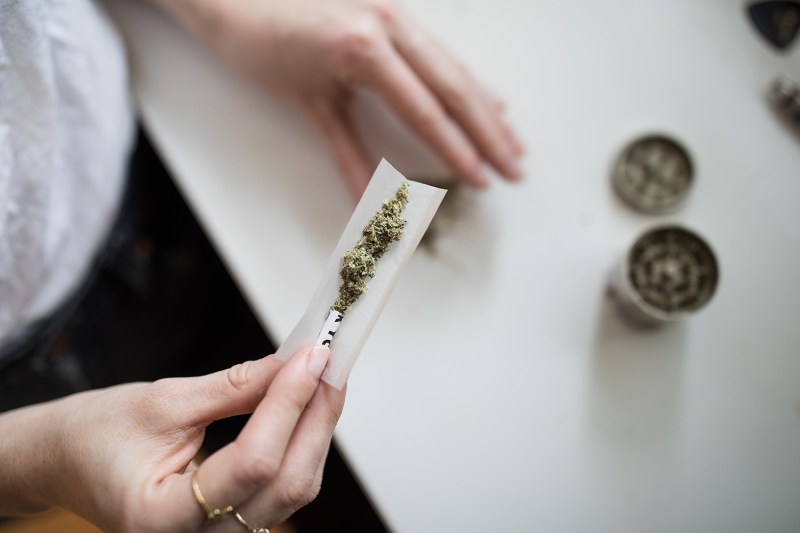 Grinder
A loose nug in your bowl is a recipe for a bad smoke and a waste of money. That's why you need to carry a grinder. Two-part grinders are the most basic models available, featuring only a lid and a grinding compartment. Three-part grinders include a compartment for catching the ground-up weed, and four-part grinders have yet another for collecting kief, the superfine crystals from the tip of the bud. (This stuff is worth saving; when spread on the inside of a bowl or sprinkled on top of a joint, it makes the smoke extra heady.) While you can definitely find cheap plastic grinders or pretty wooden ones, metal grinders are the best choice — effective, durable, and hard to lose.
Rolling Papers
Always a good idea in case you want to share a smoke without sharing what you're smoking out of.
Lighter
This should go without saying. Then again, how many times have you heard the smokers around you asking each other for a light? Be a good citizen and always make sure to have a lighter on you — it's the easiest possible way to become a hero. Many dispensaries will throw in a lighter with your purchase, but if you want to be a little more classy about it, invest in a refillable butane lighter like the classic Clipper Lighter, which includes a removable flint housing that acts as a tamping tool.
Editors' Recommendations