Today's social media landscape is flush with alternative living options. Faced with the surfeit of cabins, tiny houses, pimped-out vans and school buses, and modular kits in every conceivable shape, what is the aspiring minimalist to do?
Dominic Ash and Jeremy Fitter, a pair of too-appropriately-named-to-exist builders in Gloucestershire, England, have your solution. Behold the escape pod™.
The escape pod is exactly the sort of thing you'd expect from a design team whose previous credits include boat restoration, apprenticeship under Quaker furniture makers, and a master's degree in treehouse engineering. (What are the rest of us even doing with our lives?) The name of their concept is a play on the design's sci-fi forebears. However, this escape pod isn't meant to help rebel heroes evacuate unobtrusively from the lair of an intergalactic warlord. Instead, this pod is the escape, thoughtfully designed to foster terrestrial serenity.
With its ellipsoid shape and nubby exterior, the escape pod could be mistaken at a distance for a very large toadstool or root ball growing in your back forty. Reminiscent of an egg in one of those little egg cups found in Cotswold cottages, the 10-foot-high pod perches on a foundation 1.5 feet off the ground. The frame is made of hand-milled birch, while the exterior is covered in cedar shingles, left untreated so that their warm honey hues weather over time to a silvery finish.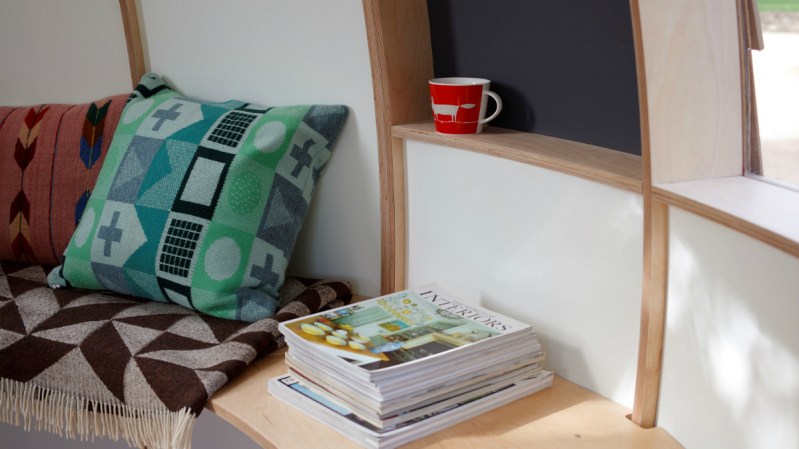 Entered via an "aircraft-style plug door," the 75-square-foot spherical interior feels somewhere between a womb and a warm hug. A dome skylight in the top of the egg showers the room in natural light. Sliver windows, cut parallel or perpendicular to the ground, further open up the space and prevent it from feeling too confining.
The Podmakers website proposes four different models for the escape pod's interior — office, entertaining space, studio, or "snug" (the delightful British term for a small, comfortable room — see "pod"). Each of these models may be further customized with built-in storage, power sockets or extra windows. The pod is insulated and may be outfitted with electric floor heating, or with a chimney and wood stove.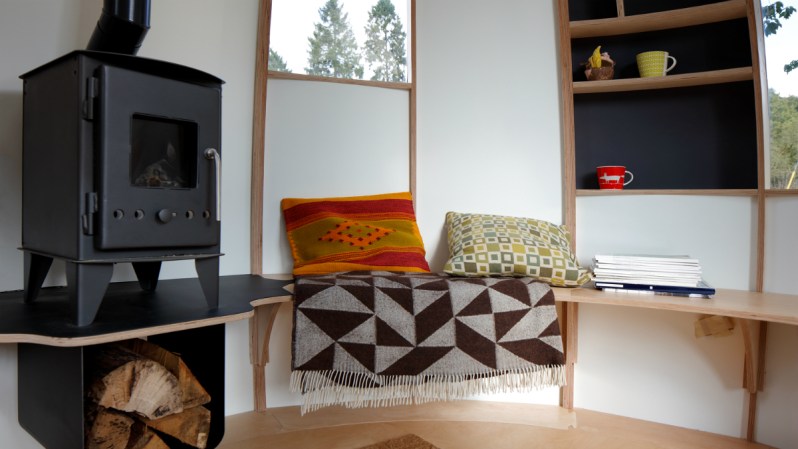 The escape pod combines the best features of just about every minimal living space your Instagram feed can throw at you. It has the organic shape and texture of a woodland cabin. It has the all-in-one convenience of a tiny house. It has the compact flexibility of any yurt, dome, or geodesic whatnot under the sun. And, while it can't take you on a road trip from Big Sur to the Berkshires, may we point out that this thing rotates? Simply lift and remove the little stepladder underneath the door, seize the little handle sprouting from the pod's outer wall, and push. Voilà! Natural lighting all day long. Let's see your shipping container house do that.
The escape pod from Podmakers comes at a price tag of £19, 800 — that's $26,000. We're guessing that does not include shipping, installation, or assembly. In other words, it's in the upper price tier for minimalist modular spaces. But let's be honest — in today's world, can you put a price on escape? Judging by the pod inspo on Podmakers' Instagram, the answer is no, you cannot.
Editors' Recommendations