Our National Parks are celebrating one hundred years of connecting Americans with our wild lands, so what better way than to visit a Park than a late-summer road trip? Coleman has brought back some classic designs to honor the heritage of our National Parks with the Coleman National Parks Centennial series line of camping stoves and accessories. We couldn't be more excited to take some of this gear and hit the highway.
Related: Utah National Parks' Might 5 Tour |National Parks Spotlight: Everglades National Park
FyreKnight Stove, $150

In 2015, Coleman intriduced their Hyperflame design to their classic briefcase stoves (we love them for some good basecamp cooking). The all new FyreKnight incorporates Hyperflame with classic National Park colors and the Centennial logo. It also features rugged bumpers so it won't slip when you're cooking on a tailgate or picnic table. We recommend augmenting it with one of Coleman's Cast Iron Griddles ($35) so you can really step up your campsite breakfast game.
Steel Belted Cooler, $200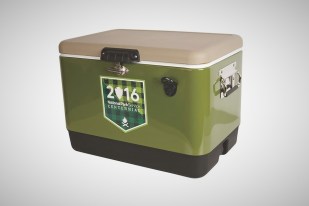 This 54-quart cooler conjures up some of our best childhood camping memories. While it looks just like dad's old Coleman cooler from the 1960s, the stainless steel body is decidedly more durable for long hauls in the back of a truck. It's large enough to hold 85 cans of your favorite beverage, and tall enough to fit upright two-liter bottles. Rated to hold ice for up to four days, this mighty little cooler can handle all your long weekend needs.
NorthStar Lantern, $65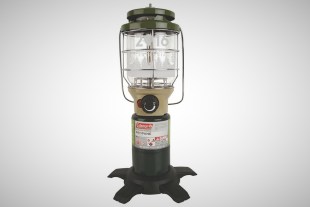 The NorthStar is a refinement of Coleman's decades-long best selling lantern line. The National Parks Centennial livery makes this a special piece to bring along. Its push button ignition takes the guess work out of turning the gas just right for getting it lit with matches. A maximum 1540-lumen brightness means your campsite will be well lit long into the night as you prepare dinner and enjoy a few campfire cocktails.