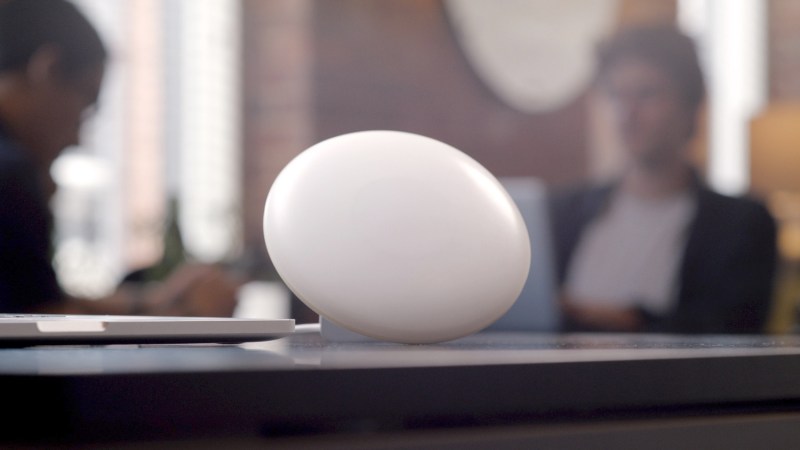 Replace your superhero nightlight with light science pioneered by NASA.
A new Kickstarter campaign called The Circadia System (not your run-of-the-mill socks or travel bag) brought a high-tech innovation to the crowd-funding platform on June 6. Inspired by light science pioneered by NASA, Circadia promises to adjust its user's internal circadian rhythm (or "body clock") for better, deeper sleep and more energy during the workday.
Makers of Circadia are also saying you can see the results of better sleep within only three-to-five days of use.
The two-part system includes only a small Circadia Lamp and Sleep Tracker— both of which are completely contactless. Place the Sleep Tracker sensor on a wall or ceiling above your bed and it tracks your internal body clock via movement, breathing, and heart rate (the sensor also detects humidity, snoring, ambient sounds, and temperature). These data points are pooled into a learning algorithm that detects how out of whack your sleeping schedule is… then comes up with a plan to correct it.
The prescription to correct your poor or light sleep doesn't come in the form of "no more whiskey sodas before bed," but a unique light sequence translated on the Circadia Lamp.
Portable and wicked smart, the lamp looks at your sleep data, correlates it to natural light you're not getting during the day (did you know the average person spends 90 percent of their time indoors?), and generates a personalized biological lighting schedule.
It's like harnessing the power of the freakin' sun!
Circadia CEO and Co-Founder Fares Siddiqui said, "it is the first of its kind that integrates a contactless sleep tracker with a smart light therapy lamp to provide diagnostics and treatment in one complete closed feedback loop, enhanced by learning algorithms."
Double cool is that the Circadia System integrates with smart home platforms like NEST, Alexa, and IFTTT, plus fitness trackers like FitBit and Apple iWatch. The latter increases the brainpower of the lamp by imparting it with your exercise data.
In the end, the system was created to improve your sleep, and in turn, your overall well-being and daily energy levels.
The only hump you'll need to get over in using Circadia is bringing the lamp with you to work. The light isn't necessarily distracting, but it does feel unusual to set up on the desk. #ImReadyForMyCloseUp
But this portability means it's great (we mean GREAT) for travel and jet lag.
"The light therapy device makes for the perfect travel companion when set to Jet Lag mode, which ensures those who travel frequently and to different time zones get a good night's sleep by pre-adjusting their body clock," added Siddiqui.
And if rocking a spotlight on our desk means not sacrificing our evening cocktail, (plus better sleep), oh it's worth it.