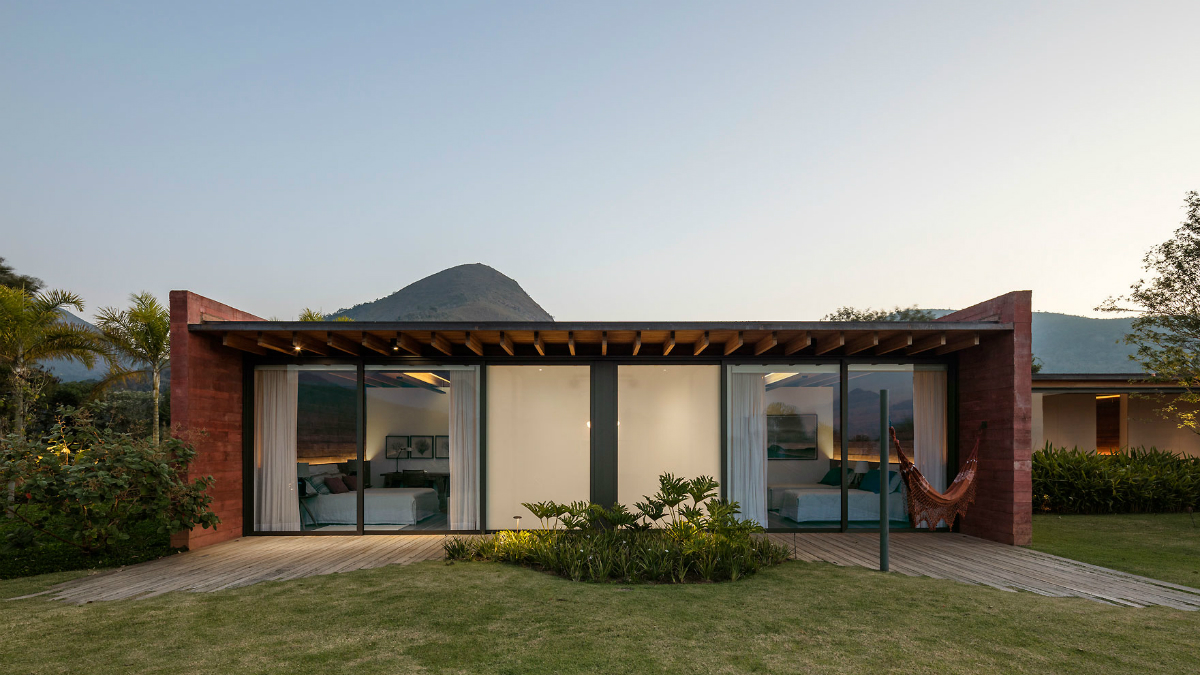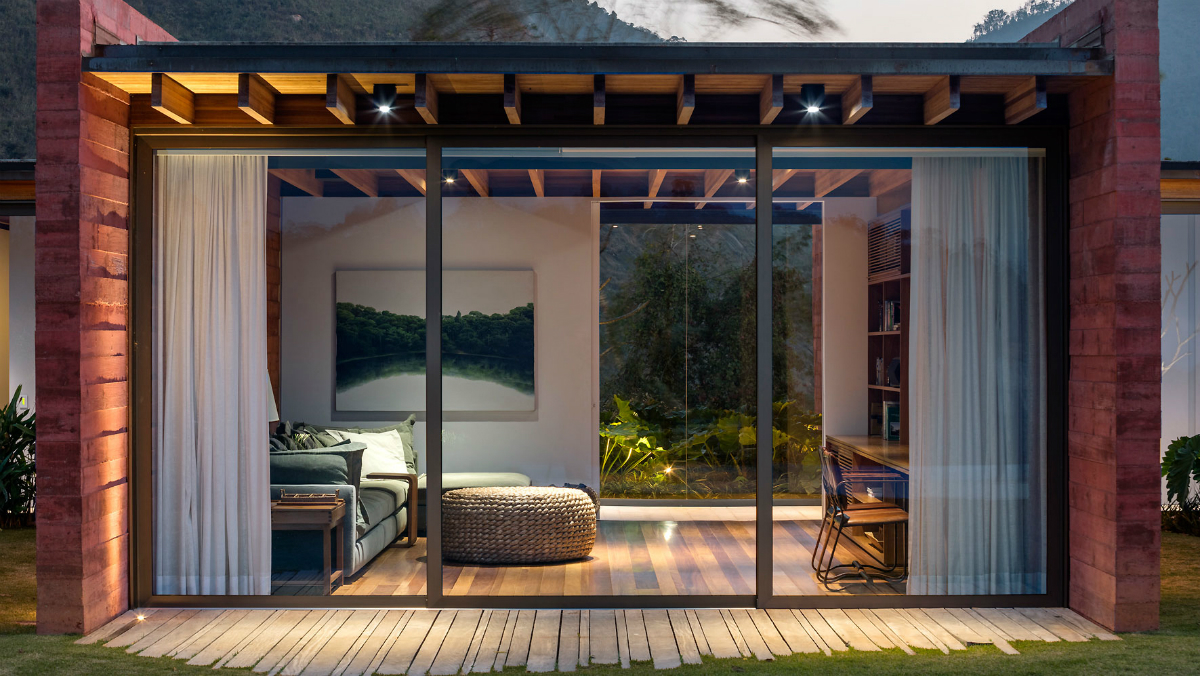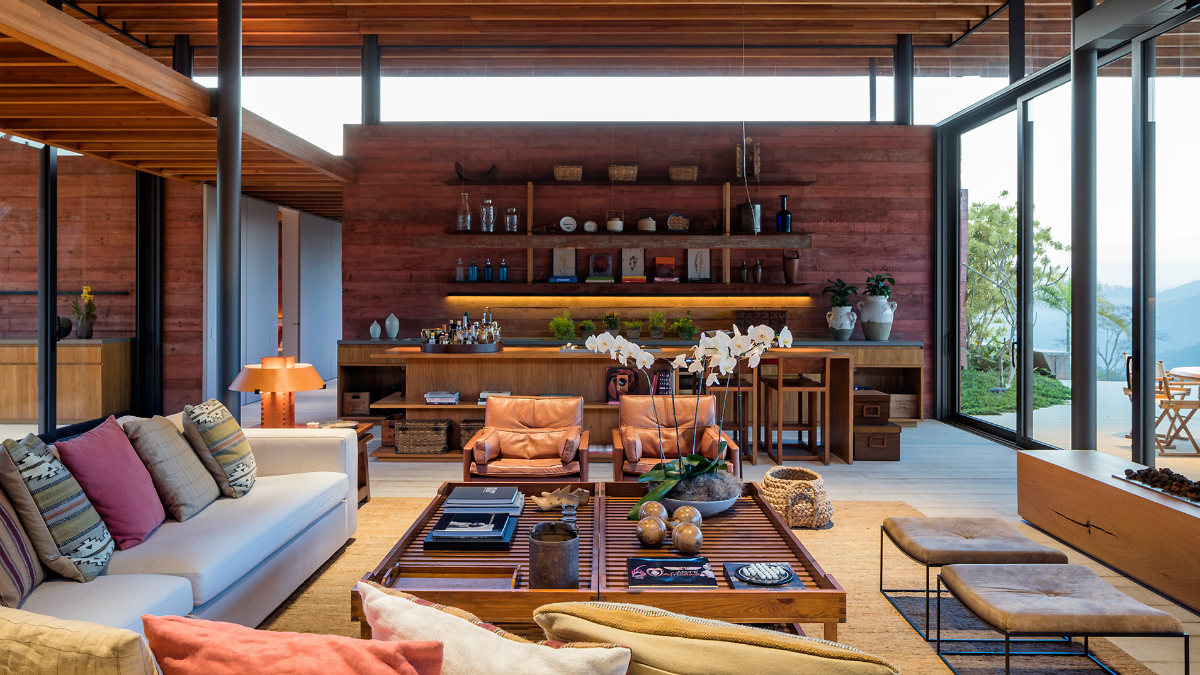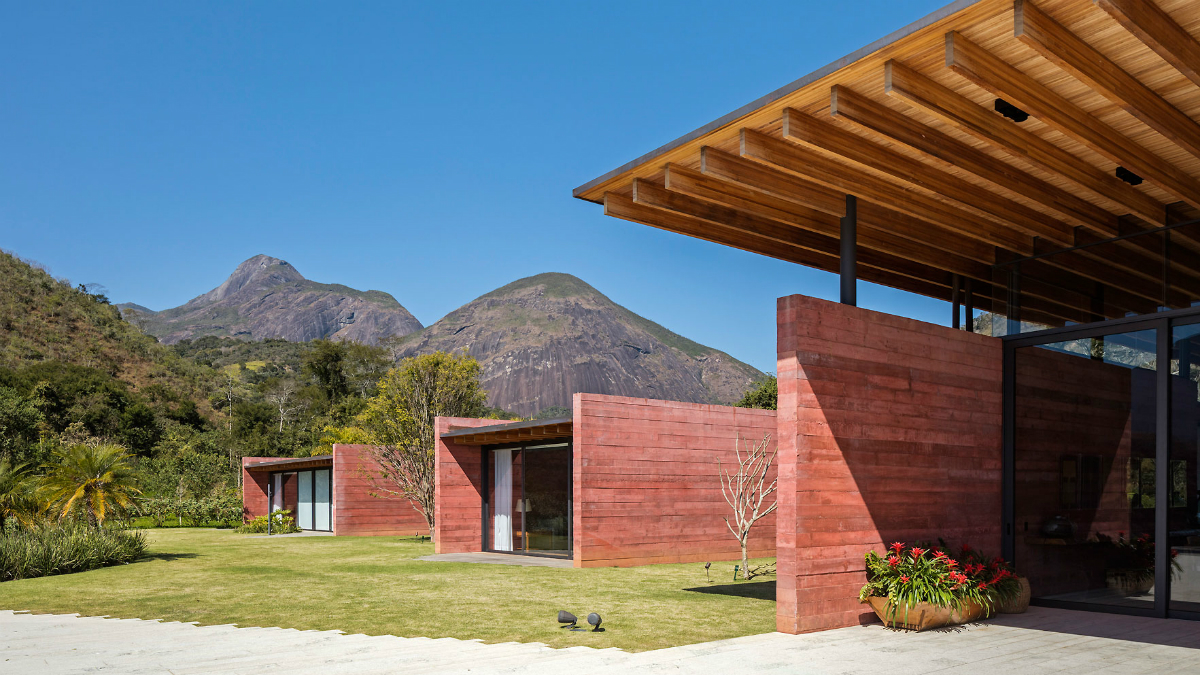 Rio de Janeiro is best known as the party city of Brazil, but what's the answer for a Rio citizen who wants to unwind away from the noise and crowds? Casa Terra, the perfect getaway hidden in the mountains of Rio.
Built as a series of interconnected structures, Casa Terra is a sprawling, hilltop home with breathtaking mountain views. The creation of Bernardes Arquitetura, the home took its main inspiration from nature, but also features prominent nods to mid-century modern architecture, traditional Native American colorways, and features a touch of gritty urban industrial style.
From the exterior, Casa Terra's architecture fits in perfectly with the recent mid-century modern revival. Flat roofs, walls of glass to take in the views of the surrounding mountains, and an emphasis on blending indoor and outdoor spaces. A closer look reveals that the home also beautifully blends in with its surroundings — the deep red hue of the wood cladding was inspired by the nearby mountain peaks, concrete steps are inlaid into the ground to create an entryway that combines man-made and natural materials, and the massive infinity pool was set into the hillside to allow for unobstructed views for swimmers as well as from the patio behind it.
Stepping inside, Casa Terra speaks to the history of Central and South America. The red-stained wood continues inside creating a warm and inviting family room. Natural materials like leather and stone were incorporated. Traditional native patterns are seen on living room throw pillows while pottery and woven baskets adorn shelves on an accent wall. Exposed ceiling beams and steel support columns add a touch of industrial style to the space.
The roof of the public areas is raised higher to create an open feeling while in private spaces, like the bedrooms, the ceiling is lower to give a more intimate feel. Along with the lower roof line, the wooden side walls of the private areas also extend out beyond the glass walls at the back. This allows people inside to have beautiful mountain views while still having a sense of privacy.
The most stunning part of the home is the outdoor veranda. The oversized roof of the home's public spaces cantilevers out over the concrete patio. Here, the steel support beams, combined with the steel frames on the glass walls, continue the urban industrial style seen inside. The covered veranda features an outdoor dining area, as well as a sitting area that faces the infinity pool and mountains beyond.
In all, the folks at Bernardes Arquitetura were able to combine several very different styles into a stunning, masculine home in the mountains of Brazil that is the perfect escape from chaotic city life. What better way to relax after Carnival than to take in mountain views from the infinity pool while sipping a local wine?
Editors' Recommendations