There was a time when the world revolved around summer. A time of seemingly endless days, hot weather, cool pools, movies, sleeping late, family vacations and, for the lucky ones, summer camp. As adults summer just means the daily grind coupled with soul-parchingly hot commutes, but thanks to Camp No Counselors, we adults can reclaim summer.
Back in 2013, Adam Tichauer organized a weekend escape with some friends to a summer camp in Upstate New York. That group of friends quickly turned into 90 people and it was clear Tichauer was tapping into an unfulfilled need for adults: fun our inner-child would recognize. (If this ringing a bell, it could be because he was featured on "Shark Tank").
Out of this eureka moment, he created Camp No Counselors, a weekend sleepaway camp for adults. "Our motto is 'Play like a kid, party like a grown-up,'" says Tichauer, whose title doubles as founder and 'Head Camper.' Each camp is slightly different, but you're looking at classic summer camp activities: dodgeball, zipline, paddleboard, archery, Friendship Bracelet making, water skiing, hiking, painting, tie-dying, Capture the Flag, ropes courses, Color Wars, Slip n' Slides. The day is yours– participate as much or as little as you like. Take naps. Read. Sun bathe. Or do as many activities as you can cram into one day. There are no teenage counselors trying to force your indoor inner kid into an outdoor one.
All meals are taken care of, but this ain't your average camp food fare. You gorge on chef-prepared meals like pancakes, eggs, cereals with bloody mary's and mimosas for breakfast, barbecues with things like grilled chicken, rosemary skirt steak, fish tacos, and baby back ribs for lunch and dinner. There are plenty of salads and fruits available and even dietary restrictions like vegetarian and gluten-free are provided for.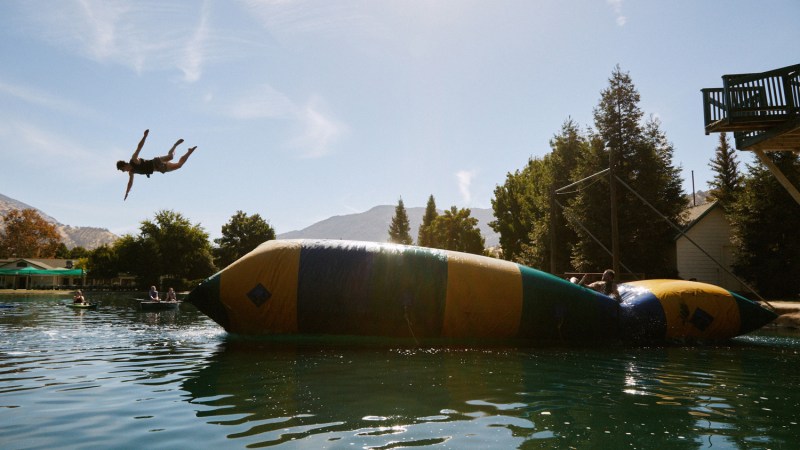 A typical day has breakfast from 9-10 am, 10am-1pm is set aside for activities of your choice, lunch til 2pm, when you go back to rock climbing or yoga, or whatever you want to get up to. Then from 5-6:30, feel free to nap or freshen up for the night because happy hour starts at 6:30pm, before you enjoy dinner. Then from 8:30-10pm, it's camp wide activities, like a talent show or comedy routine or karaoke. Close out the night with the open bar theme party. The theme will be announced before your weekend so you can properly prep your costume– past themes include "Under the Sea" and, appropriately, "Wet Hot American Summer." They bring in DJs or cool new bands to play the night away but feel free to take dance breaks to enjoy the s'mores by the fireside.
This is an all-inclusive weekend: all your food, all the activities, your lodging, and the booze offered at breakfast, lunch, dinner, as well as the happy hours and party are part of the price. There aren't any counselors but there is staff to make sure you're comfortable, happy, relaxed, and properly doing the activities.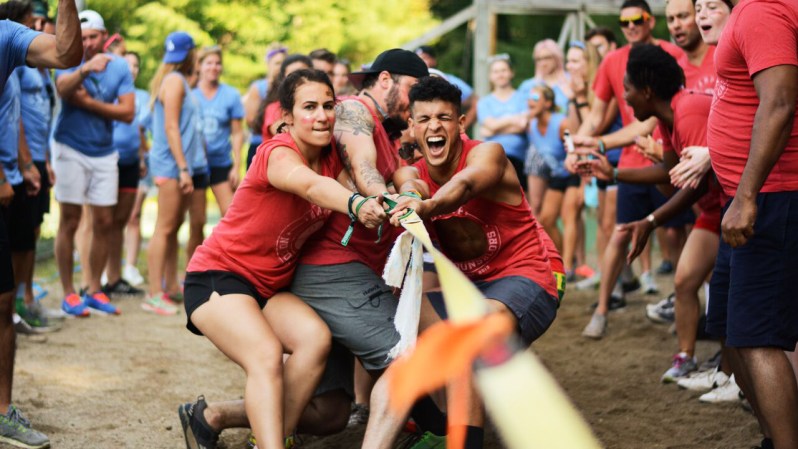 Camp No Counselors is hosting over 40 summer camps in Austin, Boston, Chicago, Denver, Florida, Los Angeles, Madison, Michigan, Nashville, New York, San Antonio, San Francisco, Seattle, as well as Calgary, Toronto, and Vancouver. Each camp is unique to its location. For example, Boston's is located on a 200-acre camp in Winslow, ME that's been featured as one of the top 50 camps in the US! Los Angeles' camp is in the the Angeles National Forest with climate controlled bunks, yes please, and Vancouver's is located on an island accessible by boat only.
Get out there and reclaim your summer! Or even your fall– the camps have autumn weekends still available. Who said fun was just for the kids?