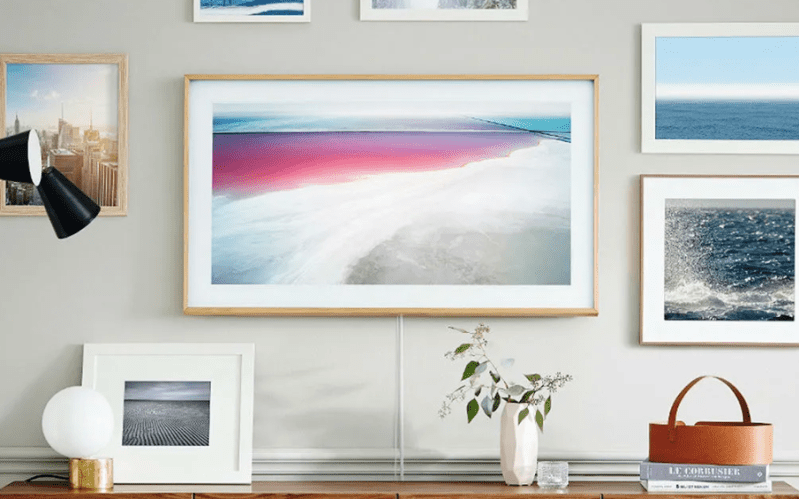 Samsung's The Frame TV is a very unique piece of technology. As much of a piece of art as a TV, The Frame is made to be hung up on your wall and act as an art piece when it isn't being used. You can choose to have it cycle between paintings, photos, or really anything you choose that works for your living room, including personal family photos. Of course, it can be pretty expensive, but luckily, there are a couple of great Black Friday deals you can take advantage of from Samsung that decrease the price substantially.
32-inch The Frame TV —

43-inch The Frame TV —

50-inch The Frame TV —

55-inch The Frame TV —

65-inch The Frame TV —

75-inch The Frame TV —

85-inch The Frame TV —
Why you should buy Samsung's The Frame
Because of how the TV is built, the matte finish on the surface gives off a very realistic feeling of a picture or photo behind the frame. The 120hz base refresh rate also helps give it a more realistic feel, while also being perfect for watching high-intensity content like sports or action films. It also supports HDR10+, so you get some gorgeous contrast and color reproduction, and the inclusion of HLG HDR means that you can watch sports with HDR as well, giving you a lot more overall immersion.
There's also AI upscaling to 4k for your older content, although be aware how it comes out varies depending on the quality of the source material. You can also use The Frame as a smart home hub and as a type of one-stop-shop since you can use Google Duo to have meetings with people or Samsung Health to help track your fitness and health levels. Also, the whole thing is built on Samsung's Taizen smart TV platform, so it's built for a smooth overall experience and ease of use. And, if that wasn't enough, you can even game remotely without a console or PC using the Xbox Game Hub.
Overall, if you're looking for an excellent TV that can double as a piece of art, The Frame is perfect, especially with this deal on various sizes from Samsung. That said, if you'd like a few more choices, there are some great Black Friday TV deals you can take advantage of, and we've even rounded up some great options in Amazon's Black Friday deals.
32-inch The Frame TV —

43-inch The Frame TV —

50-inch The Frame TV —

55-inch The Frame TV —

65-inch The Frame TV —

75-inch The Frame TV —

85-inch The Frame TV —
Editors' Recommendations