Juicing up our gadgets has been a persistent first-world problem since portable electronics first became a thing. We thankfully no longer have to mess around with expensive AA batteries to keep our GameBoys running, yet we're still finding newer, faster, and more efficient ways to keep our tech chugging along – and mobile charging technology, in particular, is undergoing something of a quiet revolution at the moment.
The innovation behind this upheaval is wireless charging, a technology that has been more than a decade in the making but has only recently exploded onto the scene. Qi inductive charging, now the market-dominant standard for wireless charging, lets users with any capable mobile devices (available from Apple, Samsung, Google, LG, and other flagship brands) juice up any Qi-compatible smartphone by simply placing it on a charging pad or stand. Unseen internal coils then work their magic, transferring energy from the charger to the device's internal battery.
The technology has caught on in a big way and there is now a heap of wireless charging pads and stands available on Amazon. We've sorted through them to bring you the best of the bunch: Some are handsomely made, some are all business, and some are just super-cheap, but every one of our picks works well enough that taking any of these home will leave you wondering why you didn't make the leap to wireless charging sooner.
Best Overall: Samsung Wireless Charging Pad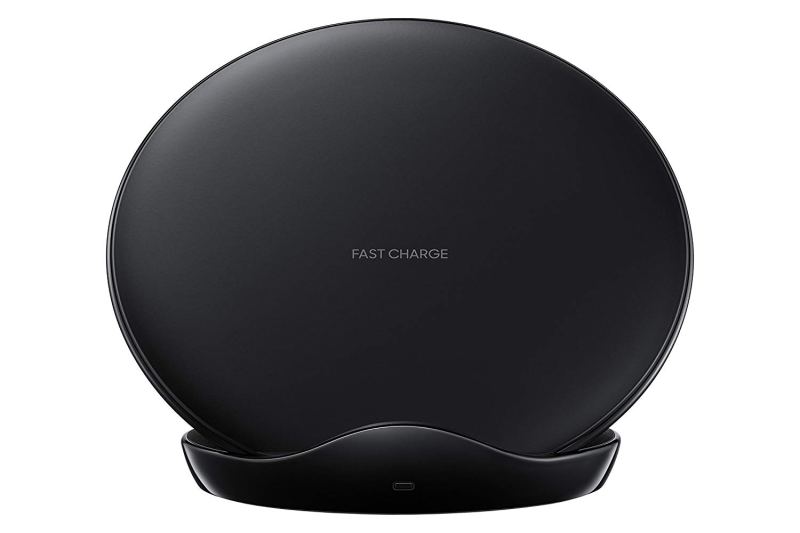 As one of the early adopters of the Qi standard, Samsung has pretty much perfected the wireless charging pad formula. This updated 2018 Samsung charging pad is ready to go right out of the box and is capable of charging all Qi-compatible smartphones, including the latest Samsung Galaxy S10 and iPhone X models. It's also tilted up so you can use your phone while it's charging, and it even has a built-in fan to keep things cool. Alternatively, if you prefer the low profile of a flat wireless charging pad, then you can grab this version for around the same price.
Best Value: Yootech Wireless Charging Pad
None of our picks are what you would call expensive, but you might still balk at spending $40+ for what is, at the end of the day, just a simple charger. Yootech's top-rated wireless charging pad works with all modern Qi wireless charging-enabled devices and does it for about $15. It even has a fast-charging mode for certain smartphones. At this price, you really can't ask for much more. You can also grab a Yootech charging pad two-pack so you have one for your home and one for the office and save a few more bucks.
Best Standing Charger: Anker Wireless Charging Stand
Well-made, budget-friendly, and a tilt-up to boot — Anker's wireless charging stand is the triple threat of smartphone chargers. It sports a nice steep angle, which means you can still view and use your device while it's being topped up, and the charger itself takes up a little less square footage on your desk than a flat pad. The slim, Apple-esque profile looks great, too, and it works with non-metal cases up to 5mm thick – just note that metal cases, grips, stands, wallet cases, and other bulky phone attachments will get in the way. At under $20, we can deal with that.
Best-Looking Option: iOttie iOn Mini Wireless Chargers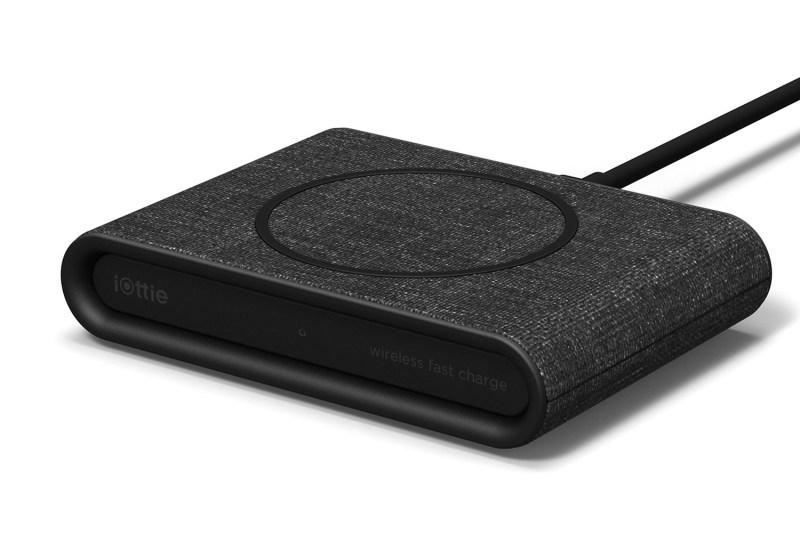 Whoever asserted that form follows function never saw the iOttie iOn mini charger. This charger not only guarantees charging any Qi device at the highest speed it permits, it also boasts some pretty stylish looks with its neat tweed fabric wrap. With an air vent to prevent overheating and anti-slip silicone grips, the iOttie is bent on keeping your phone safe and securely in place. It can even juice up a second device thanks to its extra USB port on the back for wired charging. There's a standing version as well, if that's more your speed.
Best Fast-Charging Option: Anker PowerWave Wireless Charging Pad
Most modern wireless charging pads support high-speed charging with devices that support it (namely Samsung Galaxy smartphones), but Anker's WaveBoost technology brings advanced components and a state-of-the-art cooling system to the wireless charging game, juicing up your devices 30% faster than other models out there. Its powerful charge zaps right through even your fancy live-edge wooden case. And with over-charge protection, foreign object detection, and radiation shielding, the Anker ensures total safety for your beloved device.
Best for iPhones: Mophie Wireless Charging Pad
Any wireless charger that works with Qi-compatible devices will work with your iPhone, but if you want one specifically optimized for Apple smartphones, the Mophie is it. Tailor-made for the latest iPhone 8 and X-series models, the Mophie wireless charging pad offers super high-speed wireless charging with up to 7.5W of power. The rubberized exterior coating of the pad also provides a non-slip place for your phone to sit while it's rejuvenating.
Best Mouse Pad: Corsair Wireless Charging Mouse Pad
What's better than a wireless charger? How about one that pulls double-duty as a mouse pad? This Corsair MM1000 maximizes your desktop real estate, appearing at first glance as a simple mouse pad (although you might notice the USB cable), but offers you a spot to place your Qi-compatible smartphone for wireless charging. It's not quite as fast as dedicated charging pads, but it comes with USB Type-C, Lightning, and Micro-B adapters that allow you to charge up your non-Qi devices on the mouse pad, which is a pretty solid trade-off in our opinion.
Editors' Recommendations