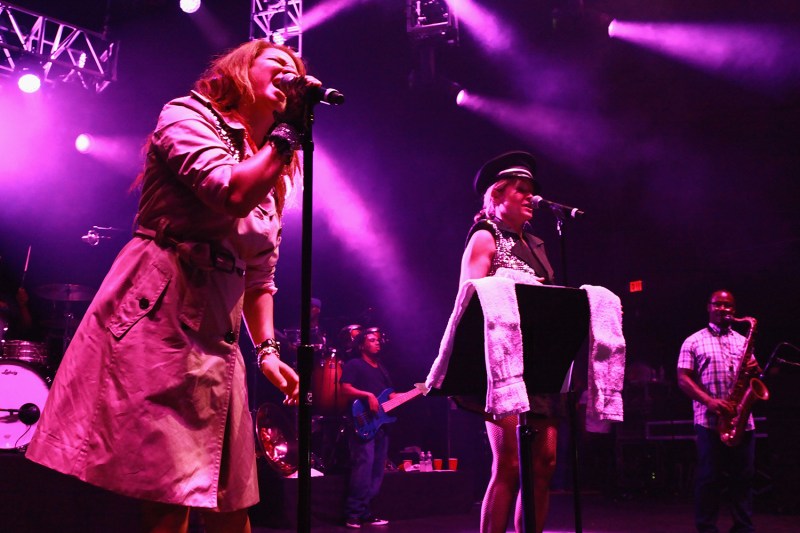 When you think of a cover band, you might think of a sleazy act that plays wedding after wedding, without much fanfare. But like any impersonation act, some embrace the role more expertly than others.
Some bands are so good that a separate, replicating act can offer a few additional or overlooked reasons as to why the original is so good. These well-trained imposters remind listeners of real greatness and offer an opportunity to see something nearly as good as the flagship band. And for the hall-of-fame acts that charge an arm and leg to play live, or in the case of icons who are no longer around, it's a second chance to experience the sound.
Related Reading
Did we mention that cover bands tend to have fantastic, pun-driven names? It's all part of the program. Here are some you should pay some ear attention to, whether you're looking for something to stream or an act touring through your town. Some are so good they may spawn cover acts of their own.
Eagle Eyes
Sometimes, you don't realize how good a band is until a formidable cover act plays practically its entire discography. Eagle Eyes are capable of just that and remind us all that the Eagles wrote too many hits to count. The British Columbia group is all about vocal harmonies, turning out the rich and resonant sonic landscapes. Even better, the quartet enjoys itself on stage, playing with the same energy as the Eagles, well before the success set in.
Gerle Haggerd
Touting one of the best names in all of music, cover acts or otherwise, Gerle Haggerd is Portland, Oregon's toast to the country great. The sprawling, all-woman band is a refreshing flip on a music genre that's been so historically male-centric. With mandolins, fiddles, keyboards, and more in the mix, the band really fleshes out some of Merle's best work, from tracks like If We Make It Through December to the appropriately-renamed "Working Girl Blues."
Princess
Sure, this Prince tribute band has star power in former SNL cast member Maya Rudolph. But it's also incredibly good, a fitting homage to the Purple One's cool-as-you-like demeanor and deft musicianship. The tightness of Princess' sound is due to both real admiration for the original as well as the fact that Rudolph and bandmate Gretchen Lieberum have been playing together since college. The proof is in the pudding, in this case a wonderfully theatrical and smooth-sounding cover of the epic "Purple Rain."
The James Brown Dance Party
The Godfather of Soul is one of the most mimicked musicians of all time. What takes the James Brown Dance Party to the next level is its undeniable tapestry of talent. It truly is an all-start tribute affair, having featured members of Trombone Shorty, Kool & the Gang, Big Gigantic, the Dap Kings, Trey Anastasio Band, and so many more. The funky, expertly-produced live sets are backed by a high-energy brass section, dancing background vocalists, and a raucous, church-of-music type experience the late Brown would smile at.
Space Oddity
David Bowie left us in signature style, with a phenomenal final record and a music video that essentially captures his departure. Ziggy may be in orbit right now but his music lives on through Space Oddity. Frontman David Brighton benefits from both looking and acting like the late Bowie, along with having worked by his side. His backing band is a seasoned who's who of music industry folks, an important feature considering that while Bowie was an unrivaled singular presence, he also played within a razor-sharp band.
Barracuda
The hook-heavy classic rock sounds of Heart deserve more than karaoke bars. In fact, anybody who's ever attempted Magic Man at their local dive knows just how complex the singing of sisters Ann and Nancy Wilson is. Enter Barracuda, a cover group capable of tackling Heart's sometimes operatic vocals and bluesy guitar lines. Original Heart member Roger Fisher likes the group enough he's even shared the stage with Barracuda.
Dread Zeppelin
It's almost impossible not to include Dread Zeppelin, an act that came about in the late 80s. It probably seemed like a terrible idea at the time, but the plan was to cover classic rock giants Led Zeppelin, in the genre of reggae with a giant-sized Elvis impersonator as the lead singer. The group went on to attract quite the following, signing to the famous IRS label. The whole thing feels like a skit concept gone bad until the band opens up and plays. You begin to realize that Elvis and Robert Plant have a lot in common and the groove-heavy sounds of rock 'n' roll and rasta aren't so completely distant. It's a bit of a joke, but a good one.
Editors' Recommendations