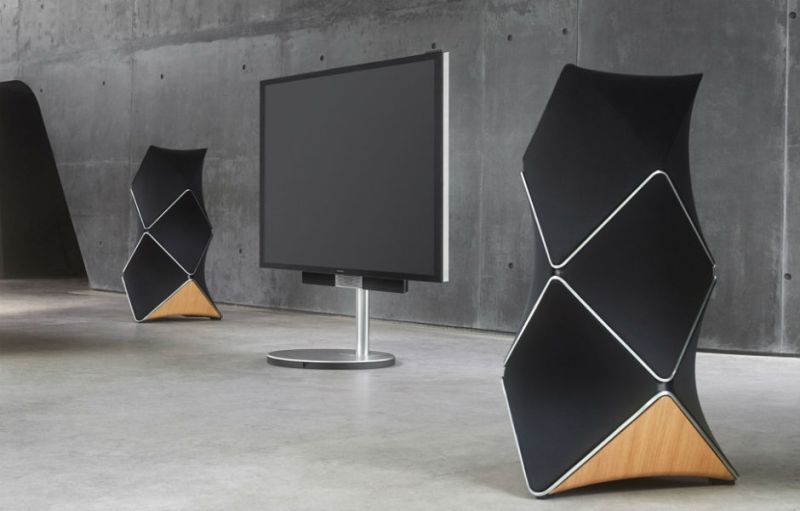 At a time when it seems like every new speaker we see is portable, waterproof, dust-proof, solar-powered, wireless, multi-room, and built almost entirely around the big-sound-small-package proposition, it's nice to see there are still some folks out there who embrace the size-no-object, cost-no-object approach to new speaker design. Why? Because speaker porn, that's why. And boy does Bang & Olufsen have an incredible new speaker for us to lust over. Introducing the BeoLab 90, a monstrous, multi-driver, floor-standing speaker designed to deliver mind-blowing sound no matter its surroundings, and even re-position the ever-elusive "sweet spot" wherever the listener wants it to be.
As budding audio enthusiasts delve into the depths of sound and acoustics, they quickly learn that speaker positioning and room characteristics have a huge effect on how a  speaker system sounds. The conventional means of dealing with a room's influence is to abate problem areas with some sort of acoustic treatment. With the BeoLab 90, Bang & Olufsen basically says, "screw all that noise."
Instead, each BeoLab 90 speaker has been designed with a 360-degree array of 18 individual Scan-Speak drivers, all precisely digitally controlled with B&O's so-called Adaptive Room Compensation, a digital sound processing and built-in amplification combo that measures the effect a room has on the sound being produced by the speakers, and alters its output to compensate. The result is said to be exquisitely balanced and powerful sound, with a soundstage that's as wide or narrow and as deep or shallow as wanted, for a convincing, live sound, no matter the room conditions or listening position.
Driving all those drivers in each speaker are 14 ICE amplifiers — one for each channel — plus four class-D digital amplifiers for the bass. In total, the amplifiers can deliver up to 8,200 watts per speaker. Overkill? Hell no. The sort of control and dynamics Bang & Olufsen demands requires a little something called headroom, and the company cut not a single corner when designing the BeoLab 90. Perhaps that's why each speaker weighs in at 302 pounds.
But wait, there's more.
While the BeoLab 90 has a number of conventional wired connections, including USB (24 bit / 192 kHz), S/P-DIF (24 bit / 192 kHz,Toslink (24 bit / 96 kHz), XLR, and RCA, the speakers are also WiSA compliant. For those not familiar, WiSA is a wireless hi-res audio standard, capable of delivering audio signals at up to 24 bit / 96 kHz resolution over the 5.2 to 5.8 GHz UNII radio frequency spectrum. The budding wireless technology is just starting to make its way into the mainstream, with more WiSA-compliant sources expected to feed a growing
For the BeoLab 90, however, there may be no more perfect source component than the company's Avant 4K Ultra HD television, which, in addition to being able to transmit hi-res audio signals for music and movies directly to the speakers and even act as the center channel in a surround sound setup, has the ability to adjust its orientation on a motorized stand, directing its image in any number of directions. In this way, the Avant and BeoLab 90 can be combined to direct both image and sound to any spot within a room, effectively making any spot the sweet spot, all with the press of a button on B&O's new mobile device app. Several arrangements can be pre-configured and saved as any number of pre-sets, such as Easy Chair, Sofa Left, Sofa Right, or Kitchen.
Each BeoLab 90 speaker is expected to cost around $40,000 and should be available in the coming month, available at Bang & Olufsen specialty stores across the US.
This story originally appeared in The Manual's brother publication, Digital Trends
Editors' Recommendations