Wolf Zimmermannn is one of my automotive heroes.
I admire the man not for his six-foot-six-inch stature, his position as former Mercedes-Benz AMG COO, or his Die Hard-esque super-villain name. No, I hold Zimmermann in high regard for the antics he pulled in the halls of AMG.
According to a former co-worker, Zimmermann regularly broke Mercedes-Benz norms and wore cowboy boots. And when a meeting wasn't going his way, he'd throw the brightly colored boots onto the conference room table with a thunderous whomp.
If things really displeased him, Zimmermann would take calls on his iPhone, which he kept in a neon pink case. Then, if Zimmermann didn't leave enough of a foul taste in the mouths of his higher-ups, he openly engaged in an affair with his secretary.
Whether any of this is true or not doesn't matter; it paints the picture of an automotive madman and visionary.
Having left AMG several years ago, Zimmermann moved to Lotus, where he create one of my favorite sports cars of all time: the Evora S. Small and light, as a Lotus should be, the Evora was still comfortable enough to masquerade as a micro GT car, but also spacious enough for us above six-footers.
Now, though, Zimmermann has found himself at the helm of a new automotive venture: ARES, which the company describes in its introductory press release as "The Savile Row of the automotive industry."
They have my attention.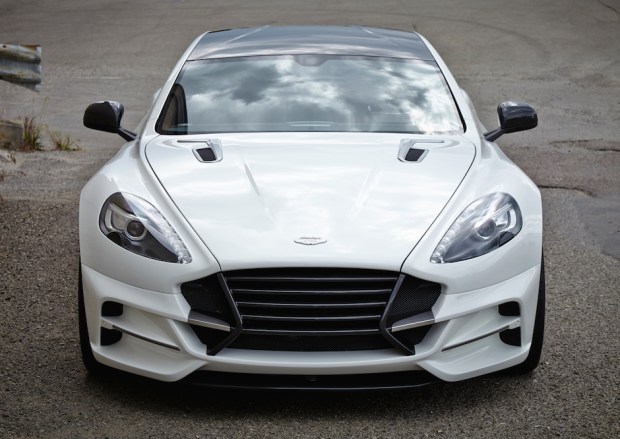 "We want to satisfy our clients with the best cars on the market", said Leo Birke, ARES Managing Director, in a prepared statement. "So we asked ourselves: What is missing on the market right now? We looked around, combined our observations with our passion and created this very new automotive atelier concept. It made us think about Savile Row, suits, even haute couture. As a company, ARES can offer anything from – using the analogy – a shirt, to it's buttons, up to the whole custom made outfit."
Essentially, what ARES takes some of the coolest, fastest, and most expensive cars on the planet and make them more distinctive.
Currently up for offer from the studios of ARES are a fully modified Aston Martin Rapide S, a Bentley Continental GT W12, an Aston Martin Vanquish, a Range Rover Vogue and a Range Rover Sport. If those don't really do it for you, though, the team is working on one-of-a-kind Shooting Brakes from Aston Martin and Bentley respectively, a Lamborghini Huracán, a Rolls-Royce Wraith, and a Rolls-Royce Ghost II.
Frankly, I always wonder how ateliers stay in business, especially when modern automakers like Rolls-Royce and Bentley are already creating such wondrous bespoke creations.
But who am I to judge? If Zimmermann and his friends want to make some one-of-a-kind shooting brakes (two-door wagons), who am I to judge?
Editors' Recommendations