She couldn't know it at the time, but Kareemah Batts' cancer diagnosis was going to change lives. It would inspire her to create the Adaptive Climbing Group, providing people with disabilities the support and training to climb, boulder, and compete at the highest levels.
In 2009, Batts was diagnosed with an extremely rare but aggressive form of soft tissue cancer called Synovial Sarcoma, which has a mortality rate of 70%. Batts was one of the lucky 30% who go into remission, but it came at a great cost: decreased lung function and half of her left leg was amputated. She had always been active and enjoyed the outdoors, fishing and camping in her youth. About a year after the amputation, Batts applied for, and received, a scholarship to the Colorado Mountain School where she was challenged more than she anticipated. But it was also that much more rewarding because of the difficulty.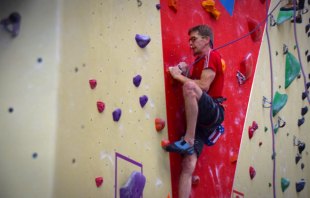 Renewed, she realized there were others who faced physical or developmental challenges that may seem like obstacles to the sport of climbing, but in fact, weren't. So, in March of 2012 at Brooklyn Boulders gym, Batts held the first "NYC Adaptive Climbing Clinic," where over two days, 38 adults with disabilities realized climbing was absolutely within reach. The clinic turned into a meet-up, and that meet-up quickly grew. More clinics were organized around the east coast transforming lives. The group's name also transformed from NYC Adaptive Climbing, to simply Adaptive Climbing Group.
The International Federation of Sport Climbing (IFSC) recognizes adaptive climbers and offer four categories of eligibility: Amputation/Limb Difference, Neurological (examples include Parkinson's, Multiple Sclerosis, or traumatic brain injury), Spinal cord injury, and/or visual impairment that cannot be rectified by glasses. Batts and Adaptive Climbing Group are on the frontlines, helping people within all of these categories achieve their full climbing potential.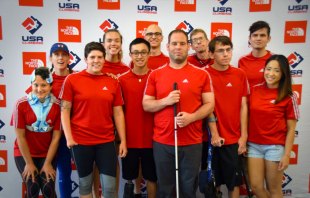 And many times that includes competing at a championship level. In July, Adaptive Climbing Group took home seven medals at the US Climbing Adaptive National Championships. Seven Adaptive Climbing Group athletes have qualified for the IFSC Paraclimbing World Championship which will take place in France from September 14th through the 16th of this year.
If you're in the New York area and want to support the Adaptive Climbing athletes in the World Championships, you can do so by partying on a boat! That's right, September 10th you can party on the Hornblower Yacht. Leaving out of pier 40, the yacht will be filled with music, dancing, raffles, and both cash and open bars. All of the money raised goes directly to the athlete's housing, food, and transportation.
Kareemah Batts and Adaptive Climbers are incredible role models for us all, reminding everyone to keep climbing.