Emergencies and disasters happen, and despite best laid drills and evacuation plans, often your best resource for getting out safe is simply whatever gear you have on you.
In a perfect world that freak storm, multi-day power outage or (god forbid) riot happens while you're in the safety of your own home. However, if Murphy rears his ugly head while you're on the road or in the office, do you have the gear and skills to navigate your way home on foot? If there is a major urban disaster forget taxis, public transit, or anything resembling a direct route home. We've put together our essential "Get Home Bag" for when you are looking at an unplanned urban adventure.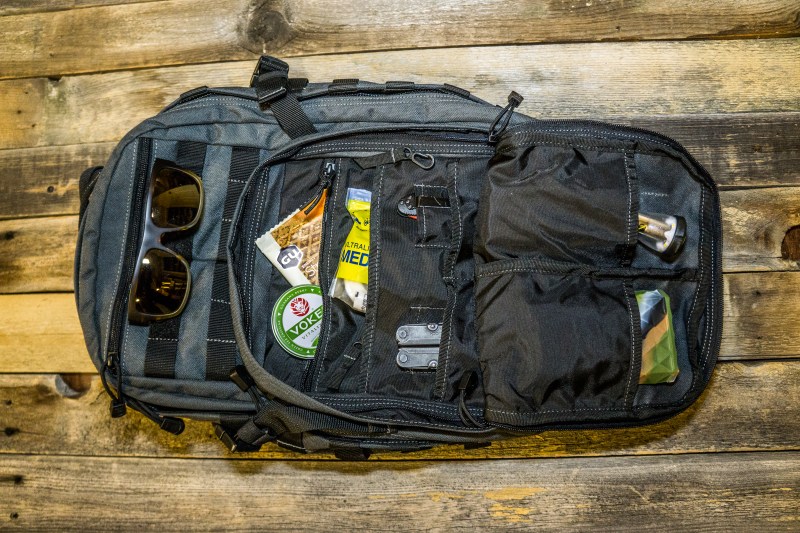 A proper disaster kit will protect you from the elements, have enough food and water to last for your trip, and have the tools you need to handle any obstacles. Of course, you can't fit all that in your pockets, and likewise can't carry a fifty pound pack around everywhere you go. Your every day carry kit has to be reasonable in size, comfortable to carry, and easy to access. We chose the 5.11 RUSH 12 backpack because its compact size is easy to stash behind your front seat or under a desk at the office. It helps that it's got multiple organziation pouches, an incredibly comfortable yoke system, and is built from bomber 1050D ballistic nylon. In the short time we've had ours, it hauls our office and camera gear (more on that kit soon), carries weights at the gym for our ski season training, and easily hides our entire emergency kit. If you are looking for one bag to do everything (and not break the bank), this mighty little pack is it.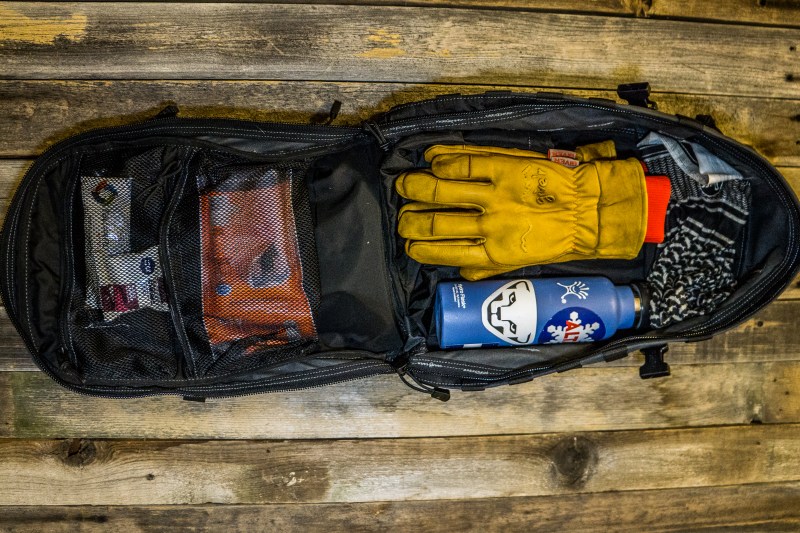 Clothing and Shelter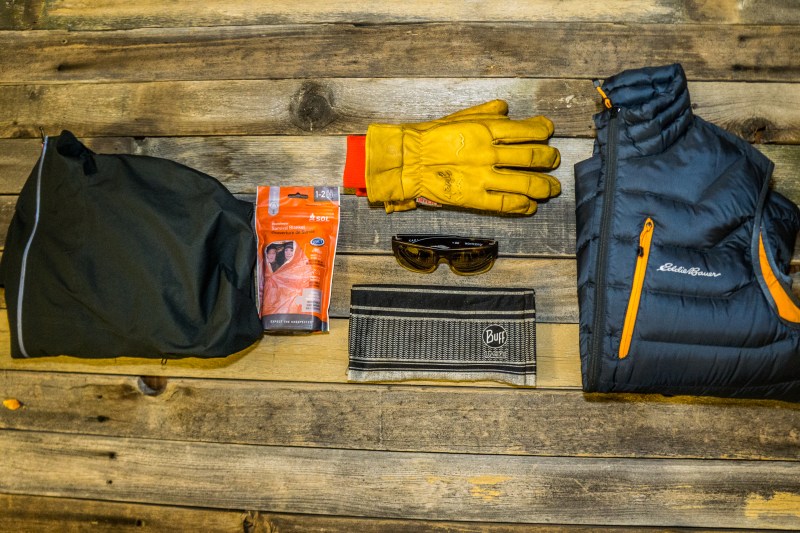 Your first concern when navigating home is protection from the elements. Whether you're fighting through a tropical storm or bitter cold, having a few extra layers with you is a must.
lululemon Einn Shell ($398): Cut from a one piece pattern, the Einn is our go to rain shell. A generous fit in the chest and waist makes it a great option for pulling duty trail running, or layering up. Laser cut back vents, reflective hits, and a bottom hem silicon gripper round this out as your first line of defense against bad weather.
SOL Survival Blanket ($7): The wind and water proof blanket is one of our favorite emergency prep tools. From first aid to shelter, it pays to have one of these stashed in your pack.
Give'r 4 Season Gloves ($114): These leather work gloves come in handy for cold weather yard work, cold mornings on skis, and everything in between. Get your initials burned into them for a little touch of personalization.
Kaenon Montecito ($229): Kaenon's SR-91 lenses have better optical qualities than Acetate, and are more durable than glass. These feather light glasses go everywhere with us.
UV Buff ($17+): Buff's necktube design is perfect for all seasons. The UV protective version are polygeine treated for anti-microbial properties and made of swift-wicking, coolmax fabric.
Eddie Bauer Downlight Vest ($104): Down is the best insulator. Eddie Bauer's Storm Repel treated down will keep performing even when you get wet. It packs into the left hand pocket, so it fits nicely in any pack.
Food and Water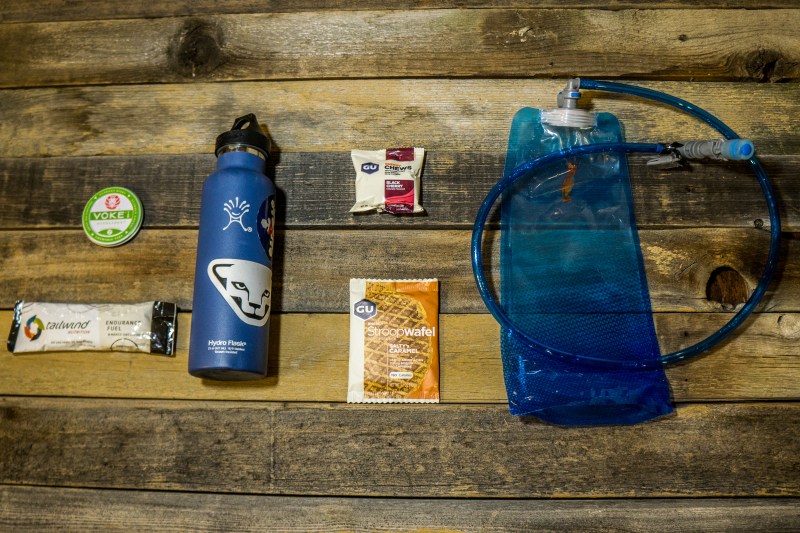 After protection from the elements, water and food are your next primary concerns. If you're on the move a relatively short distance from home, it doesn't make sense to carry a bulky stove with you everywhere. We keep our water and food to the bare essentials in an urban setting.
Voke Tabs ($7): These little chewable tablets pack as much energy as a tall coffee or energy drink, with none of the potential mess. We've got a tin of them in every pack we own.
Tailwind Endurance Fuel ($16): Tailwind's single serve sticks pack in two hundred calories and essential electrolytes to keep your muscles firing. It's the perfect drink to keep you moving.
Hydroflask 21 oz ($28): We love Hydroflask's growlers, and their smaller bottles are just as sturdy. We use this smaller bottle for our drink mix, but also hot coffee or broth when we need it.
Gu Stroopwafels ($24): These little waffles feature a delicious filling between two soft wafers. We recommend the Wild Berry and Salty Caramel flavors.
Vapur DrinkLink ($30): We love Vapur's foldable bottles. The new DrinkLink system adds in a hose adapter, so you can turn their 1.5L bottle into a hands free hydration system. It fits perfectly in our 5.11 RUSH. The hose has a quick release so you can use a regular cap, sport valve, or run the full length hose at your convenience.
Tools and Gadgets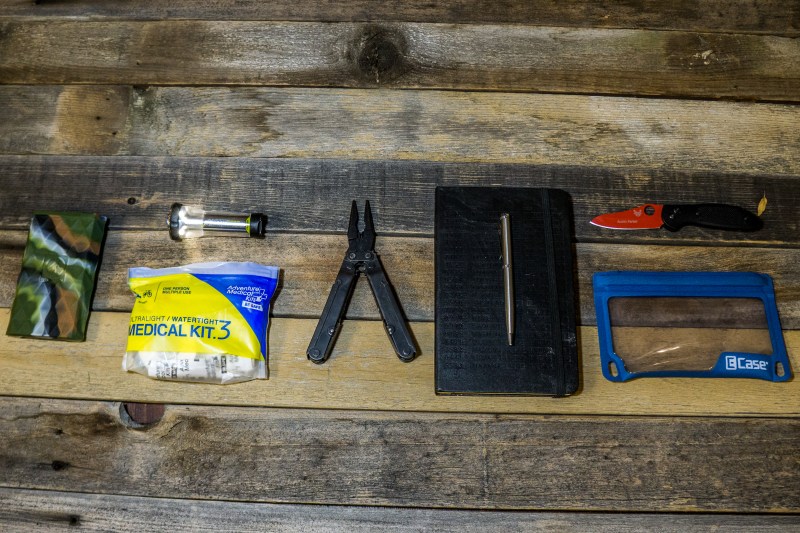 Your best bet for navigation these days is with your phone or a GPS unit. However, you've got to keep them powered – even in a blackout. You've also got to light your way, and be able to either repair your gear or break down other useful items along the way.
Outdoor Tech Kodiak Battery ($50): This rugged power pack will keep you phone, GPS, and smartwatch juiced up long after the power goes out.
GoalZero Lighthouse Micro ($20) This little USB powered light has both flashlight and lantern settings. Used conservatively, it will run for 170 hours on a full charge, keeping you out of the dark for the duration.
Adventure Medical Kits Ultralight .3 ($9) This little kit will handle most day to day scrapes. It is the bare minimum we recommend carrying. If you can find a local first aid class, get some training and upgrade to a larger kit along with some more heavy duty trauma gear.
SOG PowerAssist ($126): This multi-tool has lasted us ten years, multiple Army training courses, and been to the highest peaks in five states. SOG's 420 stainless steel will far outlast similar tools.
Moleskine Two-Go Notebook ($20): From notes on beer tasting to conference calls at the office, to sketching our route home, we never leave a trusty Moleskine notebook out of the pack.
Benchmade Mini Griptilian ($105): Benchmade's Mini Griptilian knife is quite simply the best American made pocket knife we've ever used. We opted for a Sheepsfoot blade with a smooth edge.
eCase 9 ($25): If you're navigating with a GPS app, you need to protect your phone. We started using eCases while SUPing. They are fool proof and will keep your electronics safe in any weather.