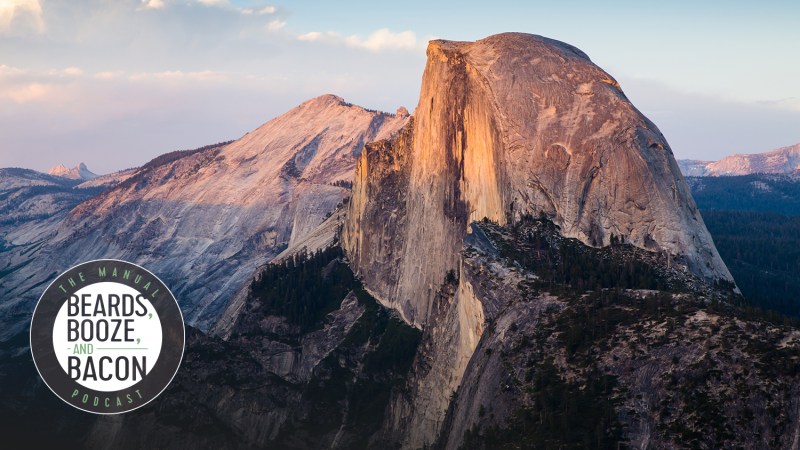 What new bourbon are we pumped about? Which hiking trail are we exploring? Why is the next supercar so cool? The Manual is dedicated to helping men live a more engaged life. Each week, our editors and guests get together for a round-table discussion about what's new, exciting, and unique in the men's lifestyle world. So pop open your favorite brew, step into your man cave, and start streaming.

For this week's episode of Beards, Booze, and Bacon: The Manual Podcast, the round-table — Managing Editor Nicole Raney, Social Media Manager Jake Rossman, and host Greg Nibler — hangs out with Tyson Gillard, co-founder and CEO of the Portland-based Outdoor Project.
Outdoor Project is simple: It's an online resource for outdoor enthusiasts looking for information on the best places to explore and also provides info on great stuff to do when they get there. From informational blog posts to downloadable guides to fantastic photography, this site has it all. The Manual group chats with Tyson about how Outdoor Project got started, what he and his team hope to achieve, and why creating a community around content is so important. For example, the publication is going offline in a big way for 2018 with a series of fun block parties that offer the public a chance to get up close and personal with some of their favorite gear brands (and to enjoy a couple of beers).
The podcast crew also discusses critical camping gear, bucket list destinations, and one of the hottest trends in camping right now: fire lookout rentals. Just as a heads up, these spots are cool, but also extremely hard to reserve, so be prepared.
If you want to learn more about Tyson, Outdoor Project, block parties, and fire lookouts, you're going to have to tune in:
Do you have an amazing outdoor experience or go-to spot you would like to share? Give us a shout at podcast@themanual.com — we'd love to chat! Be sure to follow us on Facebook and Twitter and keep an eye out for our weekly podcast polls so you can join the discussion.
Further Reading
Editors' Recommendations