When I say that ISPO is a massive event, I'm hardly doing it justice. What is ISPO? Why, it's the world's largest sporting goods and apparel trade show, and it takes place annually in Munich, Germany's Neue Messe München exhibition center, a facility that occupies 16 warehouse-sized buildings and multiple acres of outdoor space.
The numbers here are almost too large to compute, like when someone tries to grasp an astronomical unit, but let's try it anyway: the indoor capacity of this exhibition center is just over 1,973,503 square feet. A 7,000-square-foot home is considered a spacious mansion my most anyone's metric. So, to break it down: You could fit more than 280 7,000-square-foot-mansions into the indoor space of this facility.
But in the case of ISPO (in English the acronym translates to the International Trade Fair for Sporting Goods and Sportswear, and it's pronounced iss-poe, in case you were wondering), instead of residences, the halls are packed with brands showing off everything from the latest hiking packs to cutting-edge insulation materials to the finest soccer balls to stan- up paddle boards to some newfangled hologram projection technology (which Adidas was showing off; not sure what it had to do with sporting goods or apparel, but it was still cool). Nearly 3,000 different exhibitors set up booths, some of which are the size of a walk-in closet, others that are large enough to contain an entire swimming pool. We'll get to that later, but in short, if you want to see basically anything and everything related to sporting goods and apparel, you will see it at ISPO. The only problem is that you have almost no chance to see all of it unless you walk nonstop up and down past the countless booths during the entirety of the four-day trade show. I even jogged at times, and I still barely scratched the surface in my two days.
I attended ISPO as a guest of Columbia Sportswear primarily on the occasion of the company's venerable chairwoman, Gert Boyle, receiving the ISPO Cup award in recognition of her and Columbia's inestimable contributions to the world of sports, both through the innovative products offered by the company itself as well as for the personal contributions Gert and her associates have made to organizations like the Paralympics. Gert, who is 93 at the time of this writing, still goes to work every day, by the way. Though she decided not to travel from her home base of Portland, Oregon, to Munich to receive the award, her son and grandson, CEO Tim Boyle and Columbia President Joe Boyle respectively, were on hand for the ceremony. (One more thing to point out here: Yhis award has never gone to a non-athlete before. Gert, the "Tough Mother" as she is known following a wildly successful advertising campaign that launched in the later years of the 20th century, broke yet another barrier when she earned it.)
Thus, after a redeye flight, a minor hotel debacle, and a few trips around Munich via taxi and Uber, I ended up at the Neue Messe München convention center late on a Monday afternoon. I was tired, a bit disoriented, and immediately overwhelmed by the immensity of the ISPO trade fair. Even with repeated directions from event staff, it still took me a while to find the Columbia booth — a booth that was the size of a standard single family home, by the way, to again nail the point home: this is a very large convention.
That booth would become my safe haven amidst a nonstop rush of foot traffic that was periodically punctuated by people zipping past on bikes, skates, scooters, and these weird things that looked sort of like skis with pneumatic wheels at each end. Mountain blades, I guess? One of the things you quickly learn while walking the halls at ISPO is that many of the people whooshing by on wheels are testing the gear out for the first time and are far from expert users. Things get even more interesting around four or five in the afternoon, as many booths start to serve booze around then.
Anyway, that first day, I spent a while strolling about aimlessly and snapping pictures of things that caught my eye. These included a massive pool set up in the middle of one hall in which paddle boarders and surfers were trying out new gear. Near that pool was a full-sized half pipe in which a few skilled skateboarders were doing tricks alongside a few less-than-skilled skaters who were bruising themselves before a throng of gawkers. I saw familiar brands like Osprey and Black Diamond alongside companies I would come to know as major players in the European market despite having relatively little penetration in the States, like Jack Wolfskin, a German outdoor apparel brand that enjoys the same level of prestige and customer awareness as Columbia has on this side of the pond.
That night? Beer and sausages. I was in Munich, after all.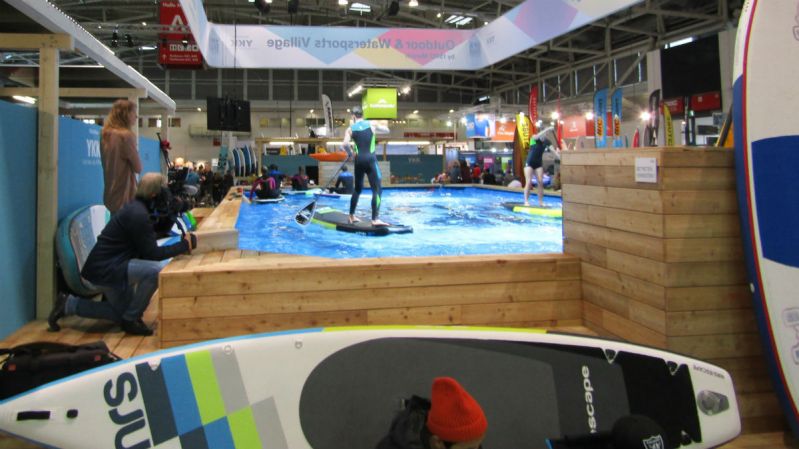 The next day, I woke up at 5 a.m., which really made no sense at all, given the fact that, in my home time zone, it was before midnight and as I had gone to bed at around 11:30 p.m. local time the night before. (And after maybe three hours of sleep on a plane. Oh well.) I killed a few hours reading, fielding some emails, and drinking coffee, then put on my game face and headed to the Columbia booth, pretending I wasn't jet-lagged and semi-delirious. That morning, after all, I was slated to interview Tim Boyle, the aforementioned CEO of the Columbia Sportswear company. Fortunately, Tim turned out to be one of the more affable and approachable CEOs of billion-dollar global brands I have yet to meet.
I'll relay the details of that interview in a subsequent article, but suffice it to say, my time talking with Tim and later with his son, Joe, was illuminating, and not only in regards to their brand. What I came to understand more fully during my time at ISPO is just how international a phenomenon sports really are. I saw Chinese textile vendors in meetings with American apparel brands. I saw European athletes trying out Pakistani soccer balls. I saw Indian track and field hardware designers, Canadian ice skate makers, an Italian boot company, and everything in between. If you have ever wondered what globalization looks like, it looks like ISPO. In a matter of a few days, many of the goods and apparel that athletes, adventurers, and outdoor enthusiasts use find their way onto the retail market, or even come into existence, thanks to the meetings and the discoveries the men and women of the sporting industry make there in an industrial suburb of Munich.
ISPO is massive and exiting and overwhelming, and if you love sports and the outdoors, you simply have to go at least once.
Feature image courtesy of ISPO/Facebook. All other photos by Steven John/The Manual.
Editors' Recommendations