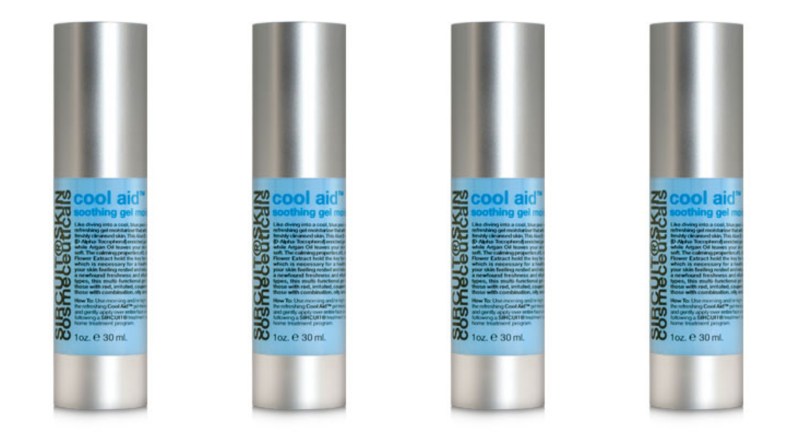 Sircuit Skin Cool Aid is a slam-dunk product for the warmer months ahead. It's a versatile face gel—a cooling aftershave, lightweight moisturizer and anti-ager, that's crafted using USDA certified organic ingredients.
The sky blue gel, which is actually more like a juicy cream (and one that might be really fun to swim in) absorbs quickly, goes on matte and, unlike most face gels, doesn't leave your skin with the traction of scotch tape. The scent is light, fresh and is made with essential oils that also pack a punch with purpose—anti-septic/ anti-inflammatory lavender and protective tea tree and orange peels. It won't clog your pores, irritate skin, sweat off into your eyes or make you feel like you've got a layer of shellac on your face. The entire ingredient list, which includes organic aloe vera, marine extracts, arnica flower, argan oil, vitamin E, Japanese mint and a trove of peptides is a skincare aficionado's equivalent to poetry.
Especially when you start to look at the quality of said composition—Sircuit has made a name for themselves by using something called "chirally correct" forms of their ingredients. The concept of "chiral" can get science- nerd really quick, and you're free to read more here, here or here, but in simple English, it's a chemical-free technology that primes an ingredient's molecules to be optimally received by your body's skin cells. So the stuff inside the tube is more than just all naturally derived, it's been hand crafted to near perfection.
While any guy will find the Cool Gel useful, it's especially helpful if you've got oily skin, sensitive or blemish prone skin. And a bonus—the formula is super concentrated so you get a few month's worth in a TSA friendly 1 fl. oz sized bottle—so you can double Cool Aid up as your sun relief when you jaunt off to far flung beaches this summer.
Sircuit® Skin Cool Aid ($70/1oz.) is available at sircuitskin.com
Editors' Recommendations